How Big is Disney World? You Won't Believe It!
This post and the photos within it may contain affiliate links. As an Amazon associate I earn from qualifying purchases. If you make a purchase through one or more of the links, I may receive a small commission at no extra cost to you.
If you have been to Walt Disney World, you already know it's BIG in comparison to other theme parks. But even if you haven't traveled to the vacation capital of the world in central Florida, you may be asking yourself, "How Big is Disney World?" Once you read all of the facts about how really big it is, I think you will be surprised!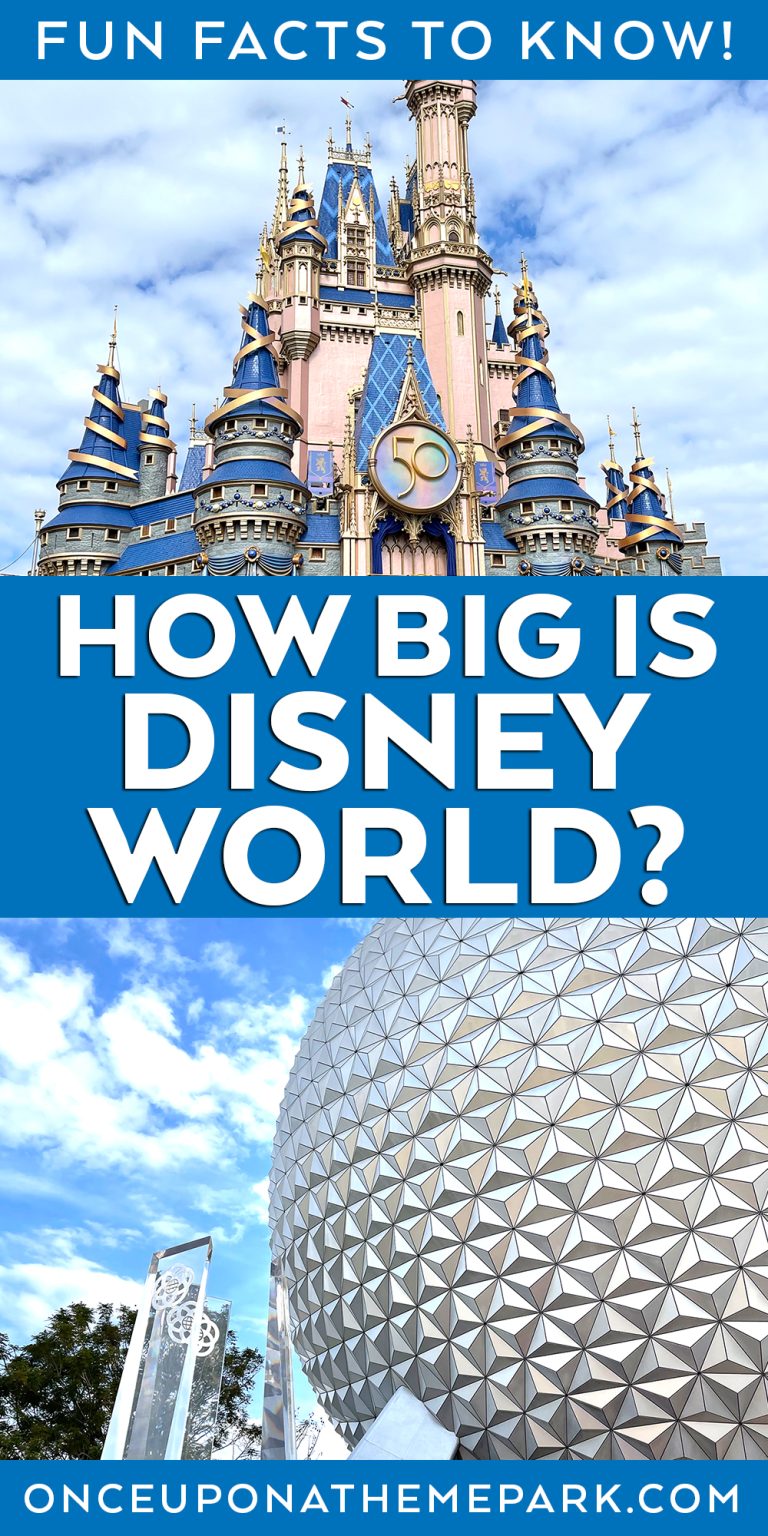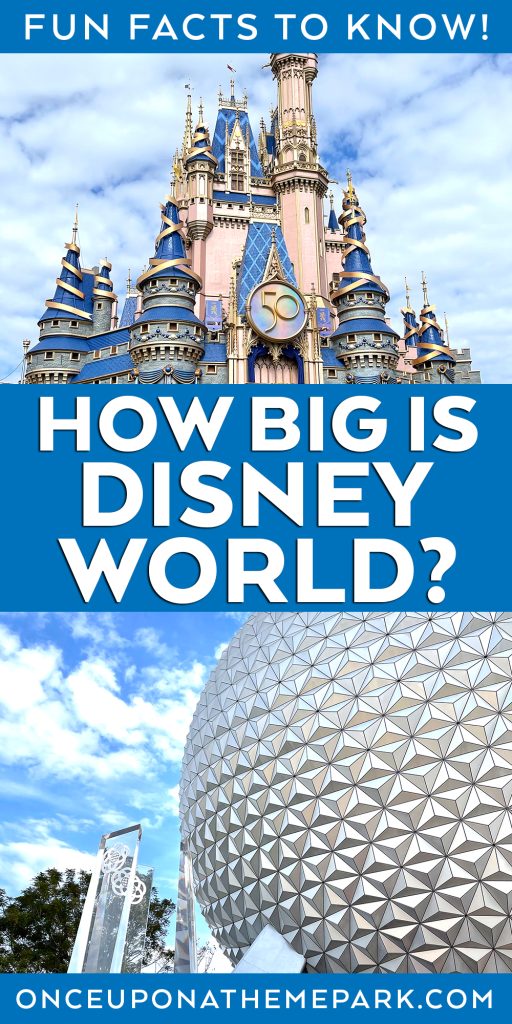 How Many Acres is Walt Disney World?

Disney World is actually 25,000 acres! That is about TWICE the size of Manhattan island and about the size of the city of San Francisco. At that size, it's no surprise that it requires a LOT of walking and transportation options to get around the most magical place on earth!
RELATED POSTS: Walt Disney World Snacks Word Search Printable

The Walt Disney World property is (not surprisingly) the largest of the Disney Parks. It is 25,000 acres, which covers 43 square miles of land. The massive amount of land was an important factor that attracted Walt Disney to build a theme park in Lake Buena Vista, Florida! He wanted enough land to build his dream after building the original Disneyland Park in California in the mid 1950s.
It was originally known as the "Florida Project" and was purchased by the Walt Disney Company under aliases to protect their investments. One of the more well known names was the "Reedy Creek Improvement District." The sheer size of available land in Florida, combined with the climate, provided Walt Disney with the space to create the biggest Disney park on the planet.

Of the 25,000 acres of land there are:
4 Theme Parks: Disney's Hollywood Studios, Disney's Animal Kingdom, EPCOT, and Magic Kingdom
2 Water Parks: Blizzard Beach and Typhoon LagoonDisney Springs (formerly the Downtown Disney District)
32 Disney World Resort Hotels
4 Golf Courses
2 Miniature Golf Courses
Conservation Areas
Undeveloped Land (maybe someday we will get a 5th gate?)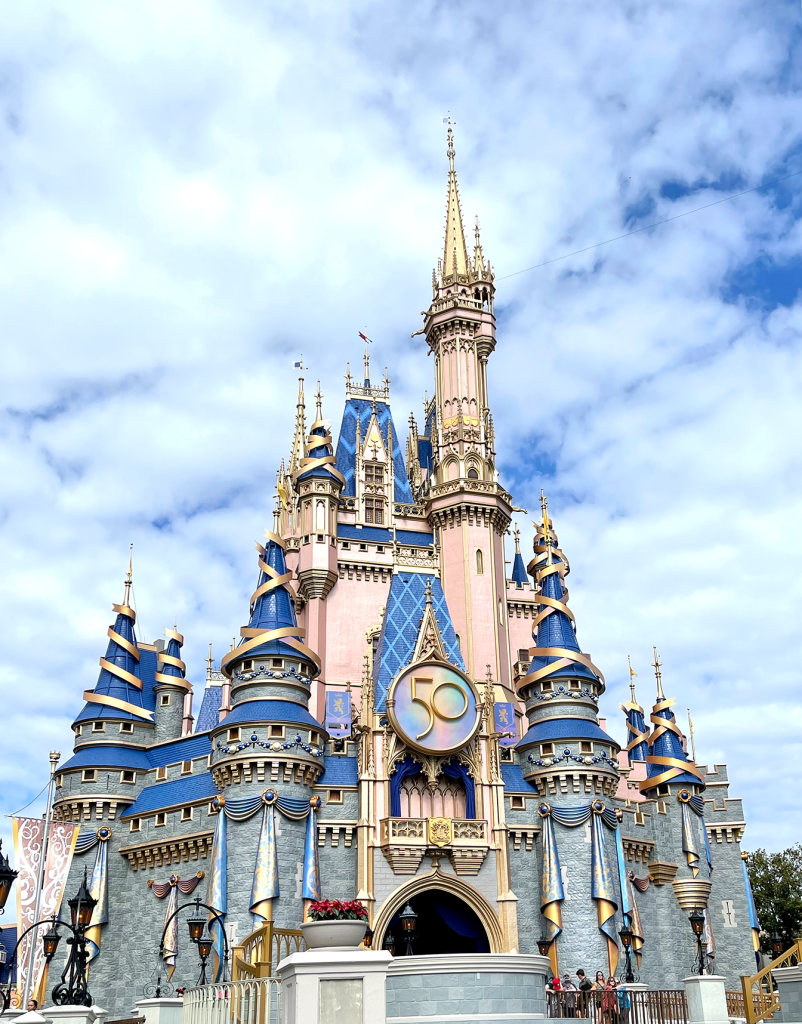 How Big is Magic Kingdom?
Magic Kingdom is currently about 107 acres of land. Magic Kingdom is arguably the most notable of the Disney theme parks. It is the original Disney World park that opened outside of Orlando in 1971.
How big is Magic Kingdom in comparison to Disneyland?
Disneyland covers about 100 acres.Magic Kingdom currently holds 23 rides, 7 full service or sit down restaurants, quick service dining, shops, attractions, and some of my favorite photo spots!
Fun fact: Magic Kingdom is the smallest theme park at Walt Disney World! It is split into 5 distinct areas known as Adventureland, Fantasyland, Frontierland, Liberty Square, and Tomorrowland, plus Main Street, USA.
Despite being the smallest, Magic Kingdom holds the most attractions in Walt Disney World, including Big Thunder Mountain Railroad, Splash Mountain, Space Mountain, Pirates of the Caribbean, the Haunted Mansion, Jungle Cruise, and more.
RELATED POST: 15+ Disney Cocktails to Enjoy at Home
The main attractions are just one of the many reasons that Magic Kingdom is the most popular theme park in the WORLD, followed by Disneyland in Anaheim, California and Tokyo Disneyland.
Magic Kingdom theme park, although impressive in size, has an even larger parking area than the park itself. Magic Kingdom boasts a 125+ acre parking lot that can hold more than 12,000 cars. Anyone walking through the Ticket and Transportation Center (TTC) after a long day at the parks certainly knows that!
Between Magic Kingdom and the TTC lies Seven Seas Lagoon, which is surrounded by Disney's Grand Floridian Resort & Spa, Disney's Polynesian Resort & Village, Disney's Contemporary Resort, and Bay Lake Tower.
Connected to the Seven Seas Lagoon is Bay Lake, which is bordered by 2 other Magic Kingdom resorts: Disney's Wilderness Lodge and Fort Wilderness & Campground.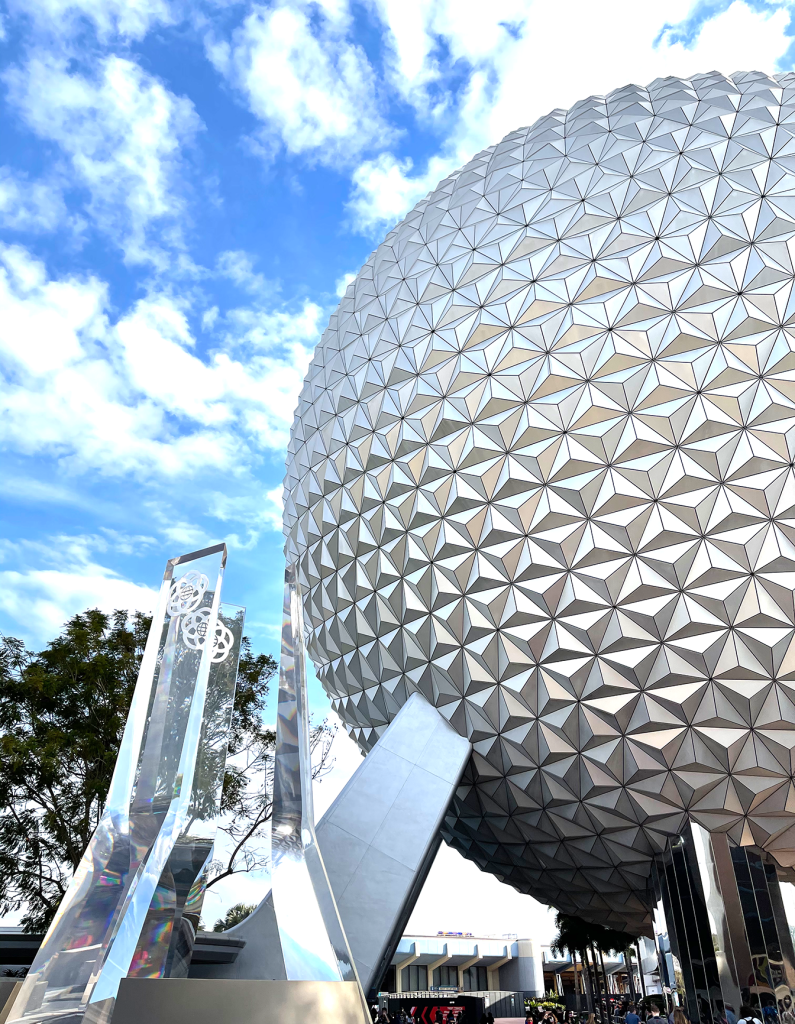 How big is EPCOT?

EPCOT is 305 acres and is the largest area at Disney World for guests to explore. Spaceship Earth is the iconic symbol of EPCOT and marks the entrance of (the now under construction) Future World. There are also 2 pavilions: the Land and the Seas. Plus, there is the World Showcase that is 115 acres of land.
If you walk around the full circle of the World Showcase, it is about 1.2 miles. There are 11 Pavilions that are in Epcot's World Showcase year round, but many pop up booths exist during different festivals such as the Food and Wine Festival, the Festival of the Arts, and the Flower and Garden Festival.
In addition to the World Showcase pavilions, EPCOT boasts some of the most popular Disney World attractions including Frozen Ever After (in the Norway pavilion) and the new Remy's Ratatouille Adventure in the France Pavilion. EPCOT is also undergoing a MASSIVE transformation in it's Future World area, and will open the Guardians of the Galaxy roller coaster in 2022.
The EPCOT lagoon (in the center of the World Showcase) is about 40 acres with bridges over it to connect different areas. The max depth of the lagoon is 25 feet. I would't have guessed it was that deep!
EPCOT also boasts a massive parking lot at over 100 acres and is able to accommodate less people than the park's relative capacity.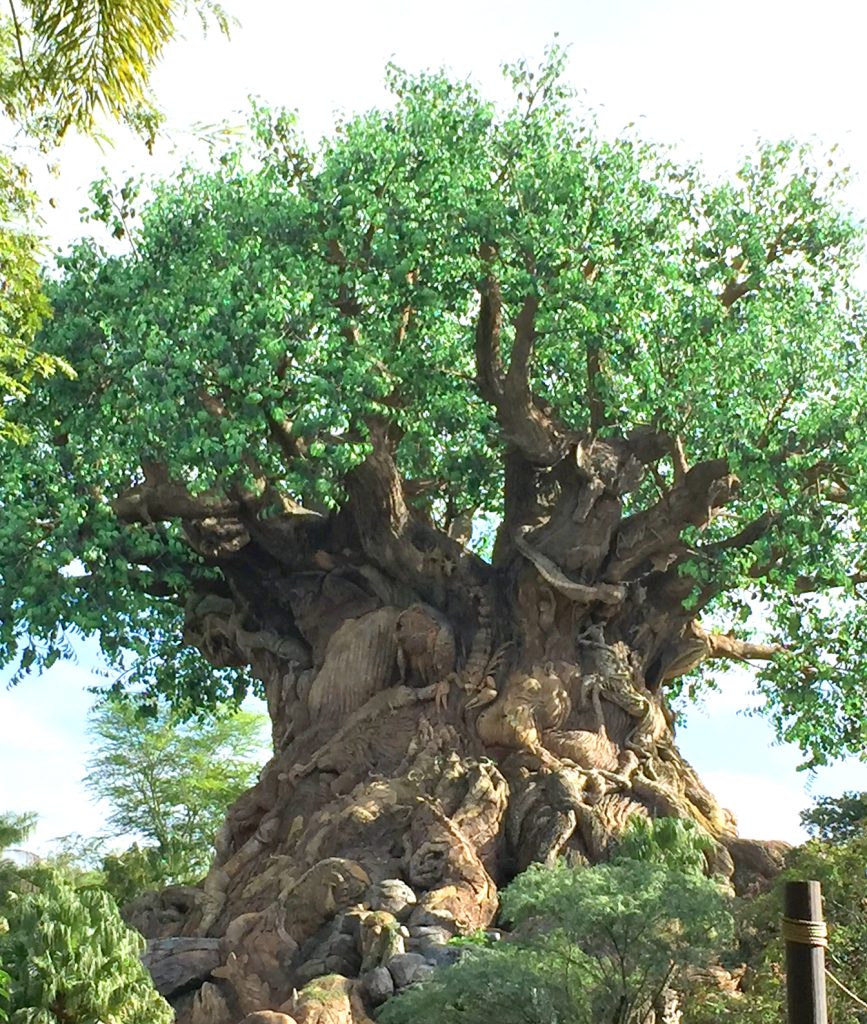 How big is Animal Kingdom?
Disney's Animal Kingdom is the largest of the 4 Walt Disney World theme parks by land mass. The land covered by this massive park is listed around 580 acres. This is nearly twice the size of EPCOT! A large portion of the land area is used for animal habitats and care. Those areas are not accessible to the normal guest unless by special tour.
Animal Kingdom also includes the expansive Kilimanjaro Safari Ride and walking trails to view even more animals. My favorite is the Gorilla Falls Exploration Trail, which makes for a nice walk to view baby gorillas! There are 6 areas or regions of Animal Kingdom: the Oasis, Africa, Asia, Dinoland USA, Discovery Island (which contains the Tree of Life), and Pandora – The World of Avatar.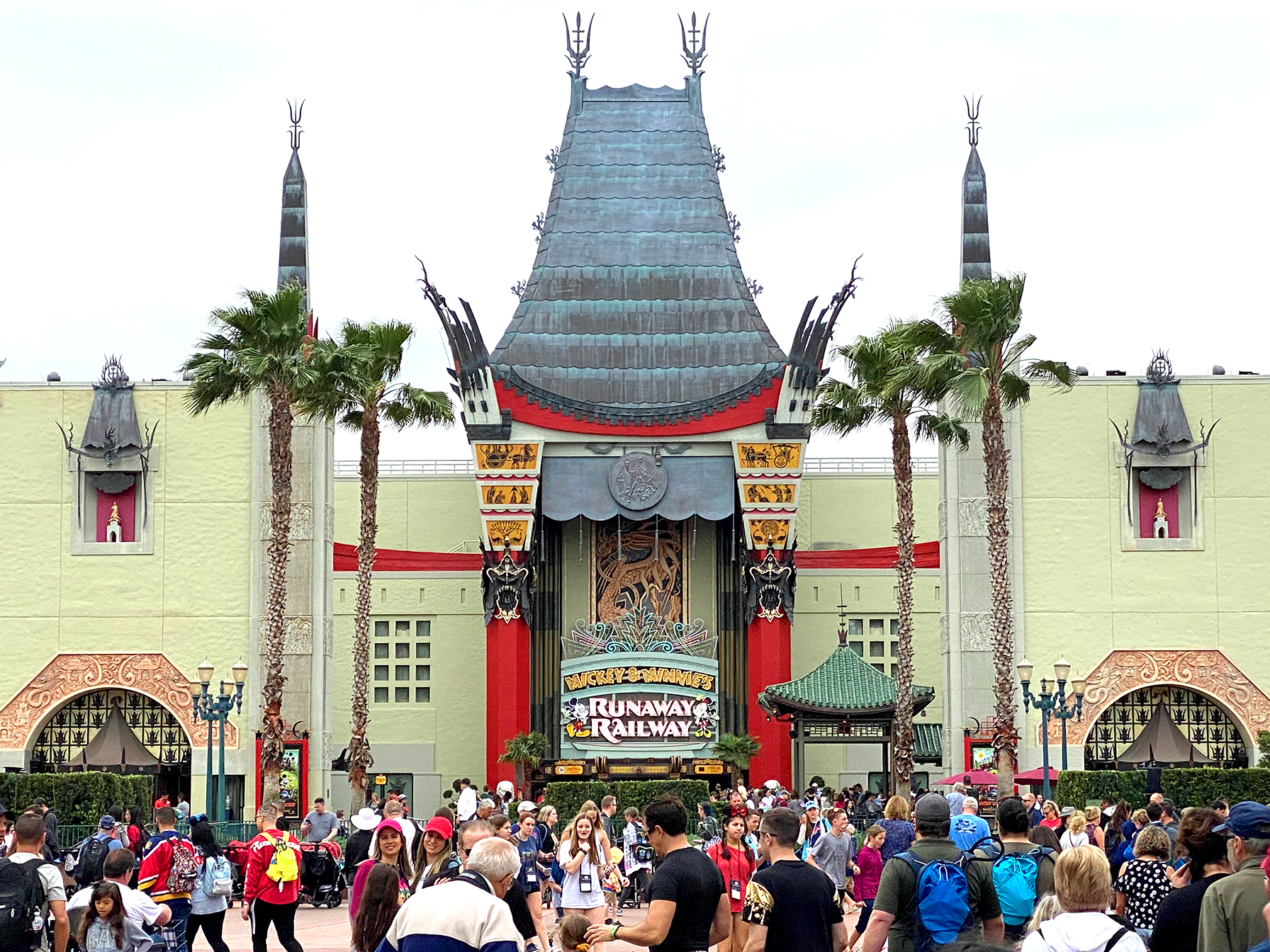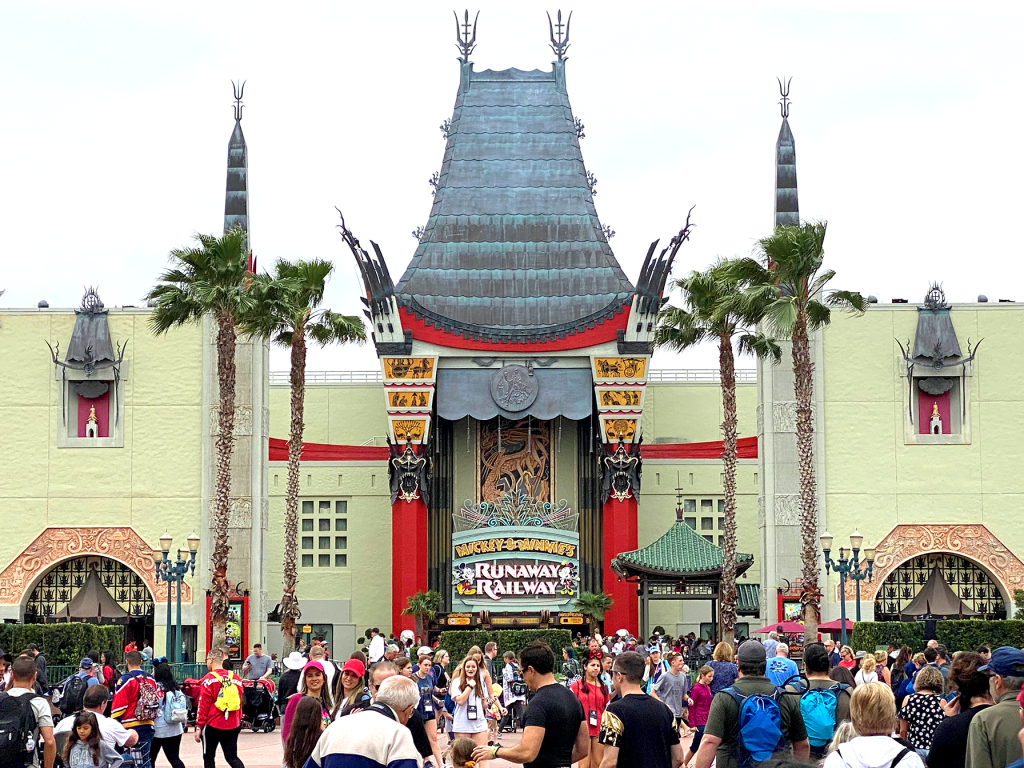 How big is Hollywood Studios?
Hollywood Studios is a 135 acre theme park located near EPCOT. This park has always seemed the smallest to me, but it isn't! There are 7 different areas in Hollywood Studios: Animation Courtyard, Echo Lake, Grand Avenue, Hollywood Boulevard, Star Wars: Galaxy's Edge, Sunset Boulevard, and Toy Story Land.
Disney's Hollywood Studios has some of the best rides in Walt Disney World including the new Star Wars ride Rise of the Resistance (it's more of an experience, in my opinion), Millennium Falcon: Smuggler's Run, Mickey and Minnie's Runaway Railway, Slinky Dog Coaster, Rock n' Roller Coaster, and the Hollywood Tower of Terror.

How Big are the Water Parks at Walt Disney World?
There are 2 water parks at Disney World, and actually there is a now defunct Water Park called River Country near the Wilderness Lodge. (You can catch glimpses of it while riding the boat from Fort Wilderness Campground & Cabins).
Blizzard Beach – a winter themed water park with immersive details that kids and adults will love. It is the larger of the water parks and is 66 acres in size.
Typhoon Lagoon – a water park themed around a massive ship wreck. Typhoon Lagoon is one of my favorite places to relax when it's really hot in Florida. I love the theming of it and it is perfect on a non-park day. Typhoon Lagoon is roughly 56 acres, a little smaller than Blizzard Beach.

How Big is Disney Springs?
Disney Springs is approximately 120 acres of outdoor shopping and dining destinations. There are over 60 places to eat, and 150+ stores that include popular brand flagship stores, small boutiques, and the massive World of Disney Store. There's truly something for everyone at Disney Springs.

How Many Golf Courses are there at Walt Disney World?
There are currently 4 championship golf courses at Disney World. The longest course is the Magnolia Golf Course.
Disney's Magnolia & Palm Golf Courses (near Disney's Grand Floridian Resort and Shades of Green)
Disney's Lake Buena Vista Golf Course
Disney's Oak Trail Golf Course
(There used to be a 5th golf course called Osprey Ridge that closed in 2013 and became part of the Four Seasons Resort)
Are there Mini Golf Courses at Disney World?

There are actually 2 mini golf attractions at Disney World: Fantasia and Winter Summerland. Winter Summerland actually has 2 different courses, one that is Christmas/Winter themed, and one that is Tropical/Summer themed. My family has tried the Winter course and loved it! It was the perfect escape from the crowded parks.
Other Land Areas at Disney World:

Conservation areas: Swamp land and other restricted areas.

How much of Walt Disney World is undeveloped land?
Approximately 1/2 of the 25,000 acres, or 12,500 acres. It's more than enough room to expand – I am sure the imagineers are hard at work planning the next ideas to arrive at the Walt Disney World Resort!
I hope you enjoyed this post on how big is Disneyworld! If you're a huge Disney fan like I am, make sure you check out all of these Disney SVG files (scalable vector graphics)!