Best Hollywood Studios Rides for Genie+
This post and the photos within it may contain affiliate links. As an Amazon associate I earn from qualifying purchases. If you make a purchase through one or more of the links, I may receive a small commission at no extra cost to you.
Are you planning a day at Hollywood Studios in Walt Disney World? I recently visited Hollywood Studios and I spent two days there: one with Genie+ and one without Genie+ (Lightning Lane). I will share my strategy for the Best Hollywood Studios Rides for Genie Plus, along with tips to maximize your day in the park!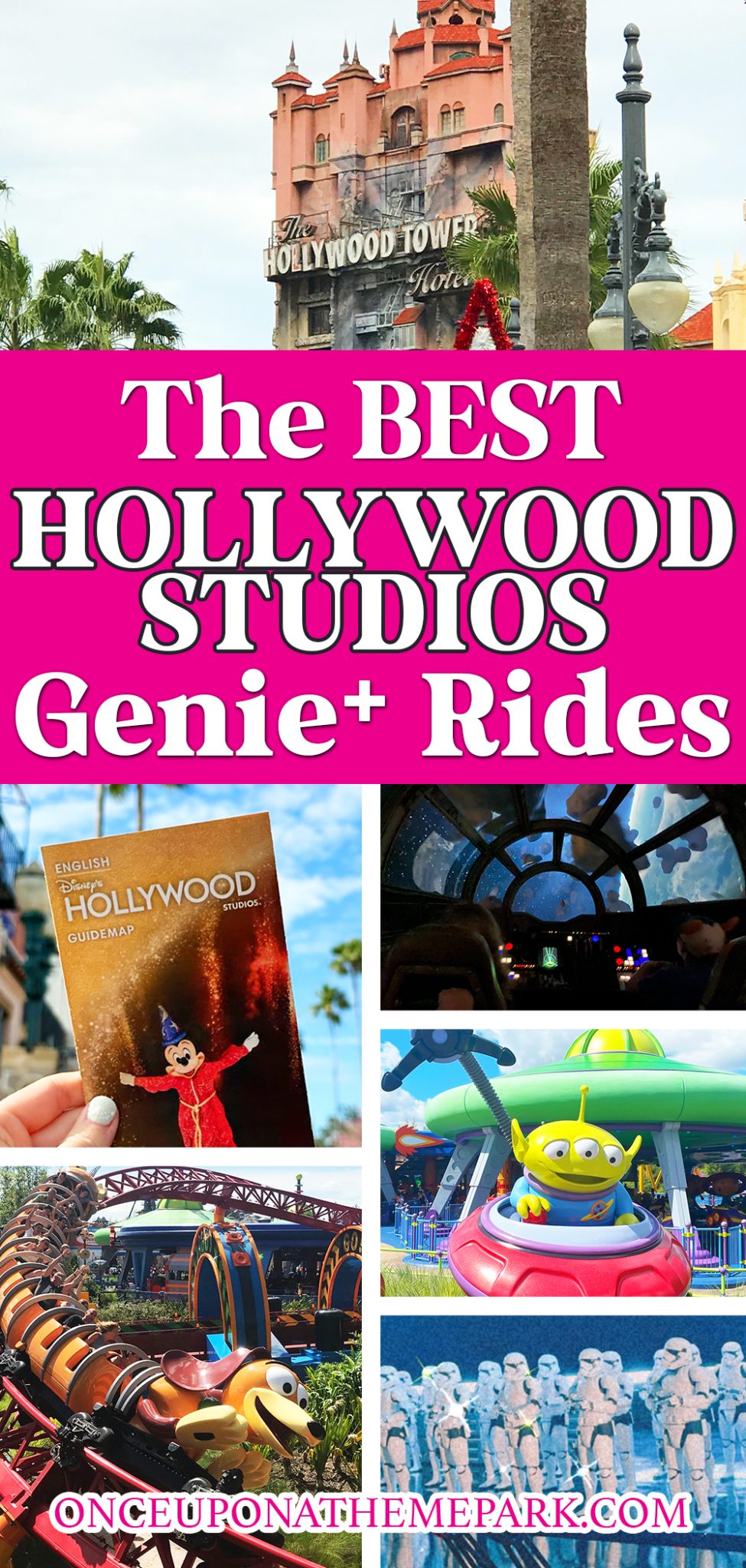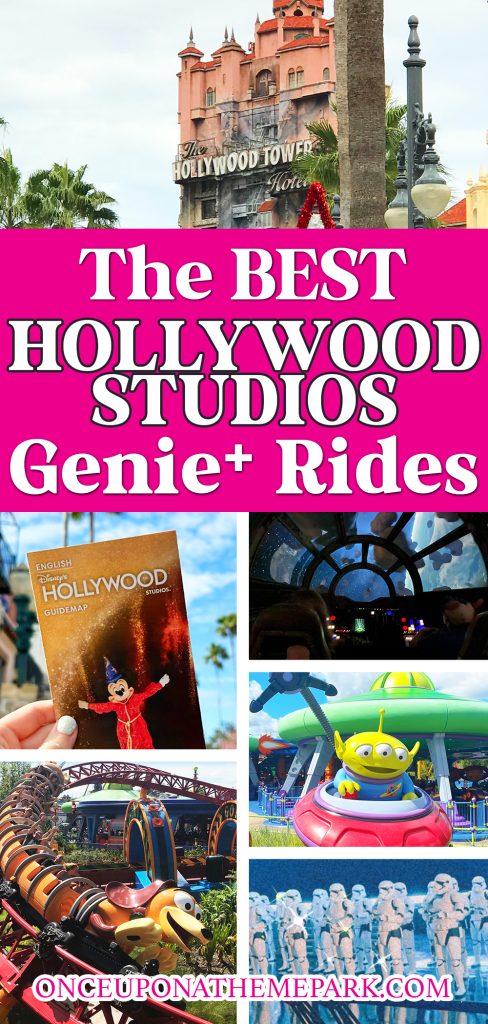 Hollywood Studios is arguably the most popular theme park (after Magic Kingdom) at Disney World, due to the addition of Star Wars land. If you are planning a trip to Hollywood Studios, one of the decisions you will need to make is whether or not you want to include Genie+ with your park tickets.
Genie+ is a paid upgrade to the complimentary Genie service within the My Disney Experience App. It is linked to your park ticket, and allows you to book Lightning Lane access to popular attractions and experiences within the Disney Parks.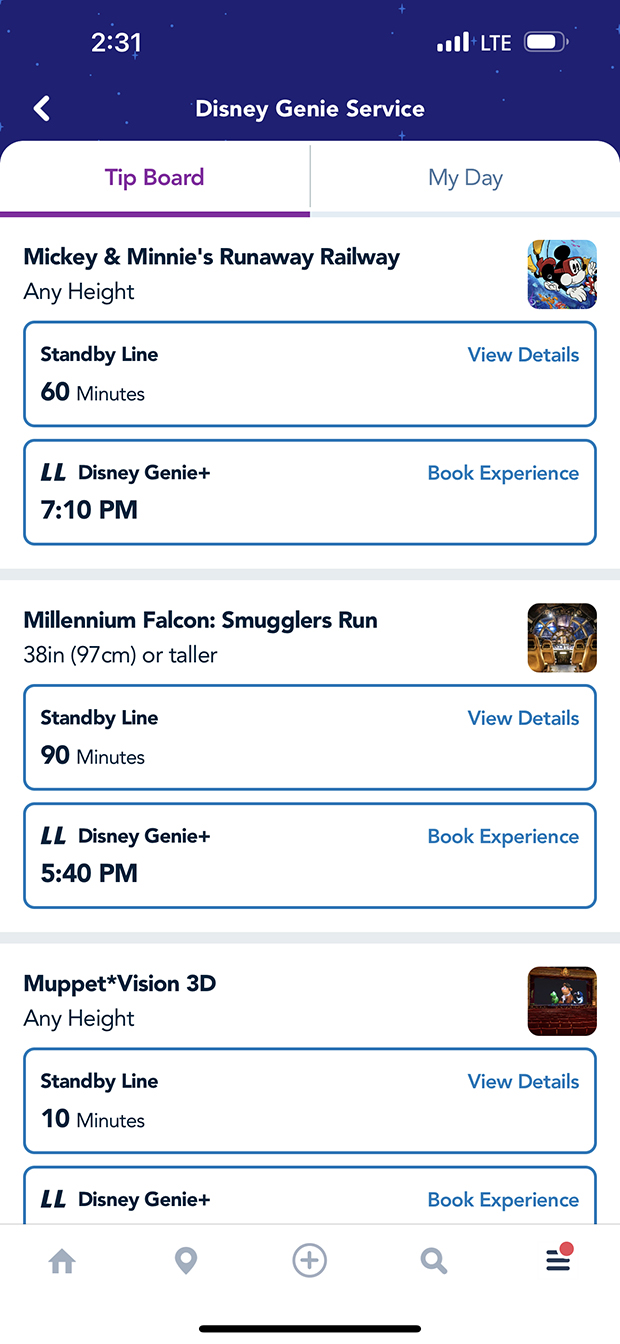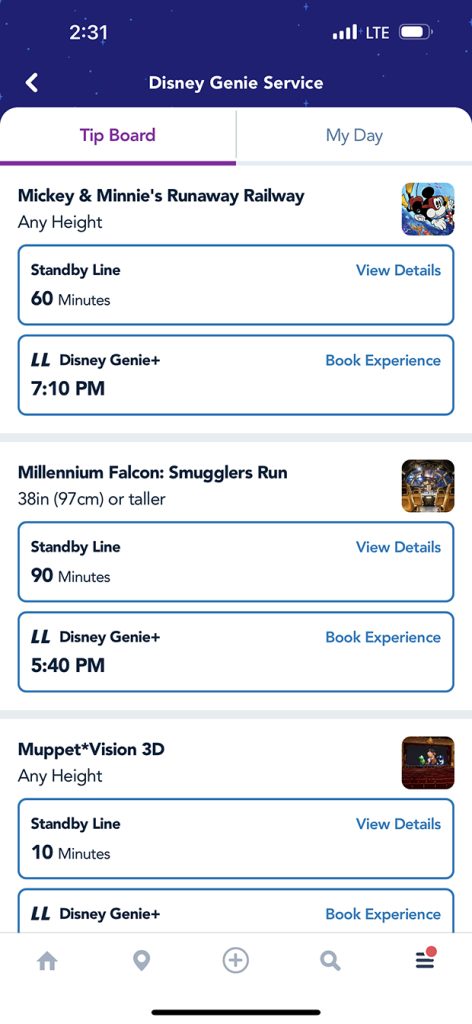 Genie Plus and Lightning Lanes replaced the existing FastPass system in 2021. At the time this post was published, Genie Plus at Disney World costs at least $15 a day per ticket. As of October 2022, the price of Genie+ is variable, and costs more on certain days based on demand.
Whether or not I agree with the addition of Genie+ is not the point of this post. Unless you plan on booking a VIP Tour Guide, Genie+ is the only way to skip the stand-by line for rides at Disney World or Disneyland. It just is what it is.
RELATED POST: 15+ Best Star Wars Shirt Ideas
I do recommend that you consider adding Genie Plus to your vacation package, especially if you are visiting during peak travel seasons (Christmas, Thanksgiving, New Years, holiday weekends, Disney marathon weekends, etc.)
Hollywood Studios has a wide variety of attractions, shows, and experiences for guests of all ages. However, it is one of the smallest Disney World parks with some of the most sought after rides. Slinky Dog Dash and Star Wars: Rise of the Resistance are two of the most popular rides in all of Walt Disney World.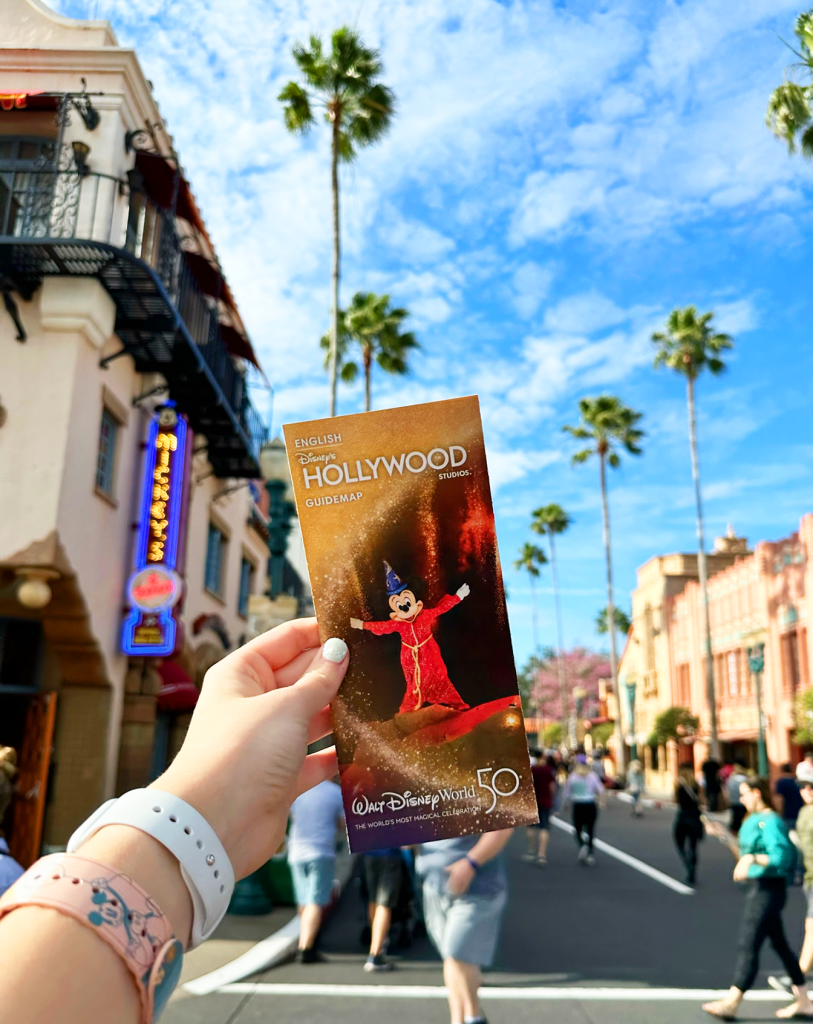 Hollywood Studios Rides Included with Genie+ Service
Here are the attractions and shows included with Genie+ at Disney's Hollywood Studios (subject to change at any time):
Alien Swirling Saucers
Beauty & the Beast Live on Stage
Disney Junior Play and Dance!
For the First Time in Forever: A Frozen Sing-Along Celebration
Indiana Jones Epic Stunt Spectacular!
Meet Olaf at Celebrity Spotlight
Mickey & Minnie's Runaway Railway
Millennium Falcon: Smugglers Run
Muppet*Vision 3D
Rock 'n' Roller Coaster Starring Aerosmith
Slinky Dog Dash
Star Tours – The Adventures Continue
Toy Story Mania!
The Twilight Zone Tower of Terror
Additionally, Star Wars: Rise of the Resistance is available for Individual Lightning Lane (ILL) purchase. This ride is the most popular at Hollywood Studios (in addition to Slinky Dog Dash) and reservations fill up usually within a couple of minutes. If you are traveling with a party, one person should book this reservation, and another book your first Lightning Lane Genie+ selection at 7:00am.
Genie+ Tips for Hollywood Studios
Set your alarms for around 6:45am, and pre-purchase Genie+ for your entire party.
Use a clock with a second hand to countdown to 7:00am and refresh the My Disney Experience App at exactly 7:00am.
Have 2 phones ready to go at 7:00am (or park open). One person will book your first lightning lane reservation (I recommend Slinky Dog Dash), and the other will purchase a reservation for Rise of the Resistance.
If you don't get the selection you want at 7:00am, there is *usually* a release of more Lightning Lane passes between 7:05 and 7:25am.
There are several strategies to plan your Genie+ day at Hollywood Studios, so you need to keep in mind your goals for what you intend to accomplish. Every family is different, but I will give you the popular suggestions for what are the best rides to get Lightning Lane (FastPasses) for at Hollywood Studios.
If you are staying at a Disney World Resort, you will be able to book your first Genie Plus selection at 7:00am. If you are staying off-property, you will be able to book your first Lightning Lane at park open. You will be able to book additional passes every 2 hours or as you use your current Lightning Lane selections.
Obviously, it is beneficial to book your first Lightning Lane reservations as close to park open as possible. This may not happen depending on crowd levels, so expect that you will be booking Lightning Lane selections for the afternoon on the 2 hour interval starting 2 hours after park opening. Make sure you set an alarm!
We usually choose to book ride attraction Lightning Lane passes first, and if we need to, we fill in with shows. You can usually see them in between your Lightning Lane reservations if you have longer gaps between them. Shows generally end earlier in the day, so if seeing them all (Frozen, Indiana Jones, and Beauty and the Beast) with seats at the front, make sure you watch the show times on the My Disney Experience App.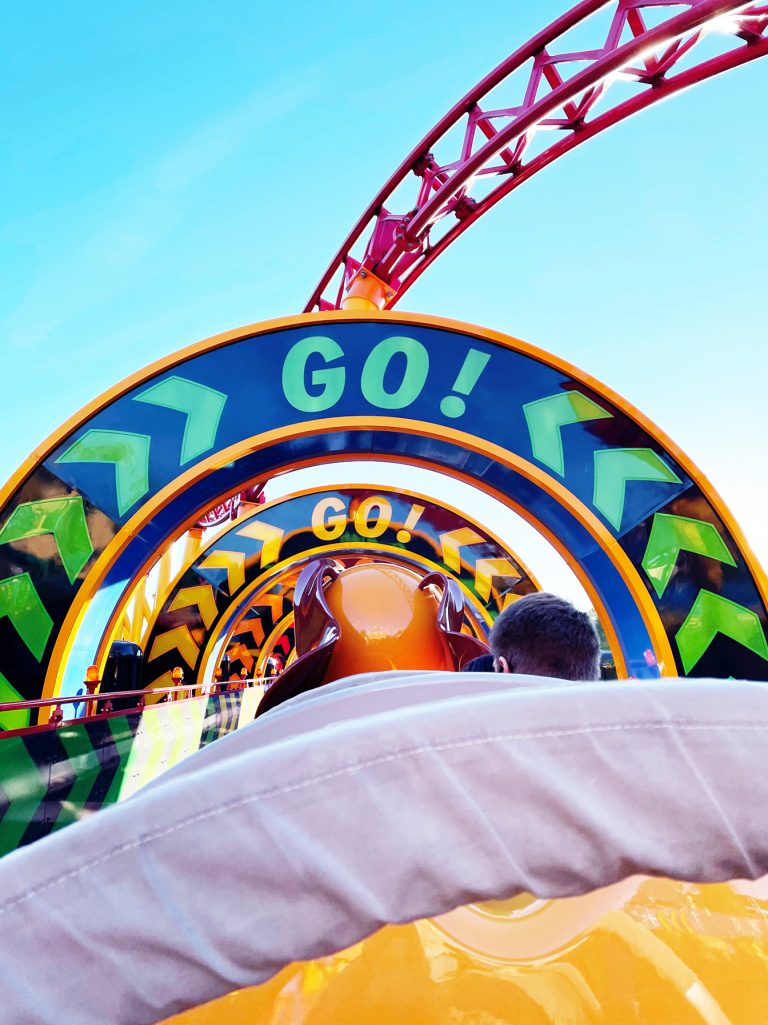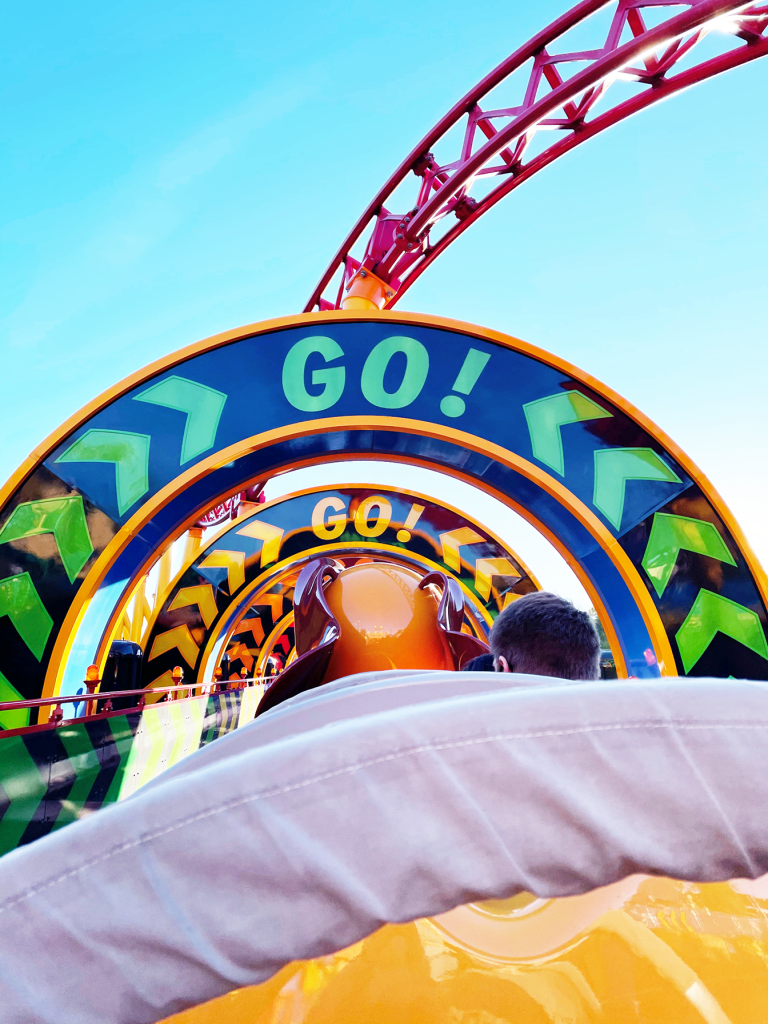 RELATED POST: Ride Height Requirements for Disney World and Disneyland with PRINTABLE Charts!
Best Rides for Genie Plus at Hollywood Studios
Here are the best rides to get FastPasses for at Hollywood Studios using Genie+. This is the strategy I use *most days,* excluding holidays when the parks are a total mess. These are the rides I suggest you book Lightning Lane Fast Passes for, in order of popularity:
Slinky Dog Dash: This roller coaster is one of the newer attractions at Hollywood Studios and it is also one of the most popular. It is within Toy Story Land, and has a height requirement of 38″, making it one of the most family friendly roller coasters at Disney World. The wait times for this ride can be extremely long, so getting a FastPass for it is a must. If you want to ride Slinky Dog Dash, you need to book this ride IMMEDIATELY at 7:00am. Reservations go very quickly (within a couple of minutes on most days).
Twilight Zone Tower of Terror: This classic Hollywood Studios attraction is a must-do for thrill seekers. The ride takes guests on a terrifying elevator ride through the haunted Hollywood Tower Hotel. The wait times are usually long for this ride, and Lightning Lane passes will fill up, usually in the morning. I would recommend this ride be your second selection if you want to get a Lightning Lane pass.
Mickey & Minnie's Runaway Railway: This ride replaced The Great Movie Ride, and a version of it just opened at Disneyland. This ride happens to be one of my favorite, so if we aren't booking Tower of Terror, this is my next ride. You will be likely only be able to get evening reservation times starting around 12pm, and it will sell out later in the day.
Millennium Falcon: Smugglers Run: This interactive ride allows guests to take control of the Millennium Falcon and complete a mission, making it a must-do for Star Wars fans. This ride will usually "sell out" reservation times in the early to mid-afternoon.
The next rides to fill up will be Toy Story Mania! and Rock 'n' Roller Coaster Starring Aerosmith. Toy Story Mania! is an interactive ride where you play mini-games featuring characters from the Toy Story movies. This is a family favorite and we always book this ride! Rock 'n' Roller Coaster is a high speed coaster meant for adults and older kids 48″ or taller. If I visit Hollywood Studios with my younger kids, we don't book this Lightning Lane, and instead send the older kids and adults through the Single Rider Line. They won't get to ride together, but it is a faster way to move through the line if the stand-by line is long.

The following rides generally have availability throughout the day, and we tend to book these on an as needed basis (aka what NOT to book as your Lightning Lanes, at least early in the day!):

Star Tours – The Adventures Continue: This 3D motion simulator ride takes guests on a journey through the Star Wars universe. The ride features multiple storylines, and is a favorite of Star Wars fans. This is the original Star Wars ride offered at Hollywood Studios, and all of my kids love it!
Alien Swirling Saucers: This spinning ride takes guests on a journey through the Toy Story universe, where they must try to avoid getting captured by the aliens. The wait times for this ride can be annoyingly long, so this is a great one to get if you have smaller children. It is not usually a priority for us, however.
Muppet*Vision 3D: This 4D film features the Muppets in a series of comedic skits and musical numbers. This "ride" is really a show, but my kids think of it as a ride. It's our lowest priority, and is usually a 10 min wait or less. We hardly ever book a Lightning Lane for this show, and instead use it as an escape from the heat or crowds.
Disney Junior Play and Dance!: We only book this show if we are traveling with much younger kids and it is a very busy park day. Having a Lightning Lane and arriving to the line early in the reservation period will make it more likely that your child will have a good location in the theatre.
Pro Tip: Plan Ahead for the Afternoon
If you book your first Lightning Lane and it isn't until much later in the day, plan like a Pro! Use the 2 hour booking time for Genie+ and stack all of your favorite rides for the afternoon. You can catch all of the shows in the morning OR plan a 1/2 day at the pool. Then arrive in the afternoon and start enjoying all of the rides right away. Then as you ride, you can book all of the lower priority rides and walk right on!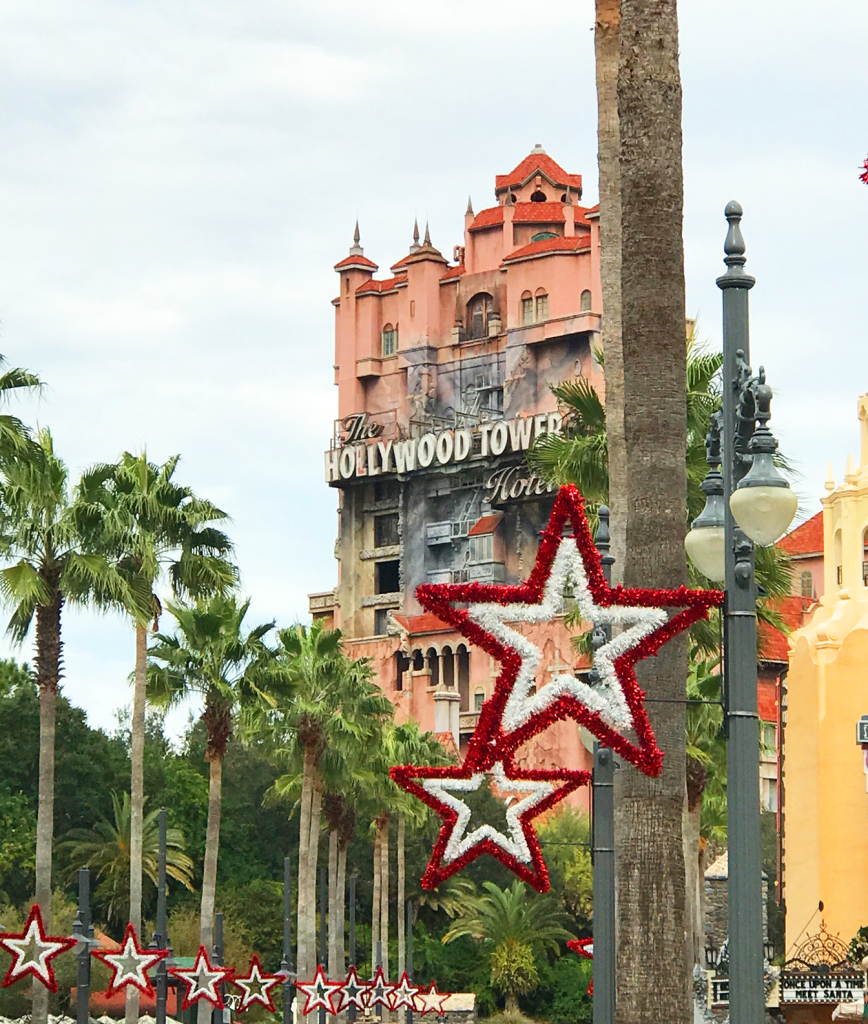 I hope that helps you plan your day at Hollywood Studios! Keep in mind that the availability of Lightning Lane for certain rides can be limited, so it's important to plan ahead and make your top ride selections as early as possible. I am happy to answer questions about Lightning Lane or Hollywood Studios. Send me an email or comment below!
Don't forget to pin an image from this post to your Disney Trip board on Pinterest!