Hocus Pocus Trivia Printable Questions and Answers
This post and the photos within it may contain affiliate links. As an Amazon associate I earn from qualifying purchases. If you make a purchase through one or more of the links, I may receive a small commission at no extra cost to you.
Download a spell-tacular set of printable Hocus Pocus trivia questions and answers! Whether you're a true movie buff or just looking for a fun way to celebrate this beloved Halloween movie, this Hocus Pocus trivia quiz is the perfect addition to your Halloween party or movie night!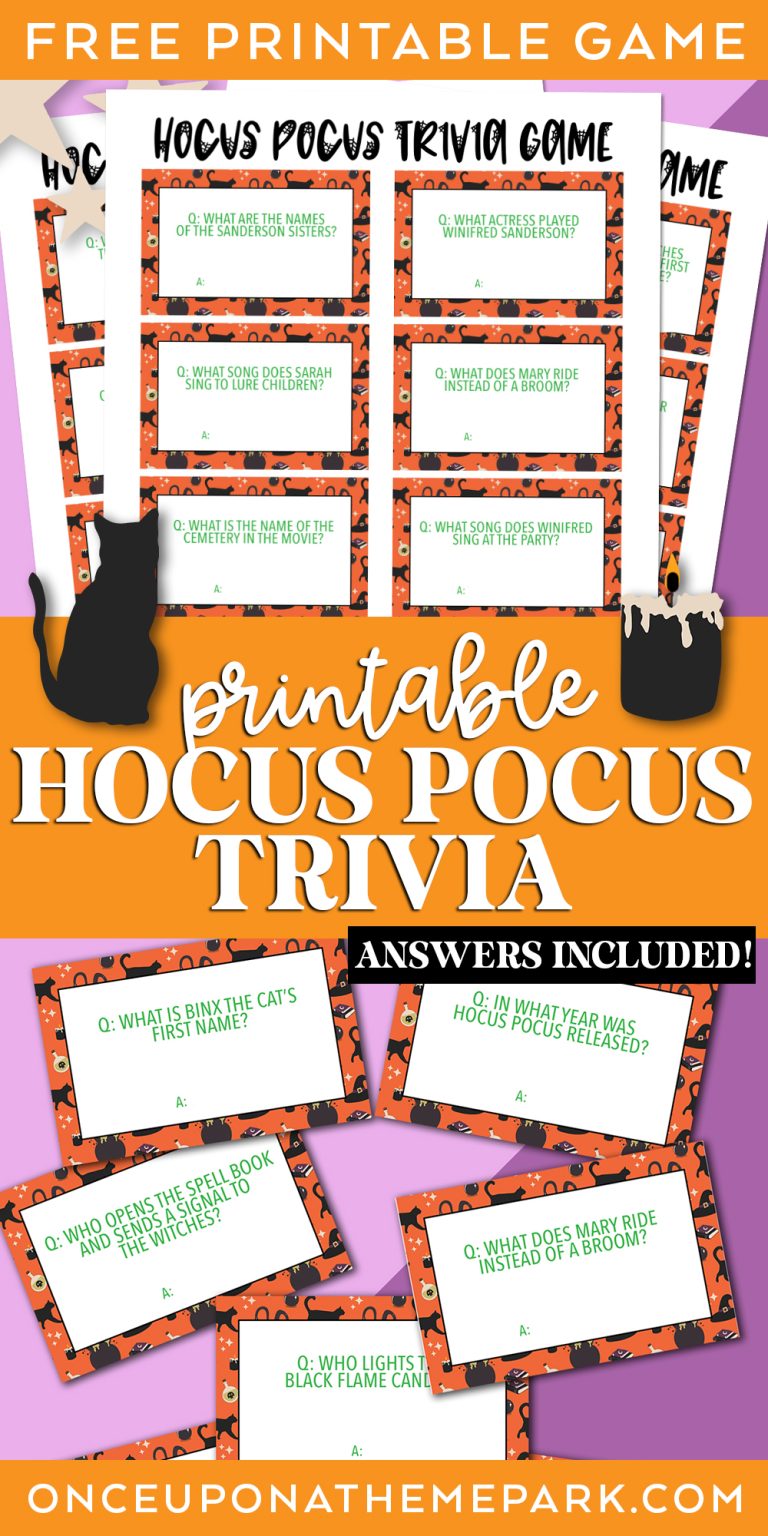 Printable Hocus Pocus Questions
It's no secret that I'm a HUGE Hocus Pocus fan, and we love to host Hocus Pocus movie nights and even a Hocus Pocus themed trick or treat every year! I even dress up as Mary Sanderson and convince my friends to dress up as the other Sanderson sisters.
I created this printable trivia quiz so that you can use it for your movie nights or Halloween parties, too! And who knows, if you read the rest of this post, there might be a few hidden answers for some of the trivia questions! 🙂
Hocus Pocus has become a cult classic in recent years, and there's even a sequel (Hocus Pocus 2) that was released on Disney Plus in 2022. In the original movie, wickedly hilarious Sanderson sisters, played by Bette Midler, Sarah Jessica Parker, and Kathy Najimy, are resurrected after a virgin lights the black flame candle. I mean what could happen? It's just a bunch of Hocus Pocus!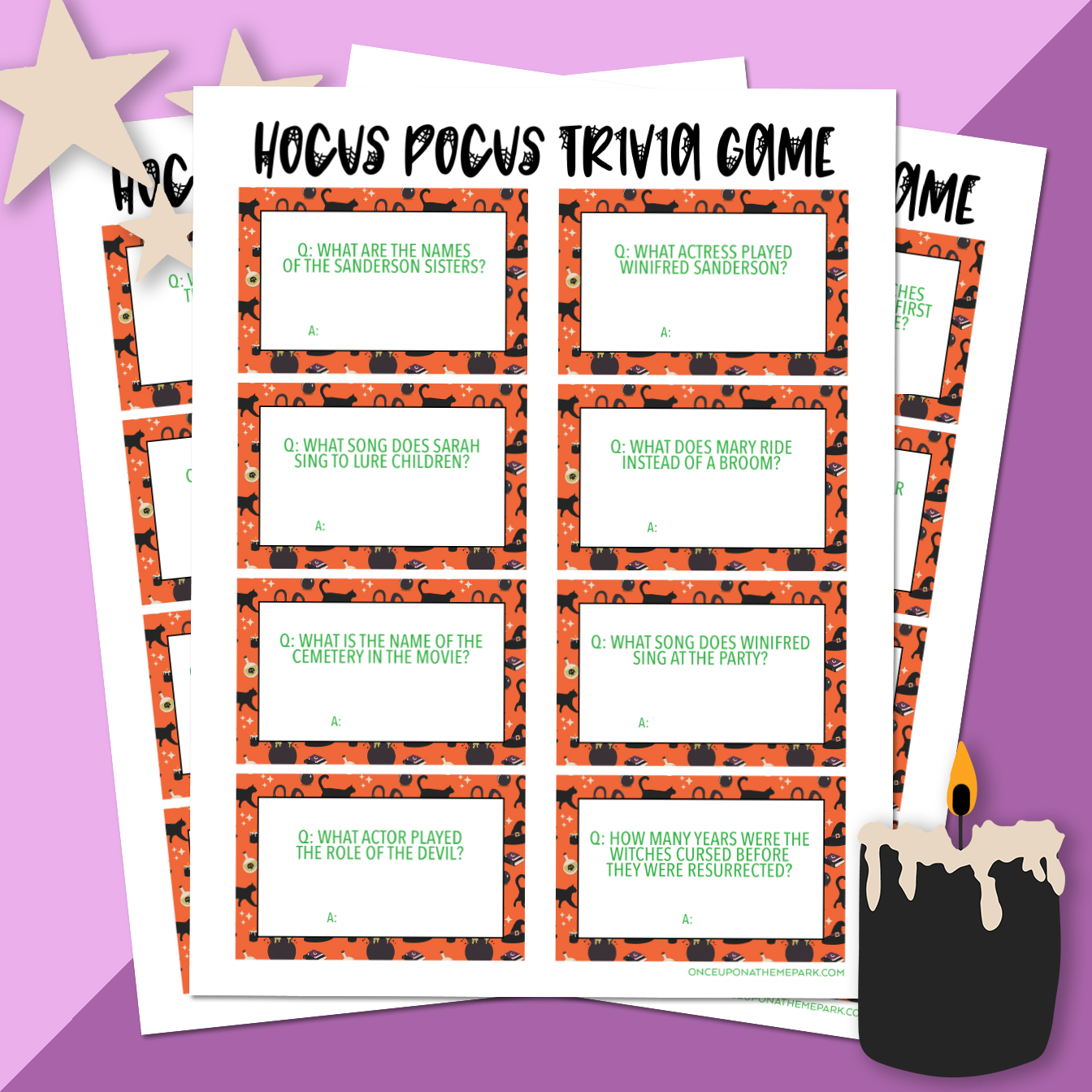 Printable Hocus Pocus Quiz
The witches take siblings Max and Dani, and their friends Allison and Thackery Binx (who is a talking cat cursed by Winifred Sanderson) on a spooky adventure filled with laughs and scares! This trivia game covers the first Hocus Pocus movie, but I did sneak in a question about Hocus Pocus 2.
I have tried to curate a list of trivia questions with general knowledge for new fans of the movie, as well as some hard ones for those of you that have seen Hocus Pocus dozens of times. From iconic quotes to memorable scenes, to little known trivia facts that might stump you, I came up with the ultimate Hocus Pocus quiz! There was even one in there that I didn't know until I found it!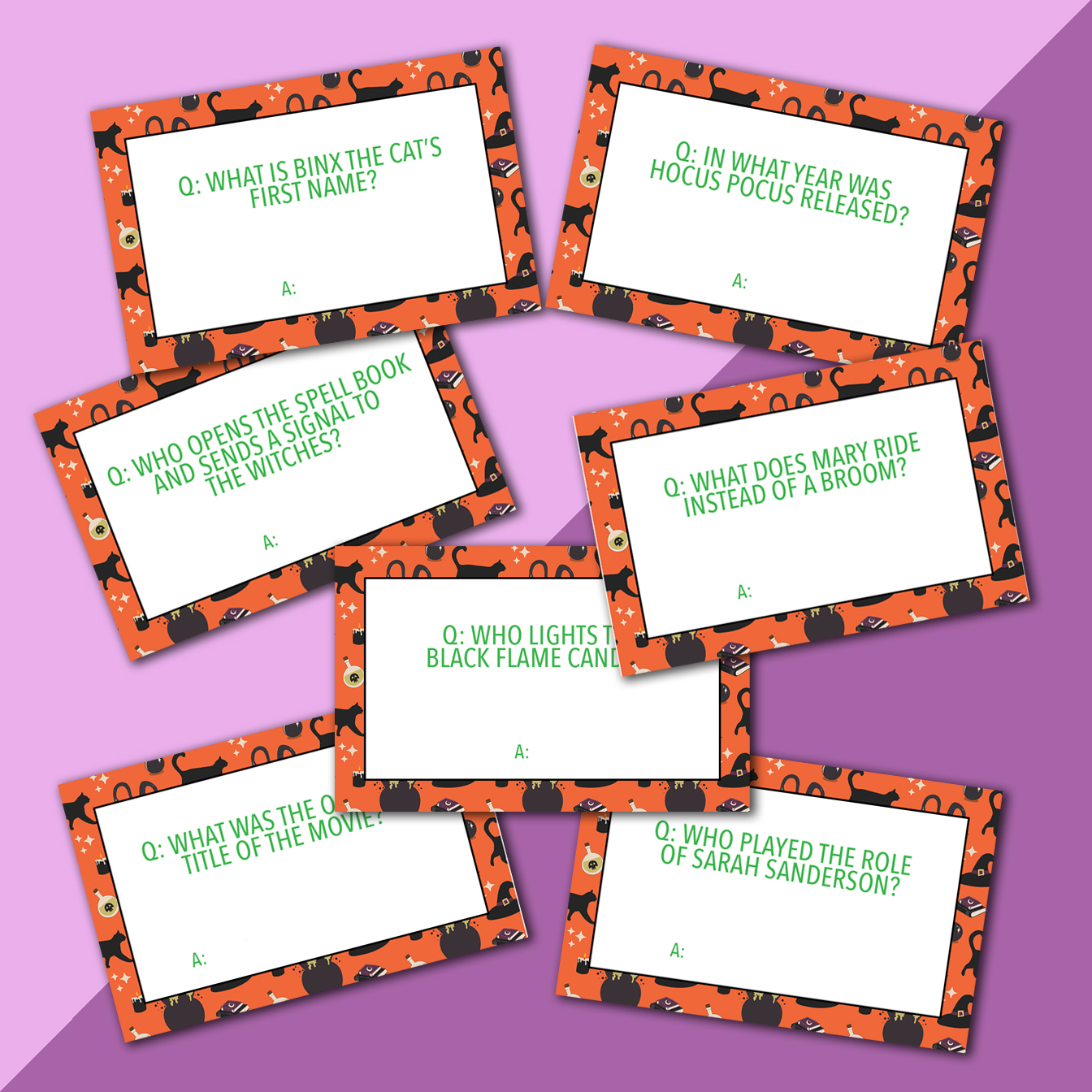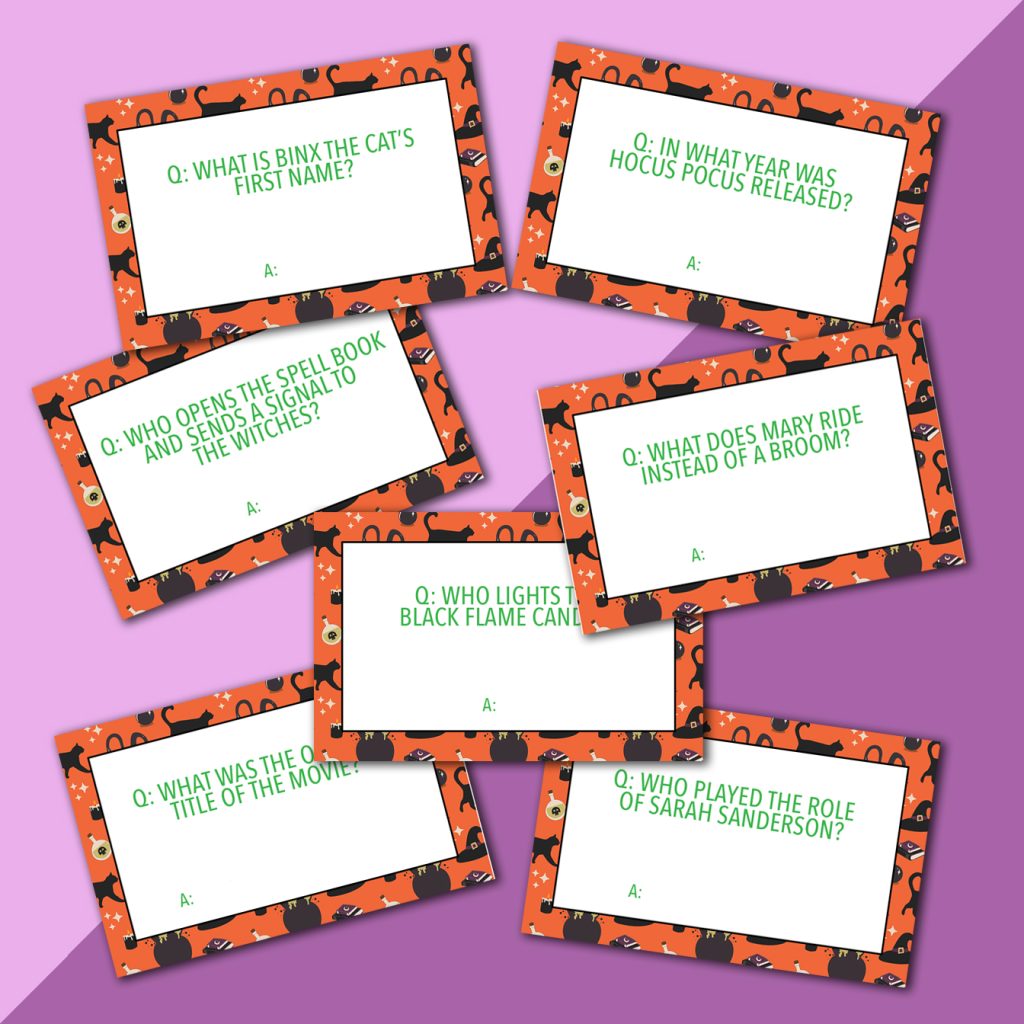 Not to give away the answers, I have covered them up in the images of this post. Don't worry, though – they're all at the bottom of each card!
Hocus Pocus Trivia Questions
Here are some of the trivia questions that are included (there's 32 questions in all):
What does Mary Sanderson ride instead of a broom?
In what town does Hocus Pocus take place?
What was the original title of the movie?
What actress plays Sarah Sanderson?
What is the name of the zombie that is resurrected by the witches?
What city were Max and Dani originally from?
What actor provided the voice for Binx?
Who lights the black flame candle?
​There are 4 sheets of questions that are sized to fit 8.5 x 11″ printer paper. I prefer my Canon craft printer that prints BORDERLESS sheets – it allows you to take the artwork right to the edge of the paper! You can print the quiz at home and cut out the trivia questions and answers as many times as you want!
RELATED POST: Printable Star Wars Trivia Questions
Download Hocus Pocus Trivia Printable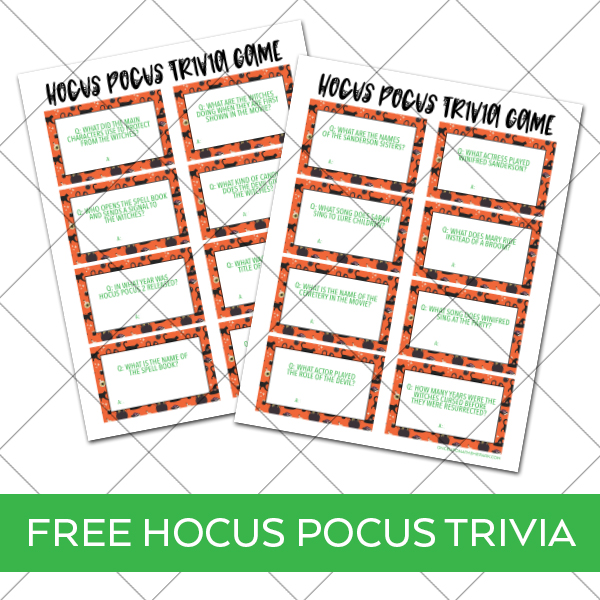 This file is DOWNLOAD #019 in my FREE DOWNLOADS LIBRARY.
Get the password below! (If you have the password, head over to the library to download the file.)
You will NOT be sent an email with the file. Free Printables available for download are for PERSONAL USE ONLY. PDF File is included.
Don't forget to pin this post to your favorite Halloween board on Pinterest!