Moana Sudoku – Free Printable Game
This post and the photos within it may contain affiliate links. As an Amazon associate I earn from qualifying purchases. If you make a purchase through one or more of the links, I may receive a small commission at no extra cost to you.
Download a FREE Moana Sudoku Game for your kids! Enjoy this printable Disney sudoku game in the airport, at your Disney resort, at a birthday party, or even as a school activity!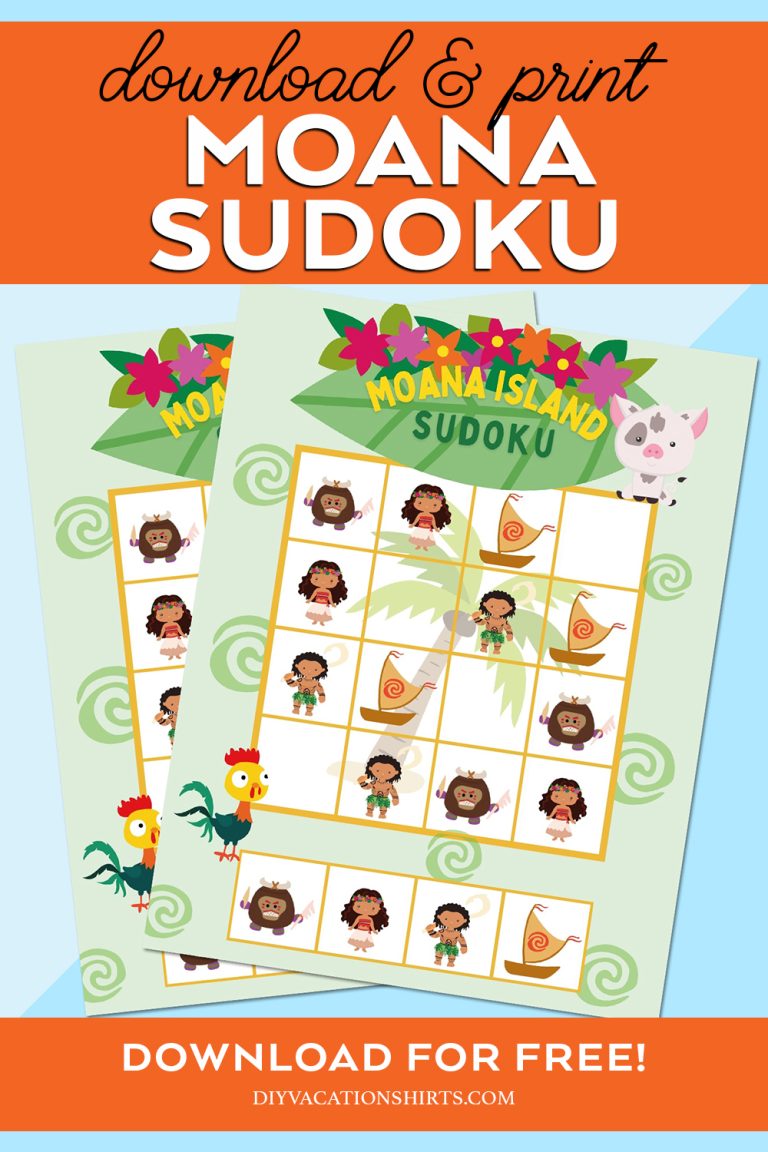 Moana is one of the favorite Disney princesses in our house (well, not a princess, the daughter of the chief!) We have tons of Moana backpacks, shirts, and jewelry and we LOVE to stay at Disney's Polynesian Resort at Walt Disney World.
My youngest daughter is in second grade, and I have been designing easy printable Disney games and coloring pages that will entertain her on a rainy day at home or at the parks. She loves using the characters in the sudoku spaces instead of numbers!
Basics of Printable Moana Sudoku
Sudoku is one of the most famous games in history, and can be made easy for beginners or incredibly challenging for experienced players! I personally love sudoku, and love this playful take on the game.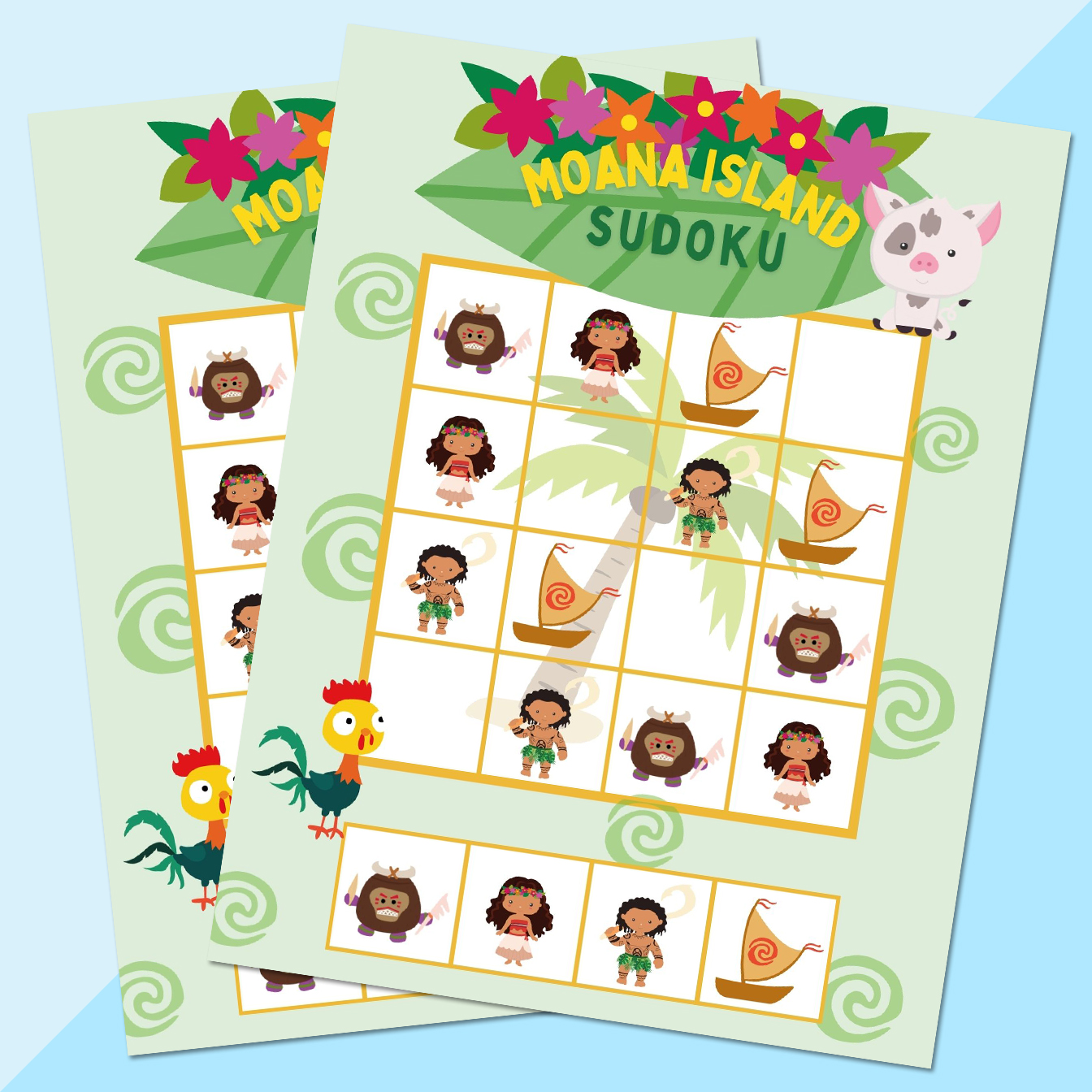 In traditional sudoku games, numbers 1-9 are used. You are presented with a grid that has some numbers filled in. Your goal is to fill in the rest of the numbers so that every row (left to right), column (up and down), and grid only contains each of the numbers 1-9 ONCE.
In this simple Disney-inspired version, characters from the movie "Moana" will take the place of the numbers. Cut out the squares from the bottom of the page, then try to place them on the grid so that each character is only in each row or column ONCE.
This game is purposefully made simple so that young children can practice their logic skills.
BONUS: The printable download includes a blank Moana Sudoku game as well as a sheet of characters so that you can design your own Moana game! You can just mix up the characters or make it more challenging for older kids. Just glue the squares down that the game will start with, and leave the others like "game pieces" for your kids to test their logic and complete the game.
Download Free Printable Moana Sudoku
I've had quite a few questions about which printer I use that prints right to the edge of the paper (borderless printing) – it's a Canon craft printer and I love it! It's so popular that it sells out all of the time, so if you see it in stock, grab it!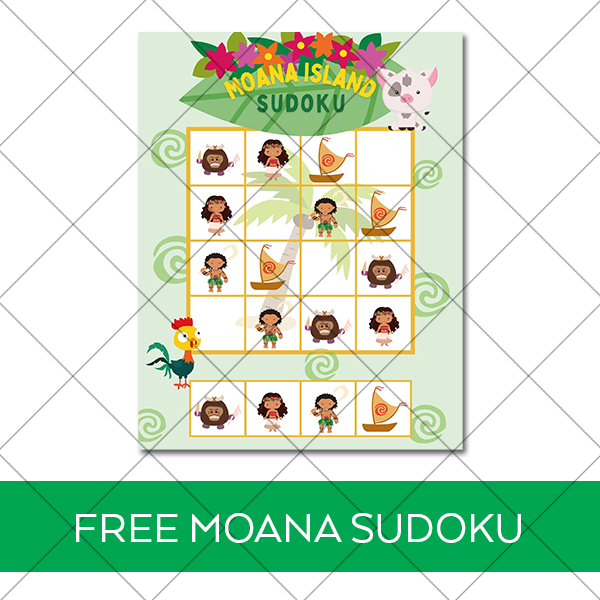 This file is DOWNLOAD #006 in my FREE DOWNLOADS LIBRARY.
Get the password below! (If you have the password, head over to the library to download the file.)
You will NOT be sent an email with the file. Free Printables available for download are for PERSONAL USE ONLY. PDF File is included.
Make sure you post a Moana Sudoku Game image to your favorite Disney board on Pinterest!