Hidden Things to Do at Disney World: 12+ Activities for your Next Trip
This post and the photos within it may contain affiliate links. As an Amazon associate I earn from qualifying purchases. If you make a purchase through one or more of the links, I may receive a small commission at no extra cost to you.
Everyone has a "must see" or "must do" list for Walt Disney World. It is the most popular tourist destination in the world, and there's so much to experience that you could never fit it all into one trip! Try to maximize your Disney experience with these 12+ lesser known or hidden things to do at Disney World!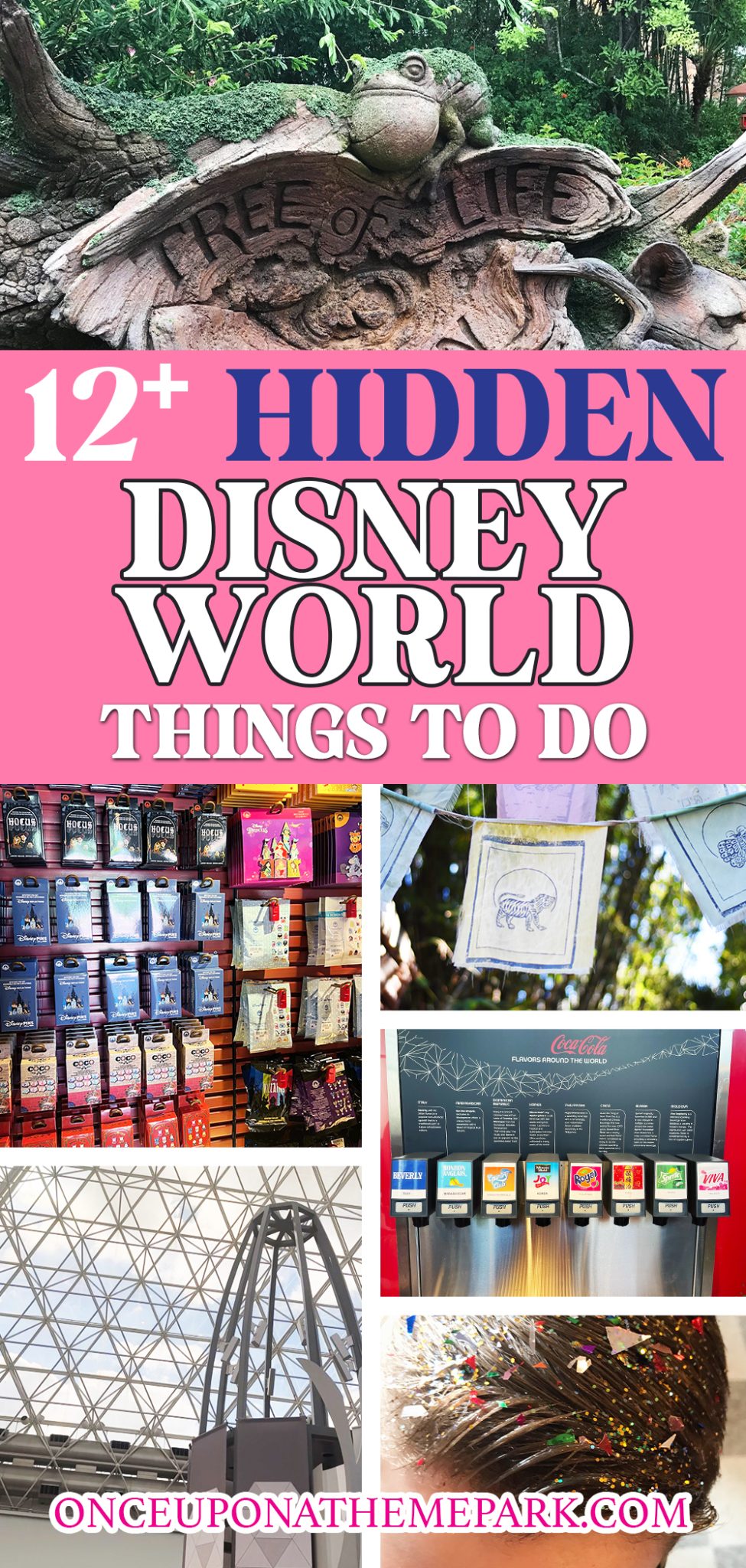 Secret Things to Do at Walt Disney World
I am all about seeing everything while I am on vacation. I make vacation shirts for my family. I plan photo spots and print out planning sheets for the parks. I know exactly which rides I'm going to reserve with Genie+.
And while all of these things are fun and make for an amazing vacation, there are days where I do NOT want to ride all of the rides or do everything that the whole crowd is doing. Since we are annual passholders, we visit the parks more often than most people, so we don't have to ride every.single.thing. I enjoy finding the experiences that not many people know about, or aren't on their "must do" list. Especially when it's during the holidays, spring break, or festival season.
Although they're not exactly "secret," they are all things that are NOT on most people's Disney vacation itinerary! In my opinion, all of these ideas and tips will make for a better Disney World trip.
12+ Hidden Things to Do at Disney World
There are many hidden gems inside the Disney parks for those that take the time to slow down and look around a bit. Plus, there's also exclusive experiences that only certain guests can do! (I always want to be one of those people!) So if you are looking for a Disney World activity that's off the beaten path, here are some hidden things to do at Walt Disney World. Click on the links to head directly to the post section, or scroll down to read all of the ideas!
Scavenger Hunts
Themed scavenger hunts are one of our favorite things to do when the parks are busy or we want something different to do. They most obvious of these is to search for "Hidden Mickeys" all over the park, which is a great way to entertain stroller bound kids when they get tired.
Disney World also has a number of theme based scavenger hunts that are fun for kids and adults like. Some of the searches are free, and some are paid but include an exclusive prize at the end.
One of our favorites is the Wilderness Explorer interactive experience at Animal Kingdom. You can visit locations all over the park to collect "badges" just like Russell from the movie "Up." It's a great way to explore every nook and cranny of Animal Kingdom!
EPCOT hosts different scavenger hunts based on the time of year. During the Festival of the Arts, there's a paid hunt where you find a Figment painting hidden in every country of the World Showcase'
. You can pick up a map inside the gift shops within EPCOT and turn in the completed map for a surprise! Plus, there are character paintings hidden in each country to discover – totally free and really fun!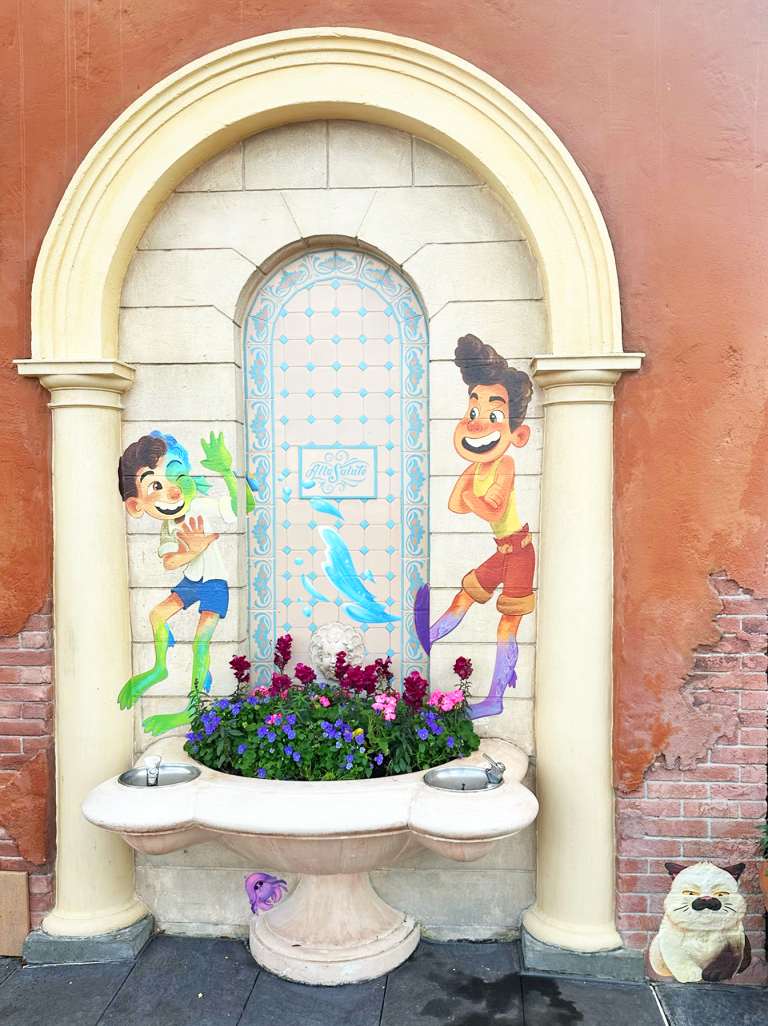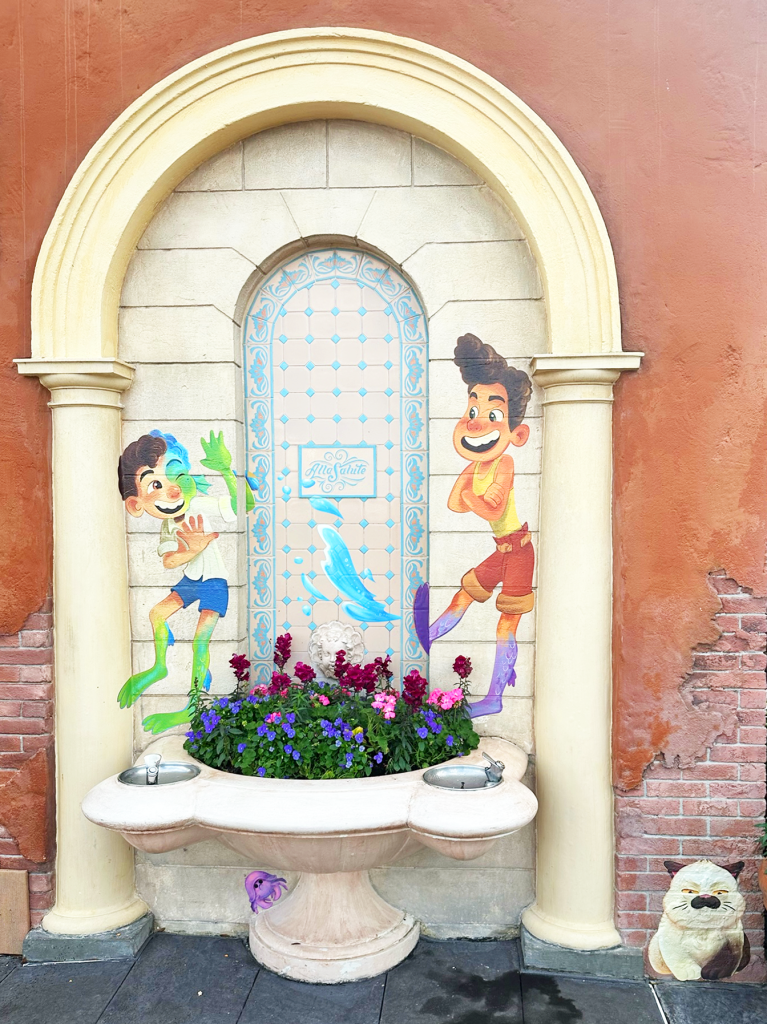 Similarly, during the Food and Wine festival in the fall, there's Remy (from "Ratatouille") figures to discover, and during Easter there's an Eggstravaganza hunt. Also in the spring, during the Flower and Garden Festival there is usually Spike's "Pollen-Nation Exploration" to discover hidden bees throughout the World Showcase. The scavenger hunts continue into the holidays with a winter-themed hunt (in 2022 it was themed around Olaf from "Frozen").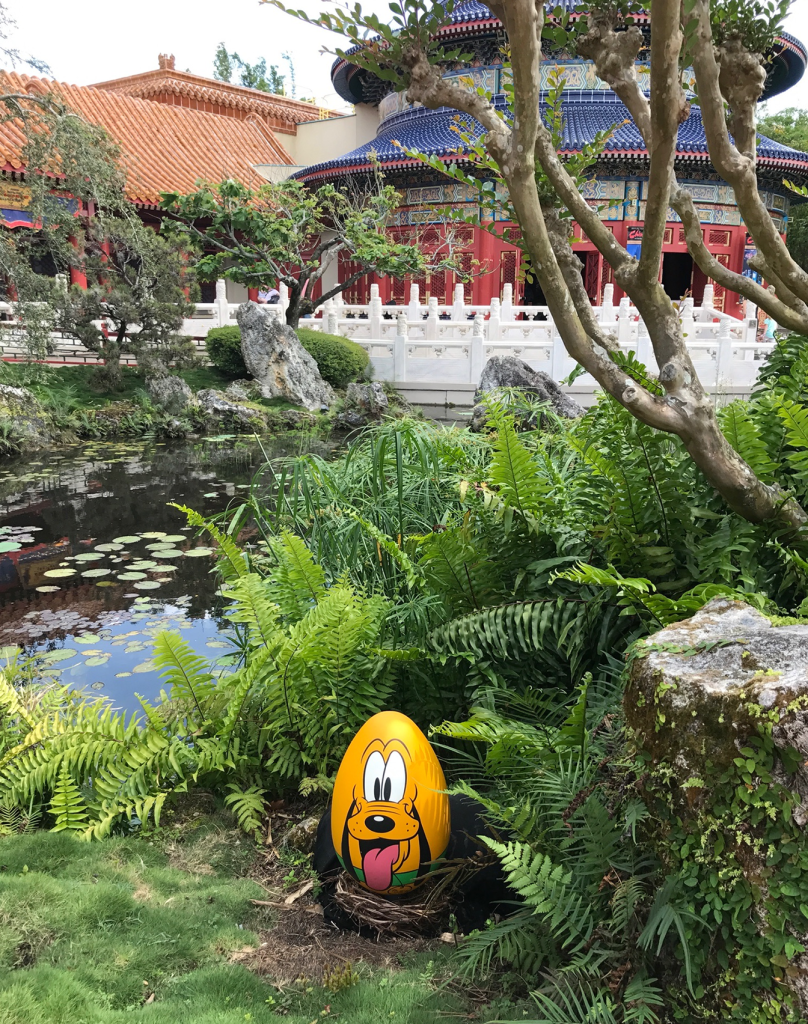 The scavenger hunts continue over at Magic Kingdom with "A Pirate's Adventures: Treasures of the Seven Seas," which is a scavenger hunt all over Adventureland with a Pirates of the Caribbean theme. This one has multiple variations (maps) and my little kids beg to do this activity every time we are at Magic Kingdom.
Plus, at Hollywood Studios in Star Wars Land, you can play your way through Batuu using the Play Disney app to interact with various items around the land!
Play a Round of Mini-Golf
I don't always recommend miniature golf on vacation, but when the parks are REALLY busy, mini golf can be a fun break from the crowds!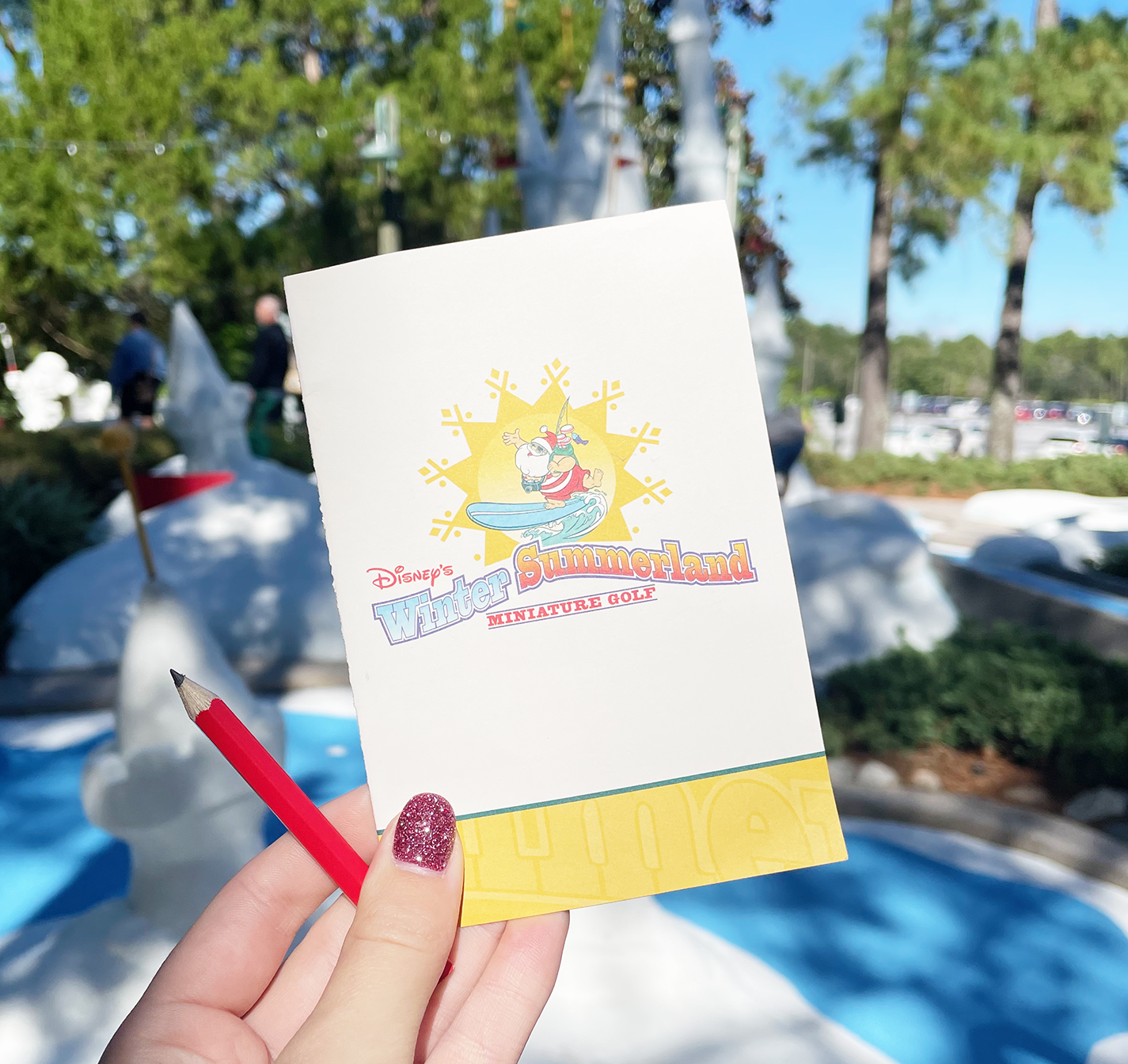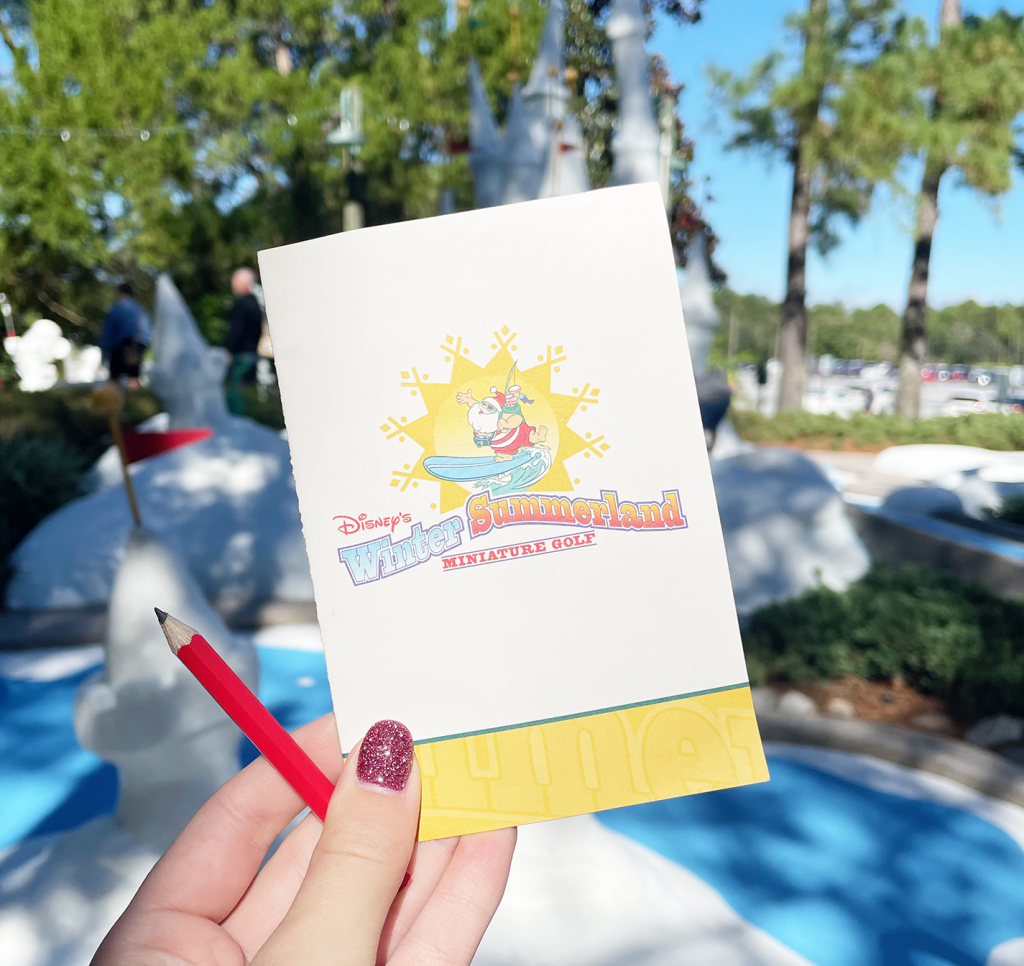 Disney World has two mini-golf courses, one at Disney's Fantasia Gardens (near the Boardwalk Resort) and the other at Disney's Winter Summerland (near the entrance to Blizzard Beach).
At the Winter Summerland course, you can pick two different courses to play: one winter themed and one summer themed. The last time we went we played the winter course and we all loved it! It has characters built from "snow" and Christmas themed holes! It's a fun and unique activity and Disney World, and we've never seen it very crowded.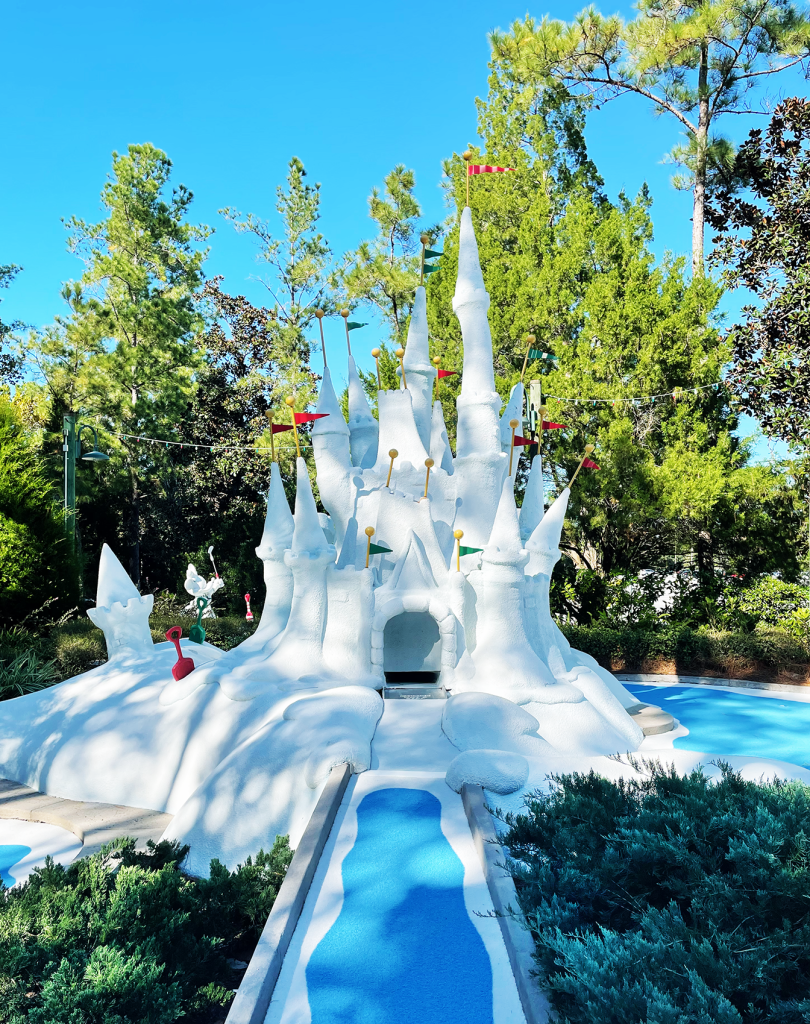 Visit Disney's Boardwalk
Did you know that Disney has a Boardwalk? Nope it's not just a hotel, although the hotel is attached to it. The Boardwalk at Disney World is a charming waterfront area that is usually very quiet during the day – and free to enter! You can grab sandwiches at the Boardwalk Deli, visit drink stands, play games at a classic arcade, or take a ride around Crescent Lake on a multi-person bike.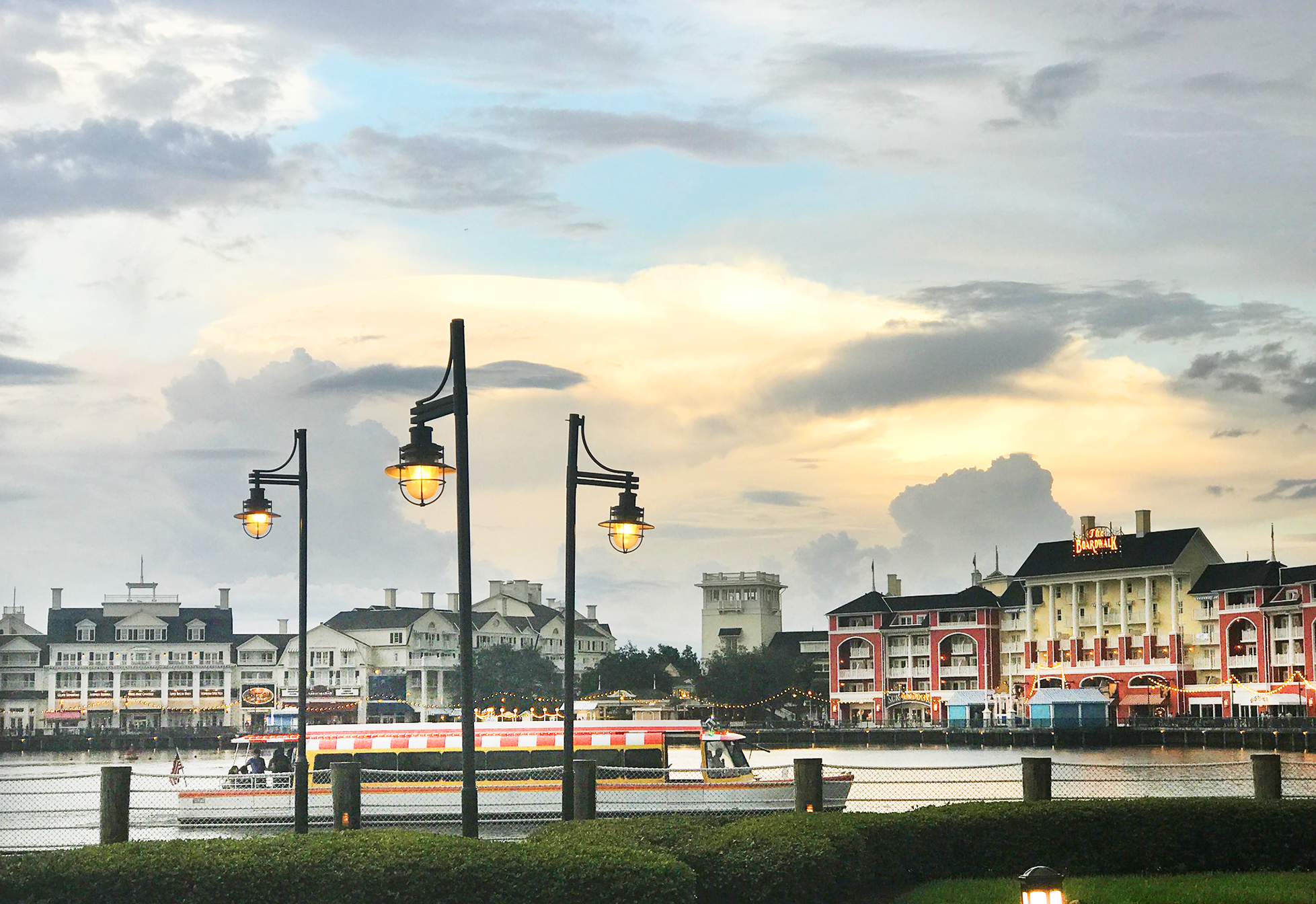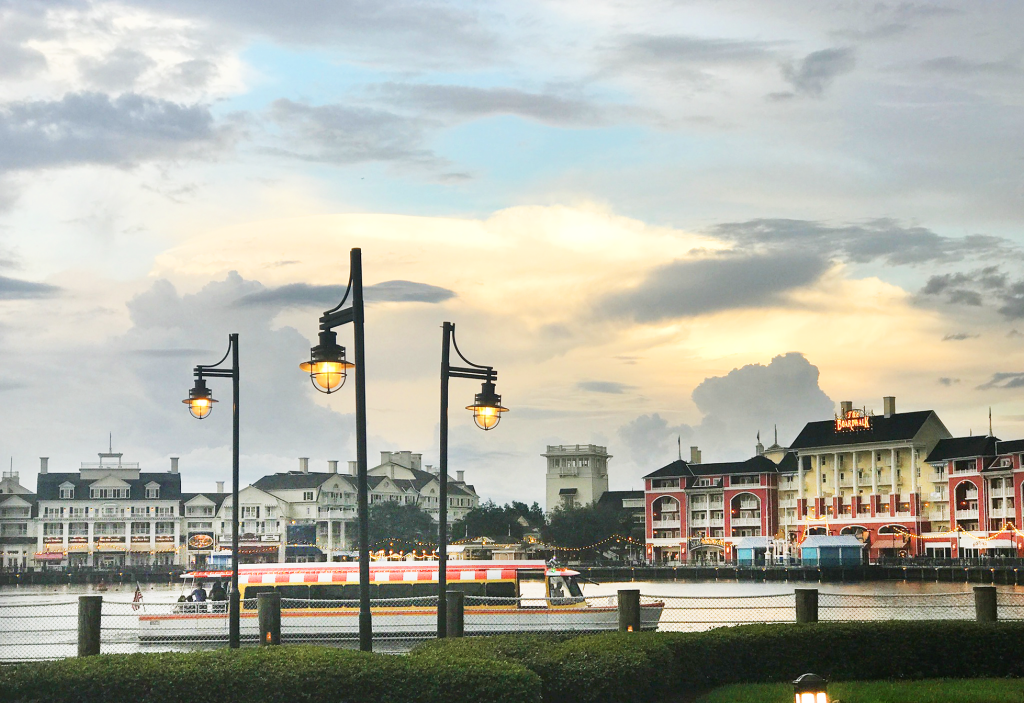 Then at night, enjoy nightlife at Jellyrolls (a dueling piano bar) or one of my favorite bars, AbracadaBar. There's also dining at Flying Fish or Trattoria al Forno.
We sometimes walk over to the Boardwalk from EPCOT. It's a quick stroll from the International Gateway entrance between the UK pavilion and France pavilion in the World Showcase.
Club Cool at EPCOT
Located near the Creations gift shop in EPCOT, you can try Coca-Cola products from around the world at Club Cool. Inside, there are several soda machines with varying flavors of soda and juice from obscure locations!
It's always interesting to me what foods and drinks from other countries are popular, so I think this is a really fun stop. Plus, if you can get an unknowing person in your party to try "Beverly" from Italy, Club Cool will be an activity you'll be talking about for a while!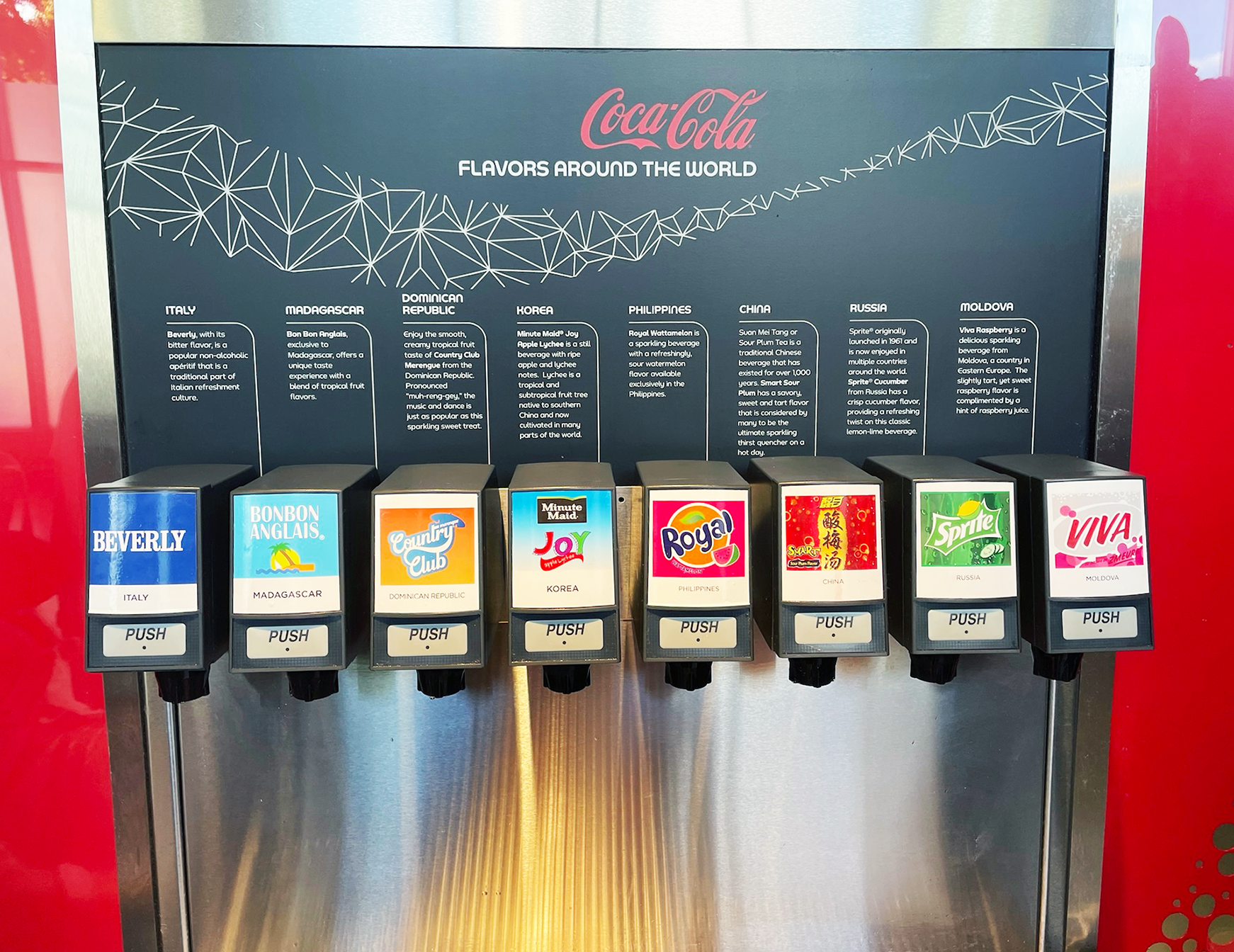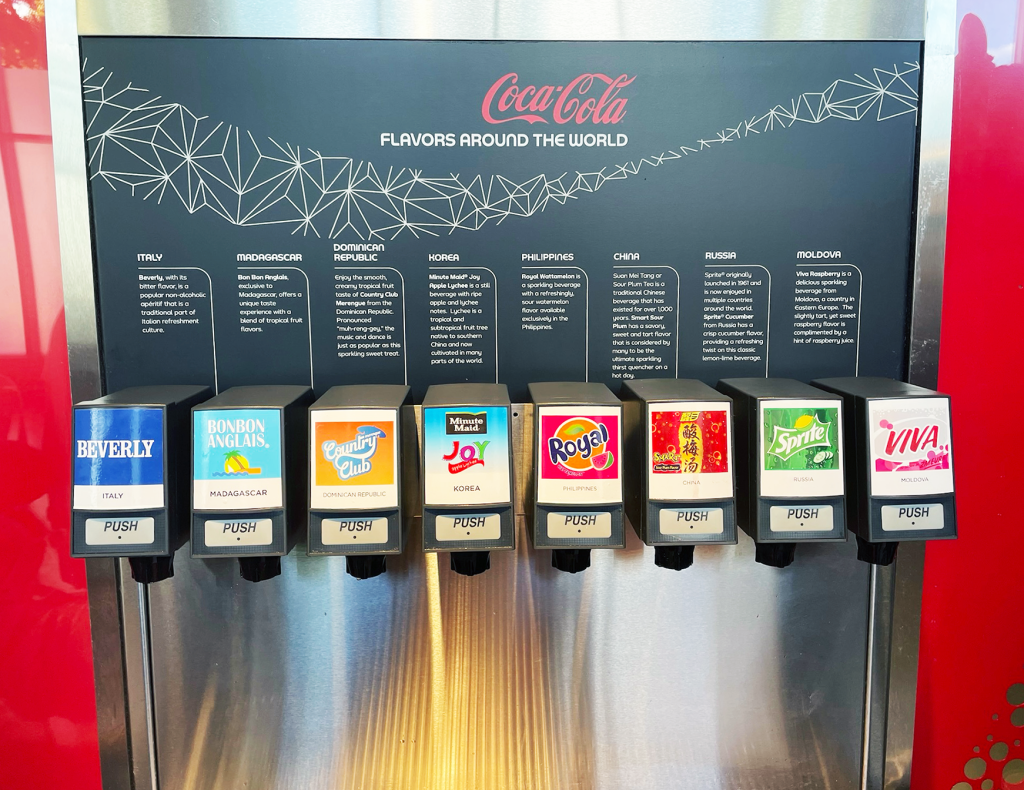 Tip: I like to try the non-carbonated varieties, and so do my kids! The cups for the soda machines are sample size, so you don't have to worry about going over board.
Did You Know?
Walt Disney World is HUGE! But exactly HOW BIG is it? Get all of the details and fun facts in my How Big is Disney World post!
Disney Vacation Club Lounges
I was surprised to find out that a ton of members of the Disney Vacation Club don't know about the exclusive lounges at Walt Disney World!
If you are a Vacation Club owner, you and your guests can escape from the EPCOT crowds by stopping inside the exclusive DVC Lounge for snacks and drinks, and to rest your feet! The lounge is located above the Journey Into Imagination Ride (the Figment Ride) in the big glass pyramid. You can enter through the ride exit/Figment gift shop where there is a small stand manned by a DVC employee. Just show your DVC membership card and they'll send you upstairs to a reserved seating area (subject to availability).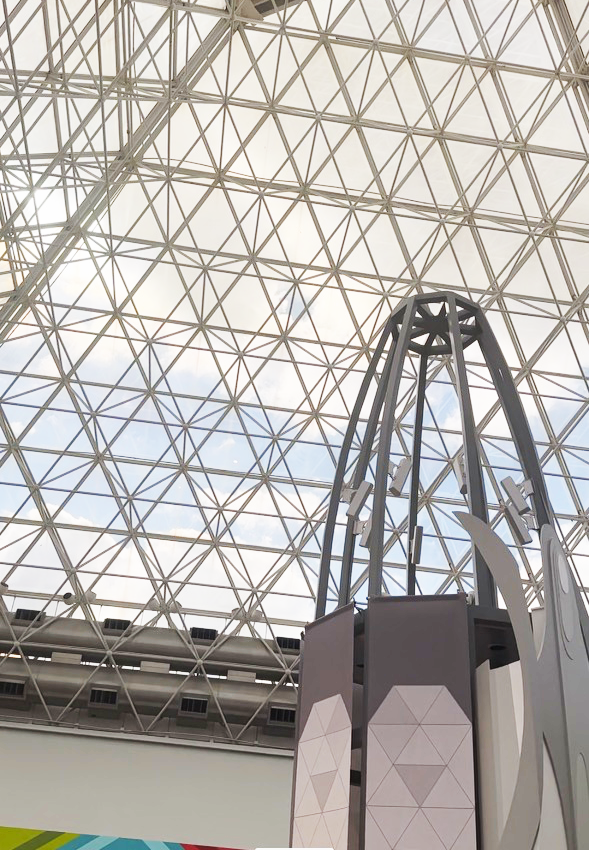 This is always a favorite stop for my husband and I. The kids can refill their drink cups, grab a small snack, and the teenagers can charge their phones. There's also large iPad style video games that my kids love to check out for a few minutes. Plus, if we have any questions or want to chat with a DVC guide, they are stationed right there! More than anything, it's just a great place to relax before heading into the World Showcase.
There's also another Disney Vacation Club lounge, but its availability has changed over the last few years. The Top of the World lounge is located at the very top of Bay Lake Tower, the DVC hotel next to Disney's Contemporary Resort.
Top of the World is now known as the "Villains Lair," and has been over run by Disney Villains. You can visit from 6:00pm to Midnight, but it is subject to black out dates, special party dates, and availability. It is only available to members with "Membership Extras" on their DVC account, and you must have a valid Disney World Resort reservation. Disney recommends that you make a reservation prior to your visit.
It can get VERY busy during Fireworks viewing times, so keep that in mind when planning your trip. I can say from experience, though, that the fireworks are amazing to watch from the Top of the World Lounge!
Discover Gardens and Trails
To find a little serenity in the parks, look for the secret gardens and trails in the parks. They tend to be quiet, even on busy days.
Some of my favorites at EPCOT include the Rose Garden in the United Kingdom pavilion (where you'll sometimes meet Mary Poppins), and the Japanese Secret Garden in the Japan pavilion. They're perfect for photographs, grabbing a quick seat while you eat, or even just a quick rest from the hustle and bustle of the World Showcase.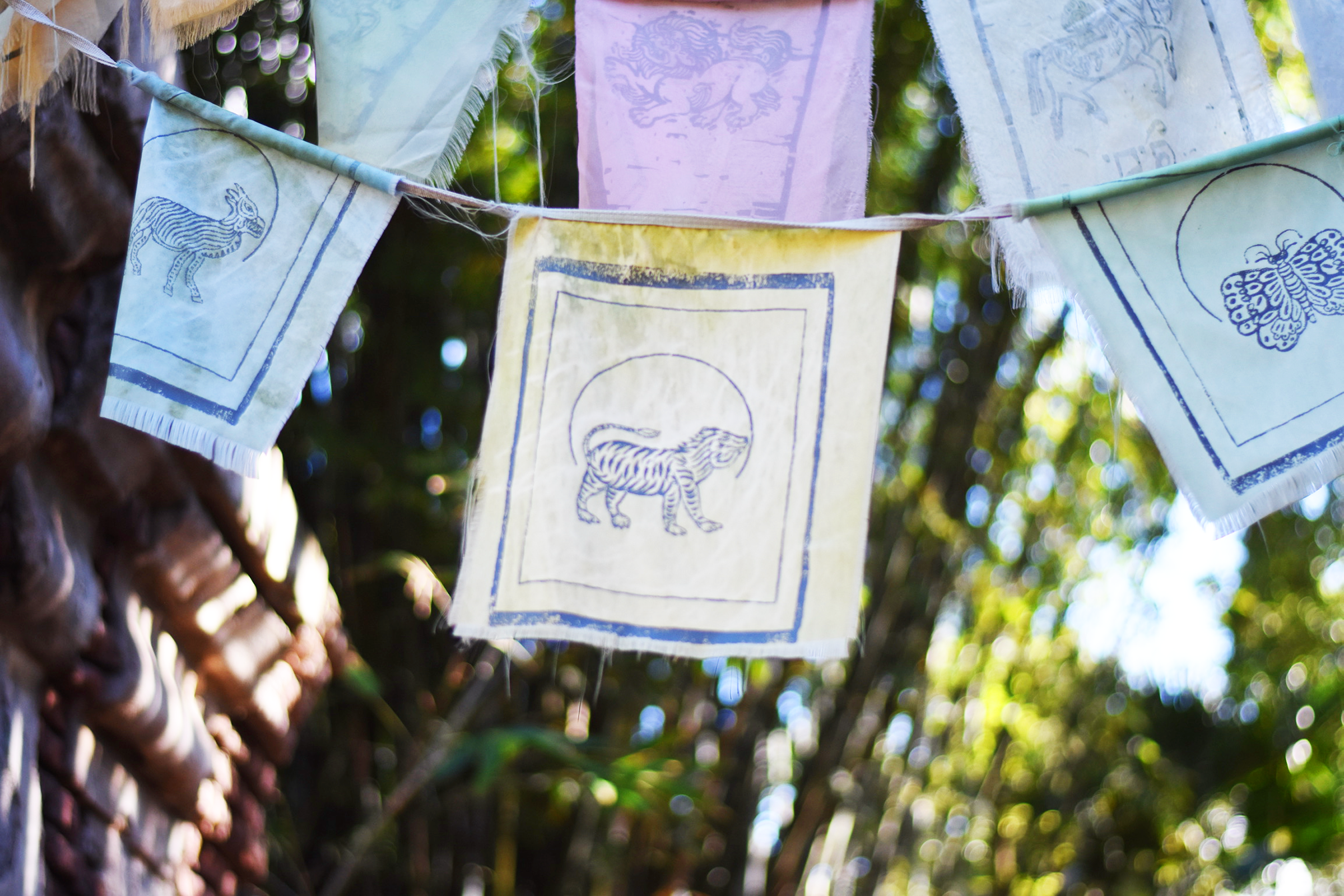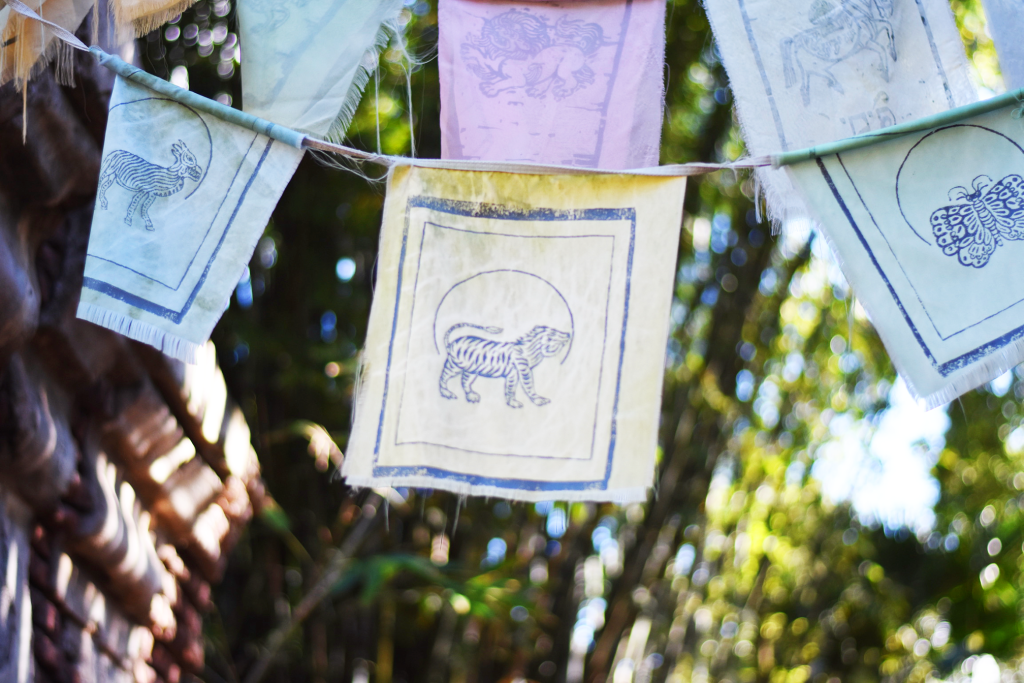 Over at Animal Kingdom, the Gorilla Falls Trail and Maharajah Jungle Trek are lovely, they can get busy if guests are looking for baby animals that are new to the park. Instead, head over to the Discovery Island trails to get up close and personal with the Tree of Life.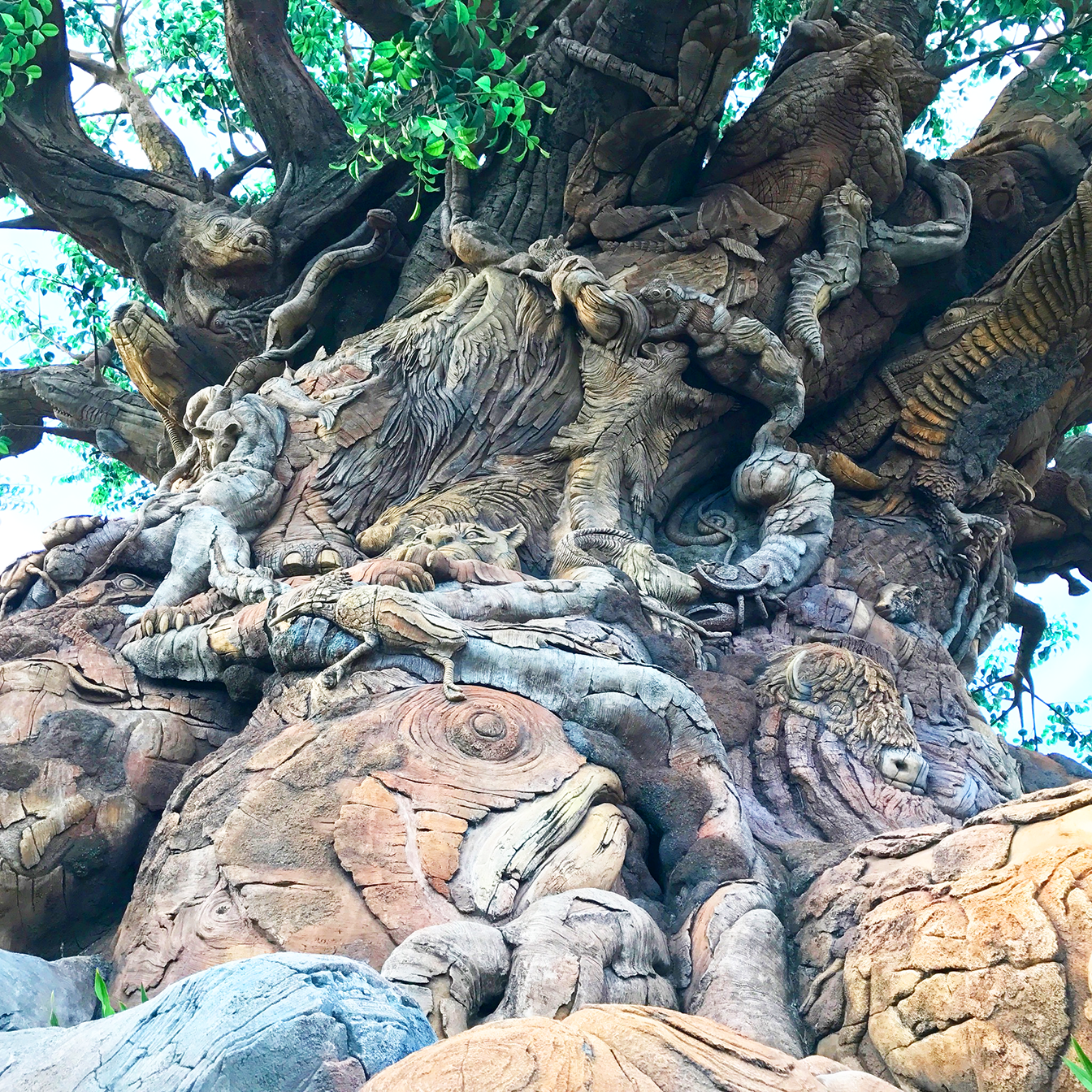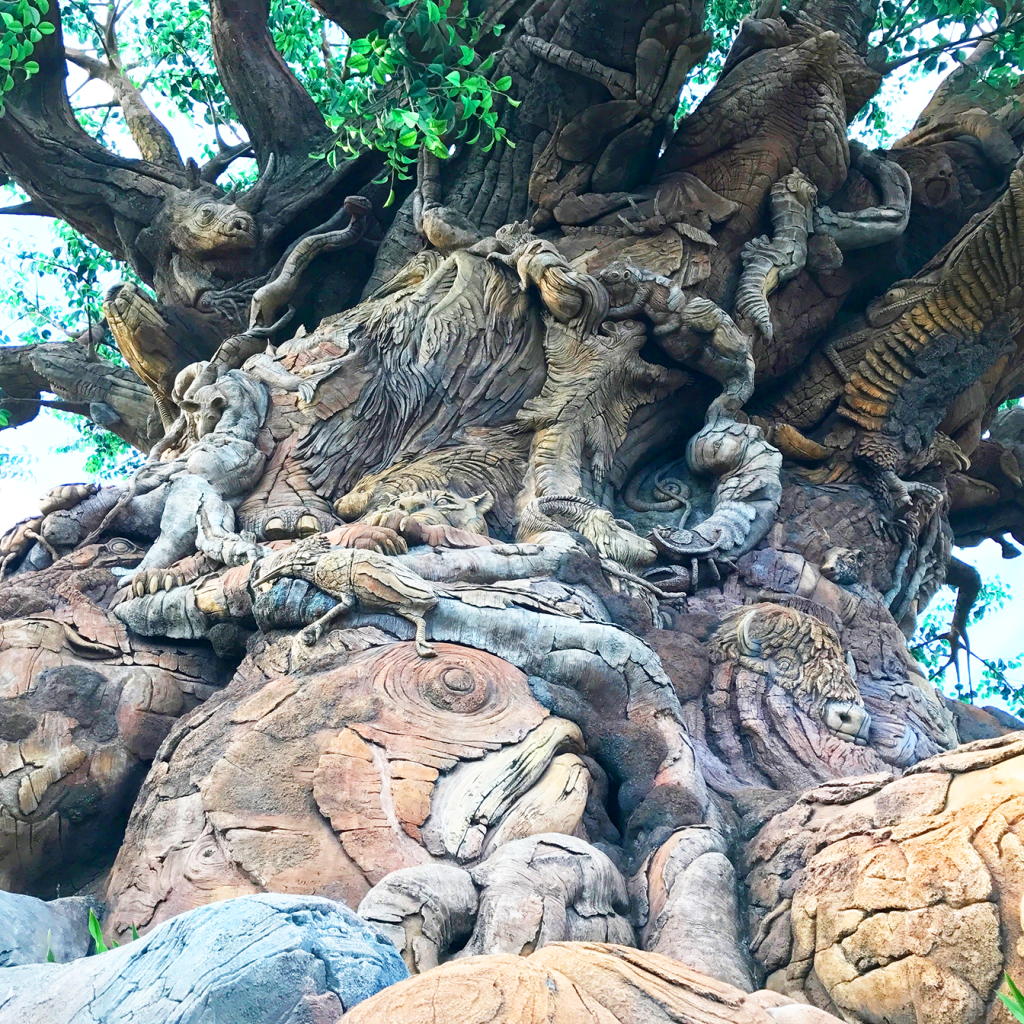 The Tree of Life is one of my favorite Disney Parks icons, in part because of the ornate animal carvings that cover the trunk and branches of the tree. There are so many animals to discover! On the "Tree of Life Trail" (as I call it), you can move slowly around the base of the tree to take pictures and appreciate the artistry of the Disney Imagineers.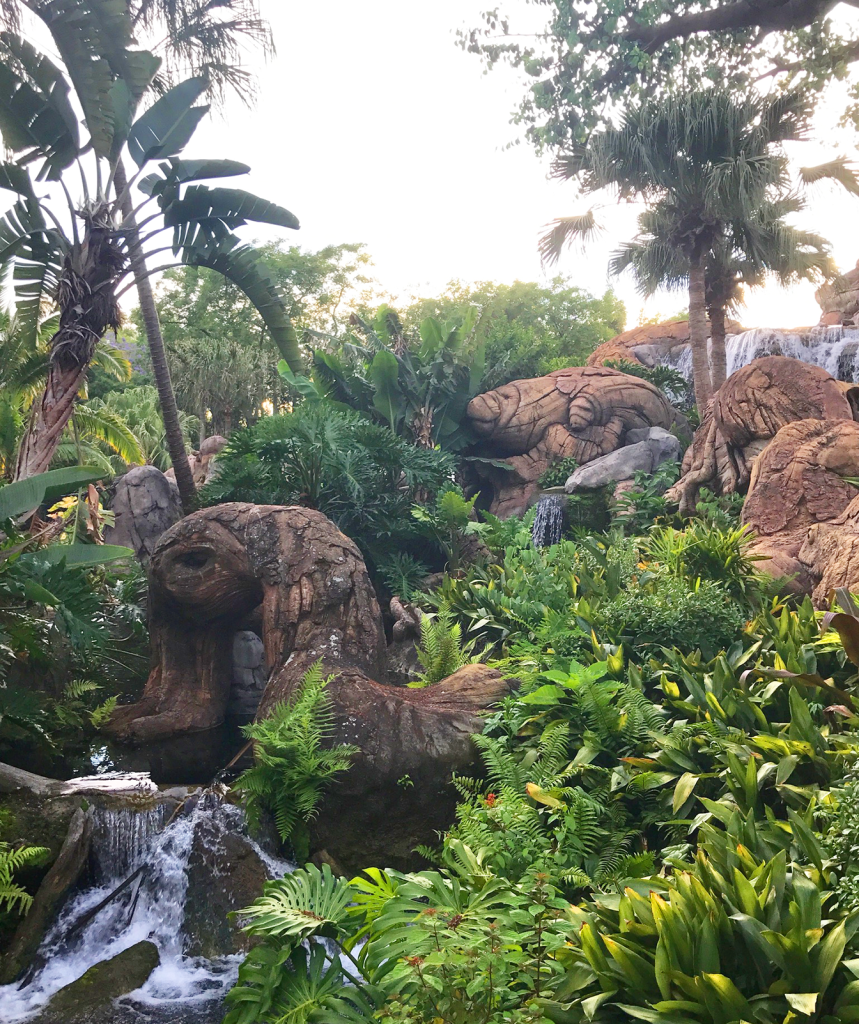 Magic Kingdom is probably the hardest park to find some peace and quiet, but it can be done! Take a short raft ride over to Tom Sawyer's Island, and you will feel like you're in a secluded forest, not the middle of the busiest theme park in the world.
Although there sometimes is a short line to get over the to the island, once you're over there it's so quiet and you'll be mostly by yourselves! There's caves, a fort, and some obstacle-type trails to keep you busy. If you have kids that are getting overwhelmed by the crowds, this is a great place to let them run around a little bit!
Hit the Running Paths
If you're spending an afternoon outside of the parks, or want a quiet morning stroll, check your Disney World resort map for running paths! There's several on property, and they are amazing even if you aren't training for a Disney marathon.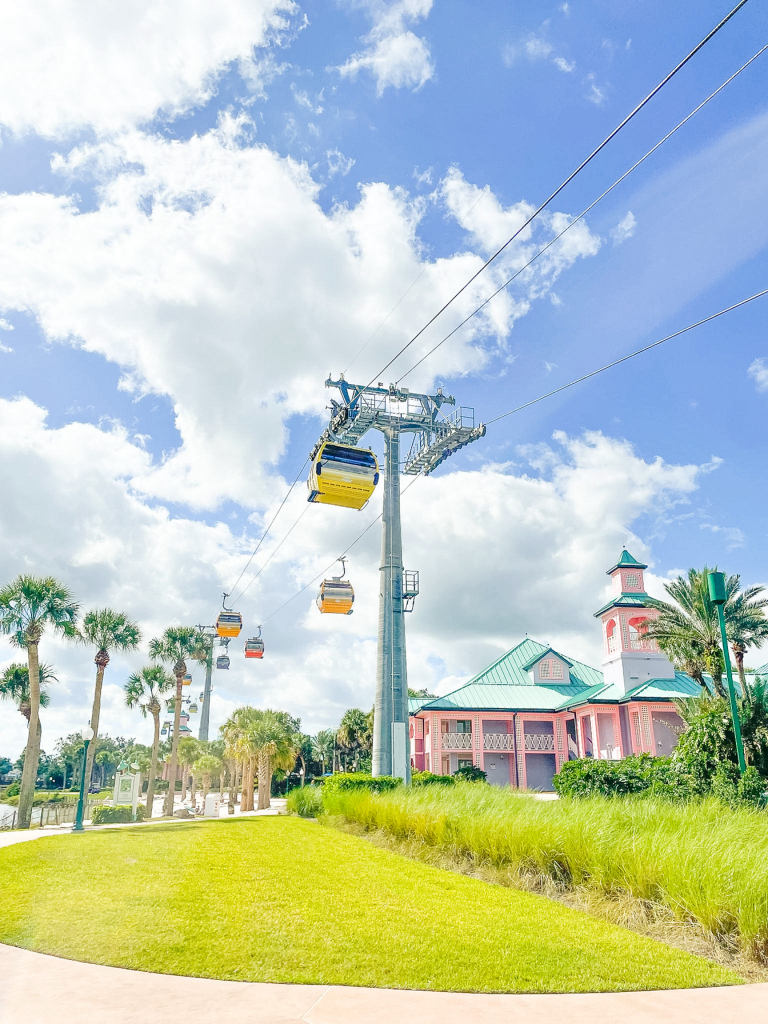 Our favorites are Port Orleans Riverside, Art of Animation/Pop Century, Crescent Lake (Beach Club, Yacht Club, and Boardwalk), and the Riviera/Caribbean Beach. Another favorite is the path around Seven Seas Lagoon near the Polynesian and Grand Floridian, but it's under construction right now while the Polynesian DVC Tower is being built.
Resort Hopping
Each of the Disney Resorts have something special to offer, and exploring the resorts is one of our favorite hidden activities to do at Disney World! This is especially true during the holidays, when all of the resorts are decked out in their Christmas decor. There are even life size Gingerbread houses and displays to see at a few resorts.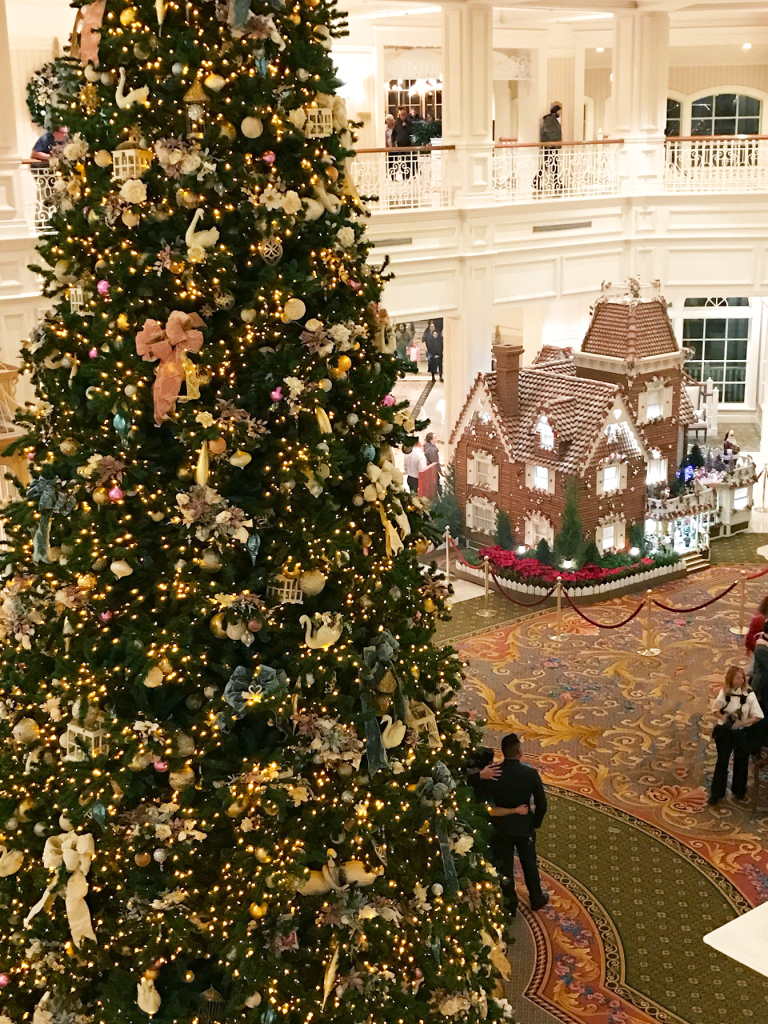 You can also eat at the Resort restaurants or check out their quick service food options. Some resorts have unique treats or snacks for purchase (like Mickey beignets at Port Orleans French Quarter!) Plus, there is resort specific merchandise and gift shops, which we love to visit.
If you are traveling with adults, a resort bar crawl via the Monorail or Skyliner is especially fun! My absolute favorite lounge is the Enchanted Rose at the Grand Floridian. They have small plates and the most amazing drinks after 3pm. And of course, there is Trader Sam's Grog Grotto at the Polynesian!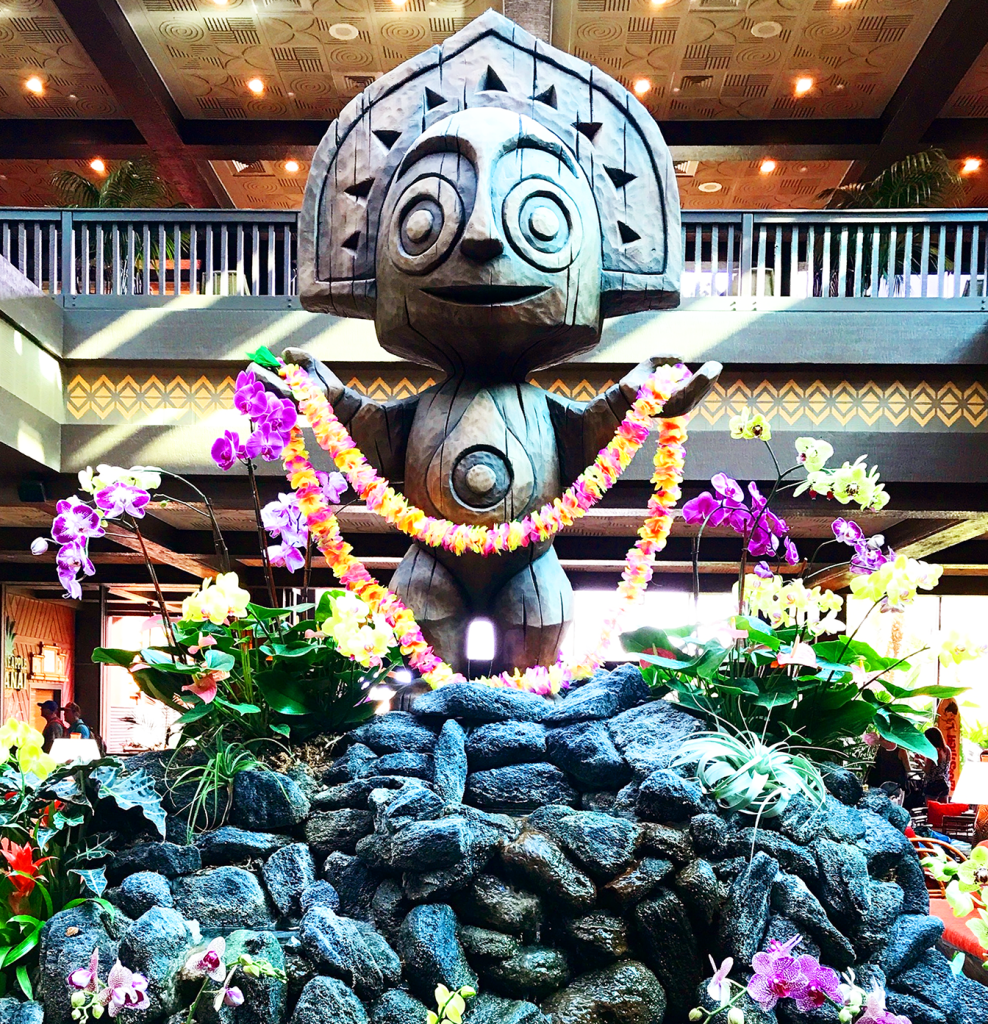 If you use Disney Transportation, you are able to visit any of the resorts! Use the monorail, skyliner, or buses to travel in between your favorites. Sometimes for the resorts allow parking or Uber drop off, but this is especially hard at the Magic Kingdom resorts and EPCOT resorts. Check ahead of time if you're planning to drive.
Pin Trading
This is an hidden thing at Disney World that we watched people participate in for years before the kids started pin trading. Now it's something they look forward to every trip!
I'm not going to lie, Pin Trading at Disney World can be a massive undertaking if you try to be "serious" traders. Which we are NOT. We avoid pin trading events and most seasoned traders in the parks. BUT, there is a lot of fun to be had!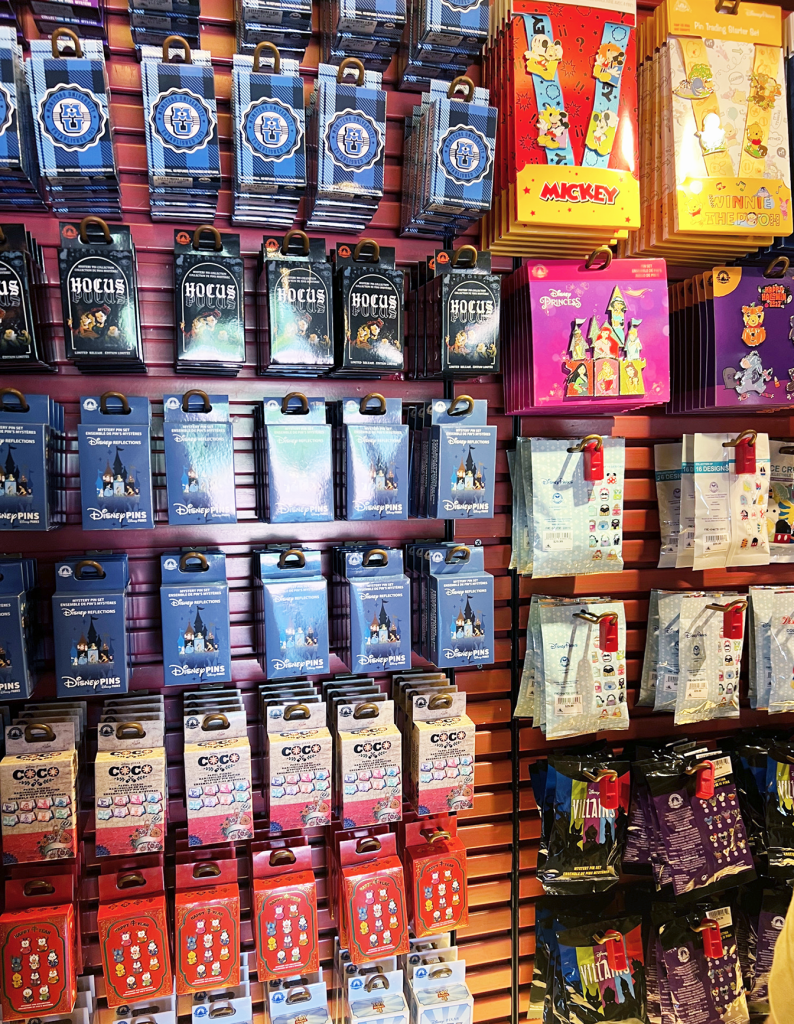 In tons of locations around the parks, including special areas inside the theme parks, with cast members, or at resort desks, there are pin boards that you can trade pins. If you come with a collection of pins (or buy starter packs at the parks), you can trade with a cast member for one that you like better!
There are sets to collect that can only be found by trading, plus guests from all over the world trade pins at Disney World. It's a great place to find pins from Disney parks like Shanghai Disneyland or Tokyo Disneyland.
Pin trading is a GREAT way to pass time in the parks if you don't want to wait in lines all day to ride. We have been known to visit multiple parks a day JUST to pin trade. You get to interact with cast members, learn about pins from other guests, and hopefully find pins that you love!
Get a Haircut
Yup, you can get a haircut at Magic Kingdom! Right as you enter the park, Harmony Barber Shop is to the left next to the Emporium.
I'll admit, it's a little more popular than it used to be, and now reservations are recommended. When my oldest boy was little, he would hold out for haircuts until we were going to Disney! And at least 2 of my kids got a "first haircut package" that included ears and a certificate. How cool is it to have your first haircut at Disney World!?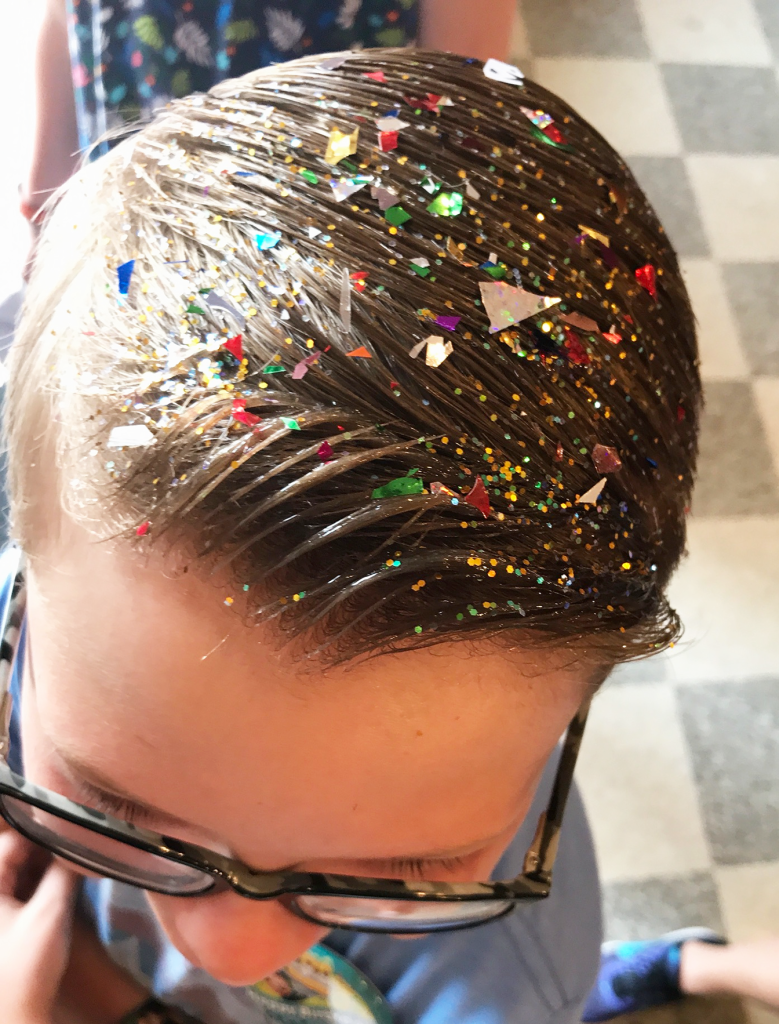 The stylists do a great job, and it's a fun experience that most people don't think about. Boys can even get a fun "pixie dust" sprinkle to finish off their look.
Get Pixie Dust and Make a Wish
Speaking of Pixie Dust, you can get some of your very own inside Magic Kingdom. In Sir Mickey's gift shop (behind Cinderella's castle), you can visit one of the Fairy Godmother's helpers and get pixie dust sprinkled in your hair and make a wish!
It's a quick activity that my girls LOVE to do (yes, even the teenager). It only takes a few seconds but it's something fun to make your day a tiny bit more magical.
Take a Tour
There are several tours around Disney World if you want to get a behind-the-scenes tour or have a more exclusive experience on your vacation.
Of course, there are the $$$$ VIP tours that are mainly about hitting ALL the major rides, but I prefer the behind the scenes tours that share Disney history and more about the parks.
You should definitely check out:
Magic Kingdom Keys to the Kingdom Tour, which even takes you into the Utilidors, the underground tunnels beneath Magic Kingdom.
Behind the Seeds at the Land Pavilion in EPCOT – this one is really cool and isn't as expensive as others.
Wild Africa Trek at Animal Kingdom – definitely on my Disney Bucket List. Not all of my kids are old enough yet.
All of these tours require a reservation, and have limited capacity.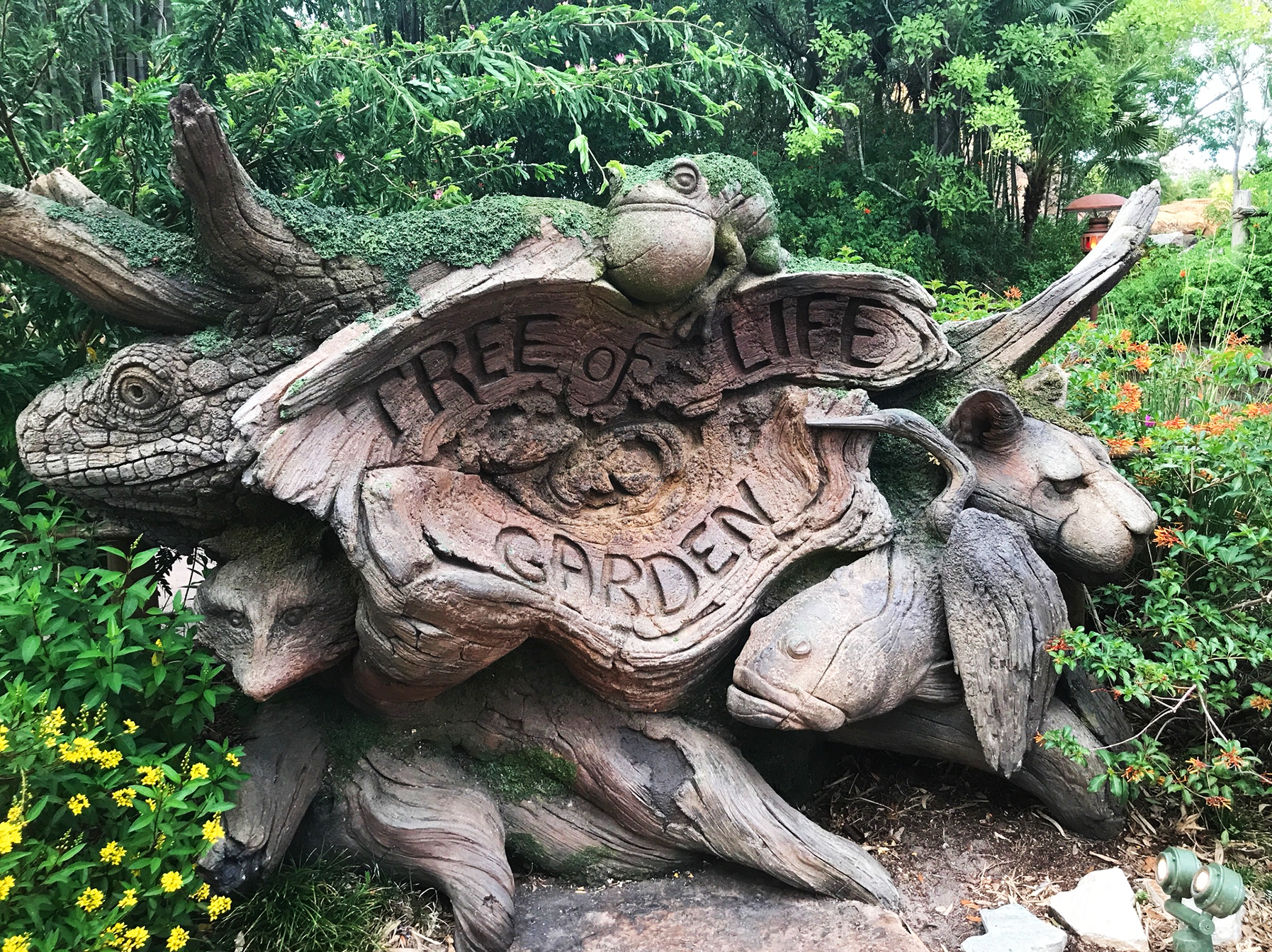 Get FREE Cups of Water
This isn't an activity, but it should be. Everyone assumes that they have to pay $4 (or more!) for a bottle of water or drink from the water fountains (eww) if they want a sip of water. NOPE. You can get ice water for FREE in all of the parks.
Here's what you have to do: Visit any quick service restaurant or kiosk that serves fountain drinks. Head up to the counter and ask for ice water. Yup, that's it! Most quick service places have them stacked up and ready to go, and you can get them for your whole party. Use them to refill your water bottles or drink them right away.
Seriously, it's an under-rated tip. Use it and stay hydrated!
If you try any of these Hidden Things to do at Disney World on your next trip let me know in the comments! There's so many more hidden things, and I'll add them as I discover them on future trips!
Don't forget to pin this post to your Disney Vacation board on Pinterest!