20+ Things to Do in Disneyland California
This post and the photos within it may contain affiliate links. As an Amazon associate I earn from qualifying purchases. If you make a purchase through one or more of the links, I may receive a small commission at no extra cost to you.
Headed to the Disneyland Park in Anaheim, California? You will not be bored with a visit to the Disney theme parks because there is so much to do! In addition to rides, there is unique dining, shows, character experiences, photo opportunities, shopping, and more! Here are more than 20 of my favorite Things to Do in Disneyland California!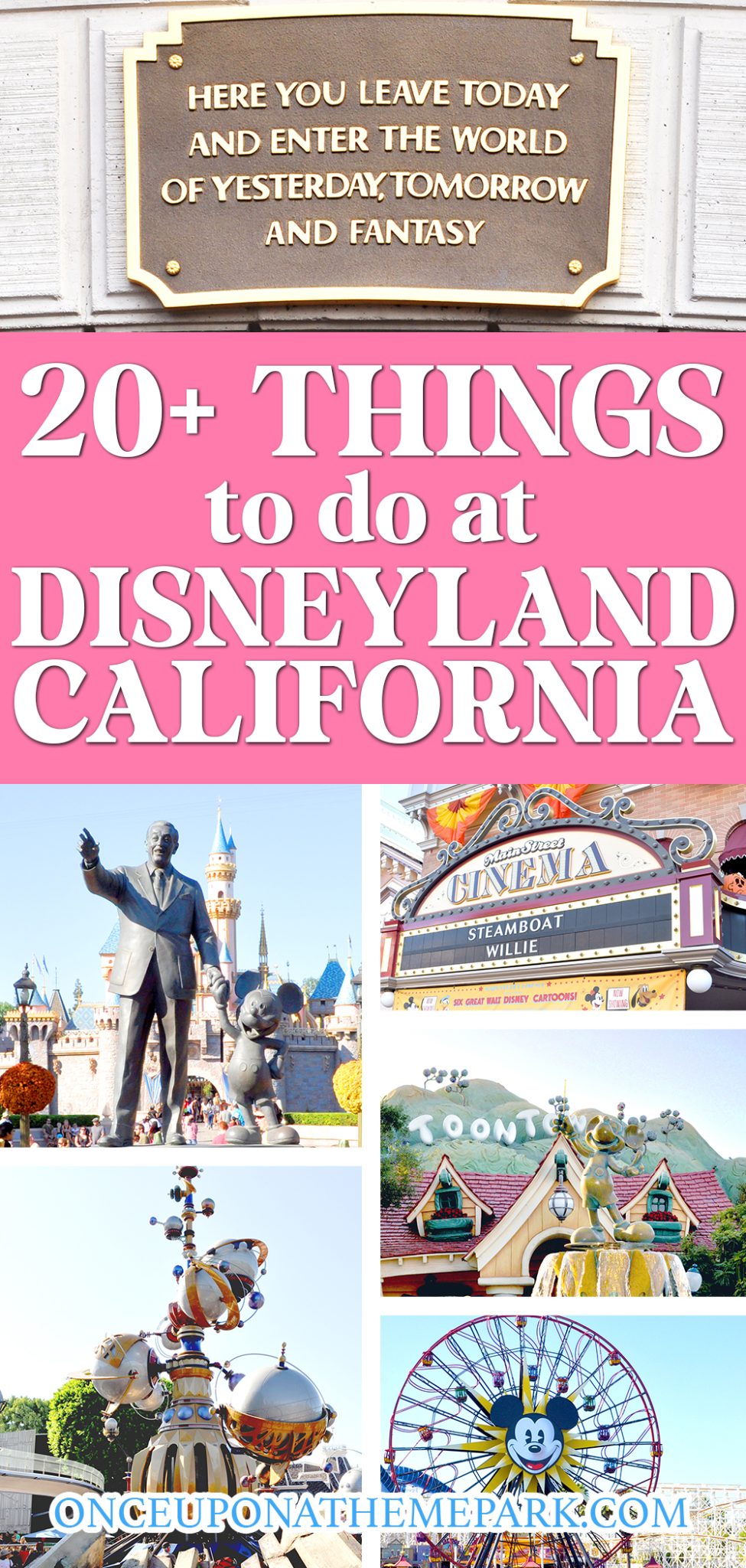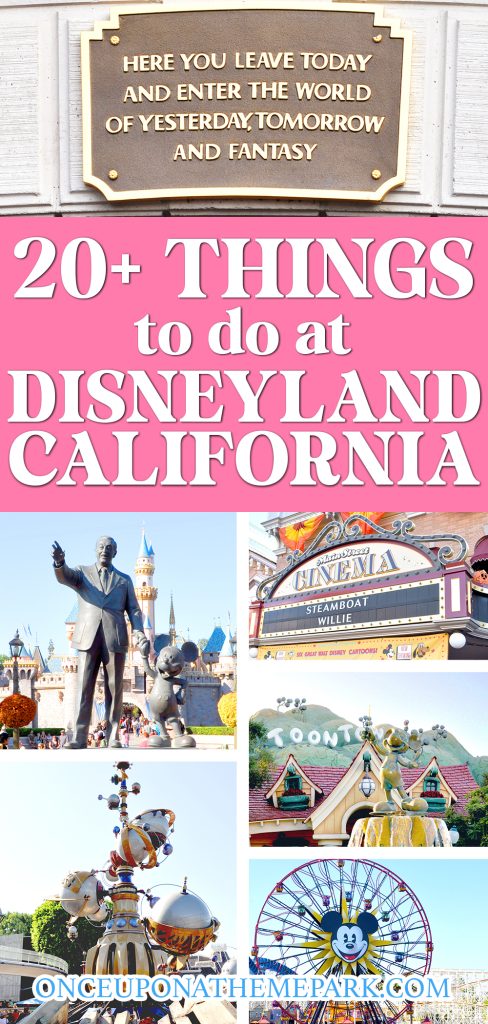 20+ Things to Do in Disneyland
If you're headed to the Los Angeles area of Southern California, you can't go wrong with a visit to Disneyland! Disneyland is the original theme park opened by Walt Disney in 1955. It is the only Disney park that Walt Disney lived to see completed. Even if you have been to Walt Disney World, you can't miss the nostalgia and fun of Disneyland.
On your first visit (or even your 5th!) Disneyland can seem overwhelming! There is SO much to do there, so even if you only hit some of my ideas below, you will have the best time! From roller coasters, to the Star Wars planet Batuu, to taking pictures in front of the castle, I will share some of my favorites to help you plan your visit!
And don't worry, even though I will mention all of the best rides, I will make sure there's an activity here that everyone will love. There's a reason Disneyland is the Happiest Place on Earth!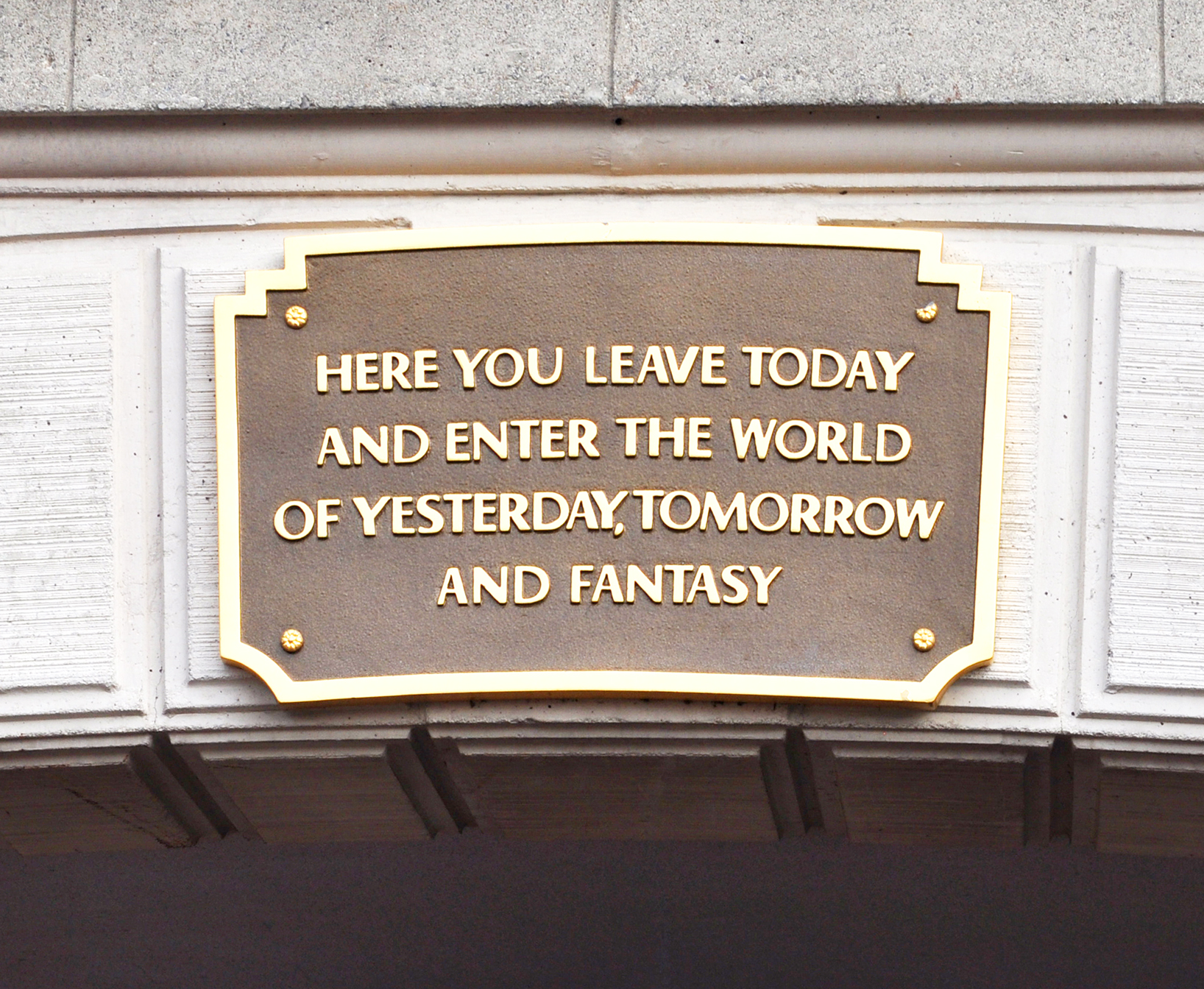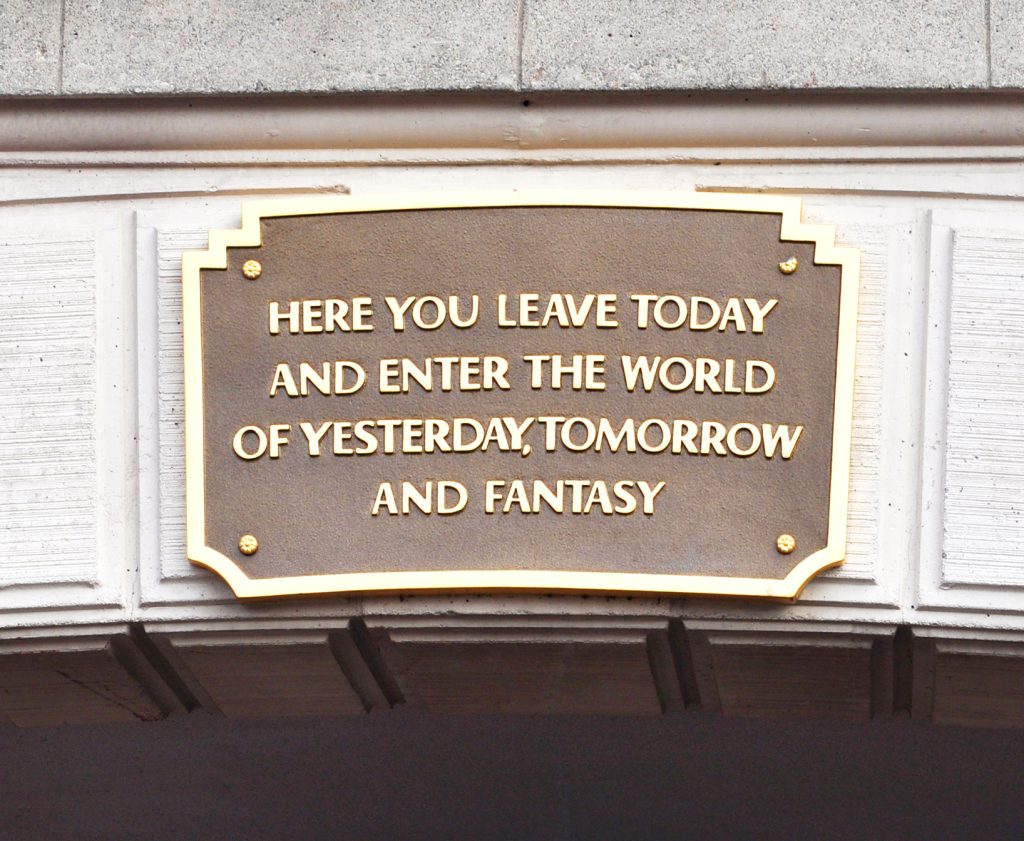 Rides & Attractions at Disneyland
When you think about Disneyland, most people think about rides! Disneyland Resort is home to over 35 rides, including some of my most favorite rides! If you have been to Disney World, Disneyland is similar to Magic Kingdom. But Disneyland has different rides, contains more themed areas, and is a totally different experience.
Nostalgic Rides
If you're a Disney fan, you will love the history behind a lot of the rides at Disneyland. When Walt Disney decided to create an amusement park, he personally helped create some of the most famous rides at Disneyland. It's so much fun to ride It's a Small World or Haunted Mansion and think that Walt Disney had a hand in what you see. These rides are some of the most relaxing, too!
Here are my favorite rides if you want to get the nostalgic feel of Disneyland:
Peter Pan's Flight
Mr. Toad's Wild Ride
Jungle Cruise
Disneyland Railroad
Haunted Mansion
It's a Small World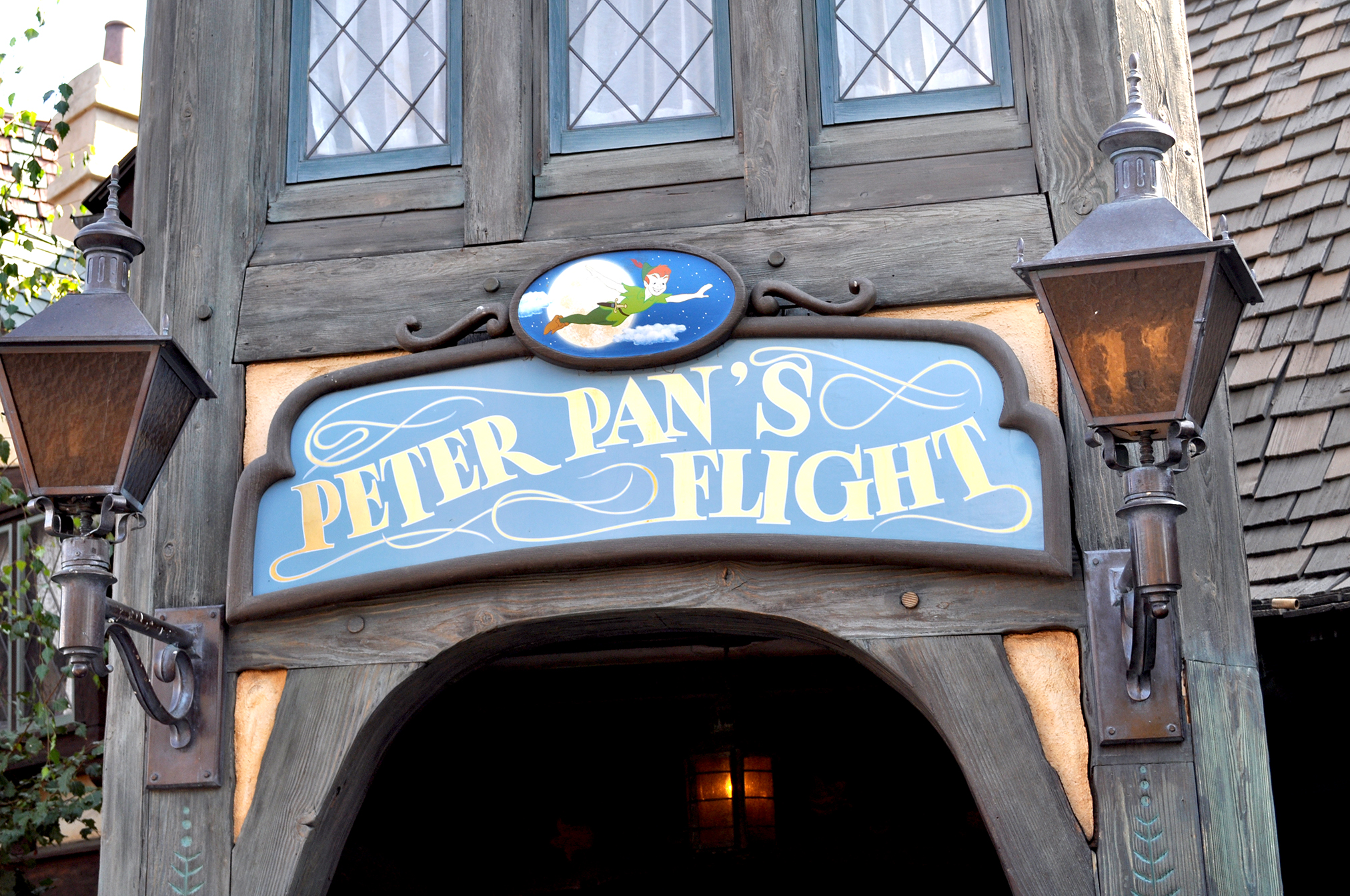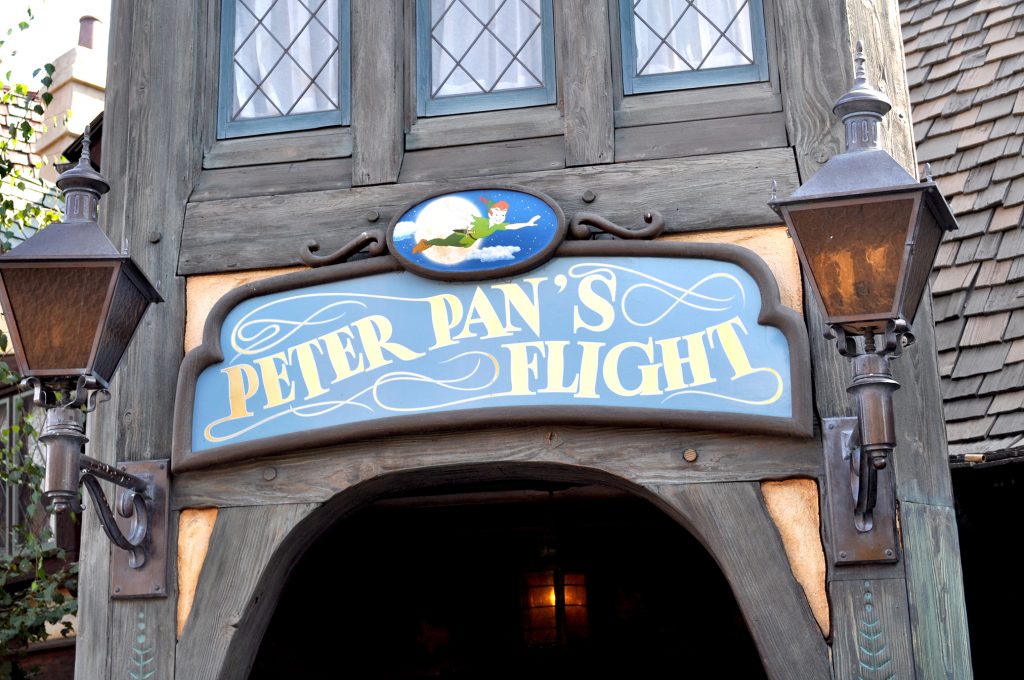 Thrill Rides
If you love thrill rides, you won't be disappointed. Some of the most popular rides at Disneyland are Space Mountain, Big Thunder Mountain Railroad, and the Matterhorn Bobsleds. They are family friendly roller coasters that bigger kids and adults will love!
My favorite thrill rides at Disneyland are:
Big Thunder Mountain Railroad
Indiana Jones Adventure
Space Mountain
Matterhorn Bobsleds
Splash Mountain (both a slow ride AND a thrill ride!)
Want to know the Ride Heights for Disneyland? If you're traveling with young children, make sure you read my whole post on Ride Heights at Disney, and download a FREE Ride Height Requirements chart that you can take to the parks with you!
Fun Rides
Since Disneyland is designed to be very family friendly, there are a ton of rides that even the littlest kids can ride. Including all of the nostalgic rides from above, my favorite quiet rides are:
Pirates of the Caribbean
Buzz Lightyear's Astro Blasters
Snow White Enchanted Wish
Dumbo the Flying Elephant
Autopia
Quiet/Walkthrough Rides
If thrill rides or dark rides aren't your thing, check out some of the quiet rides and walkthrough rides. They are great for younger kids or those that don't want to ride.
Sleeping Beauty Castle Walkthrough
Tarzan's Treehouse
King Arthur Carrousel
Storybook Land Canal Boats
Shows & Experiences at Disneyland
Not only are there tons of rides to entertain you at Disneyland, you can sit back and relax at shows! They will entertain you when you need a quiet moment or don't want to stand in a long line.
One of my most favorite shows is an attraction that Walt Disney personally helped develop. Not only it is fun to watch, it is actually some of the earliest animatronics to come out of the imagineering department. What is it? Walt Disney's Enchanted Tiki Room, of course! It is a good place to take a set when the wait times get a little too long.
In addition to shows, there are smaller experiences that you can check out at Disneyland, too.
My favorite shows and experiences are:
Main Street Cinema
Great Moments with Mr. Lincoln
Frontierland Shootin' Exposition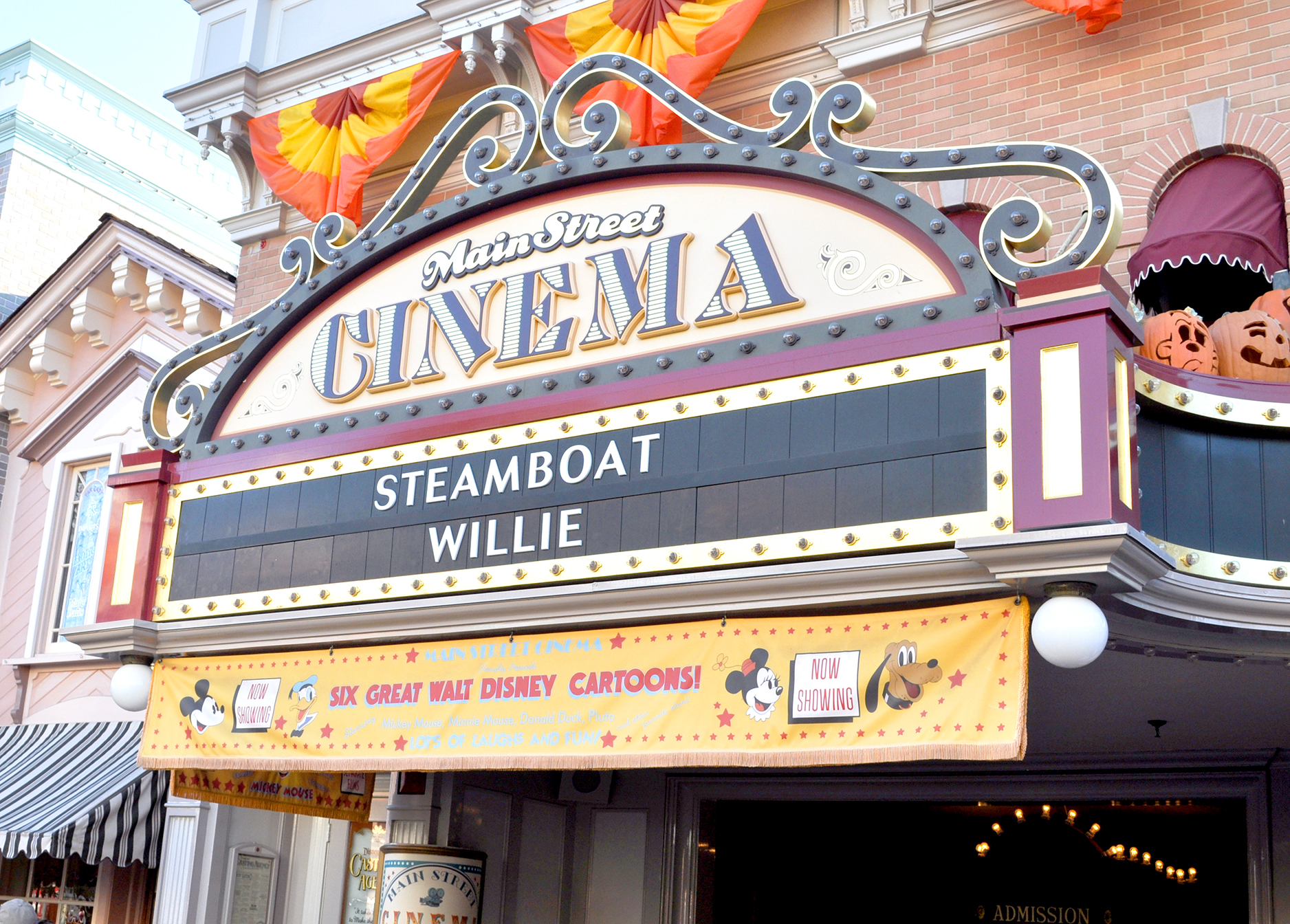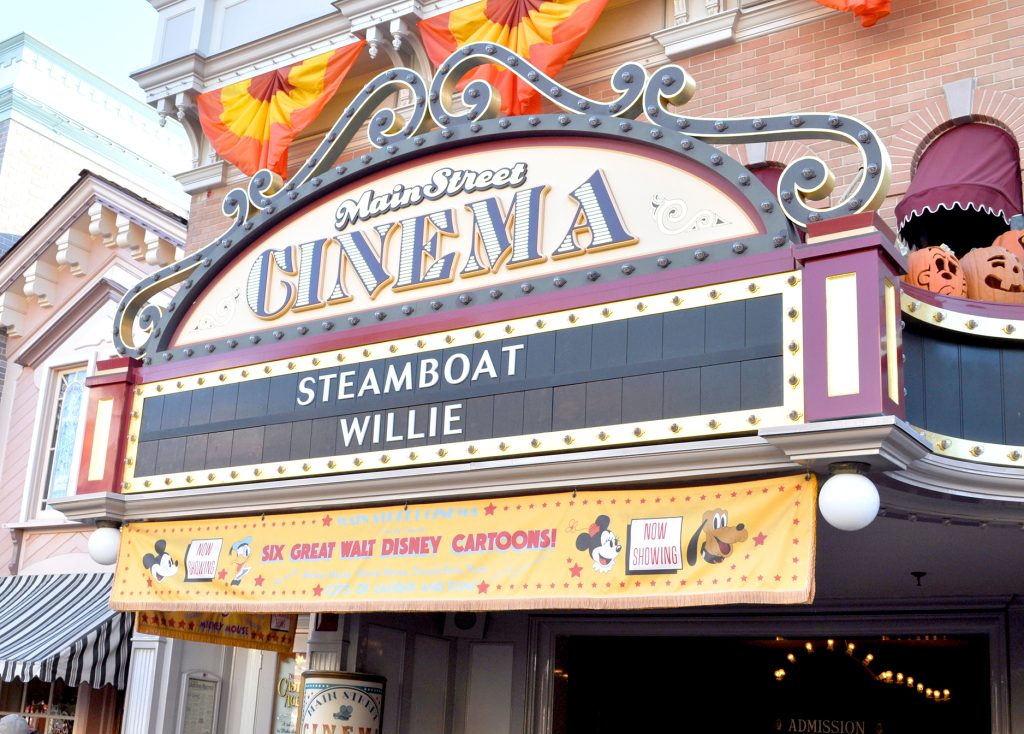 Music Acts at Disneyland
Just walking around the Disneyland park is a treat for the ears. If you enjoy live music, there are plenty of live performers around the different lands. You can enjoy them while you have a snack or stop to take a rest from walking.
The Dapper Dans
Main Street Piano Player
Tomorrowland Disneyland Band
Pearly Band near It's a Small World
The Bootstrappers
Jambalaya Jazz in New Orleans Square
Parades & Fireworks at Disneyland
A trip to Disneyland isn't complete without a parade viewing. Similarly, I love to top off my day in the park with an evening Fireworks display. Disneyland parades and fireworks are incredibly popular and are a beautiful spectacular to see! As of 2022, these are the mini-parades (cavalcades) and fireworks shows at Disneyland:
Frozen Friends Cavalcade
Mickey and Friends Cavalcade
Mickey's Mix Magic with Fireworks
Main Street USA, Disneyland
Main Street USA was designed to replicate his hometown of Marceline, Missouri. A stroll down Main Street is what you experience first when you walk into Disneyland. It always gives me butterflies to stand on Main Street and walk towards Sleeping Beauty castle. It's a great place to view parades and fireworks, but it will be crowded. Everyone knows that it is a great spot!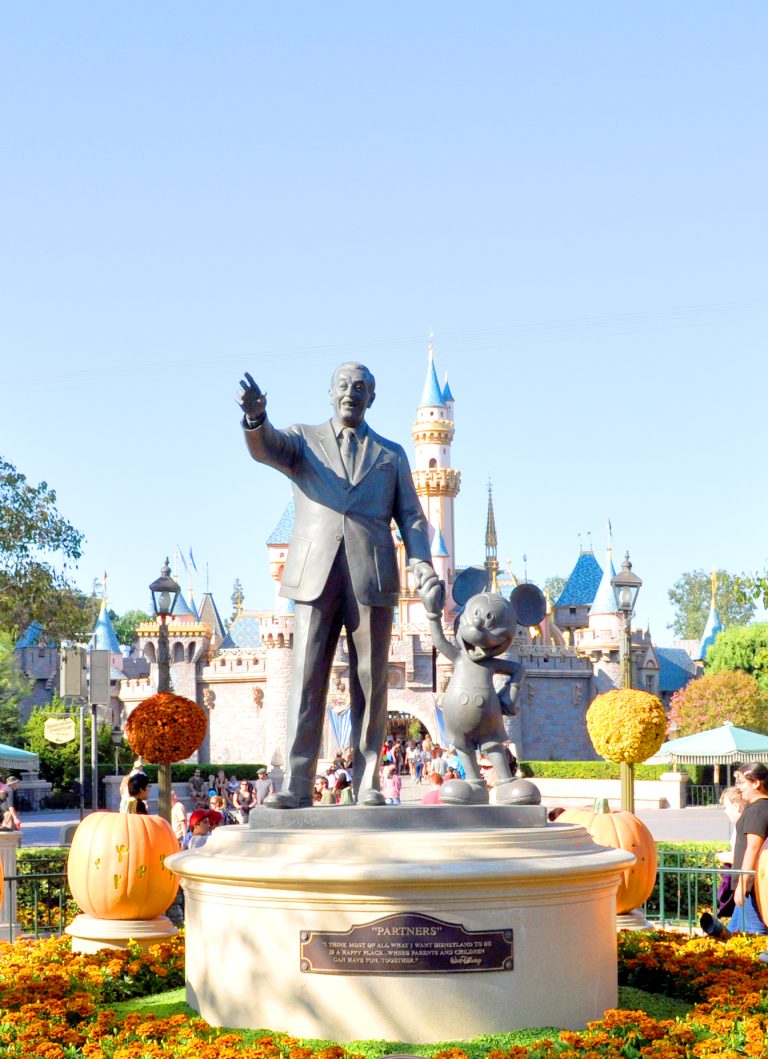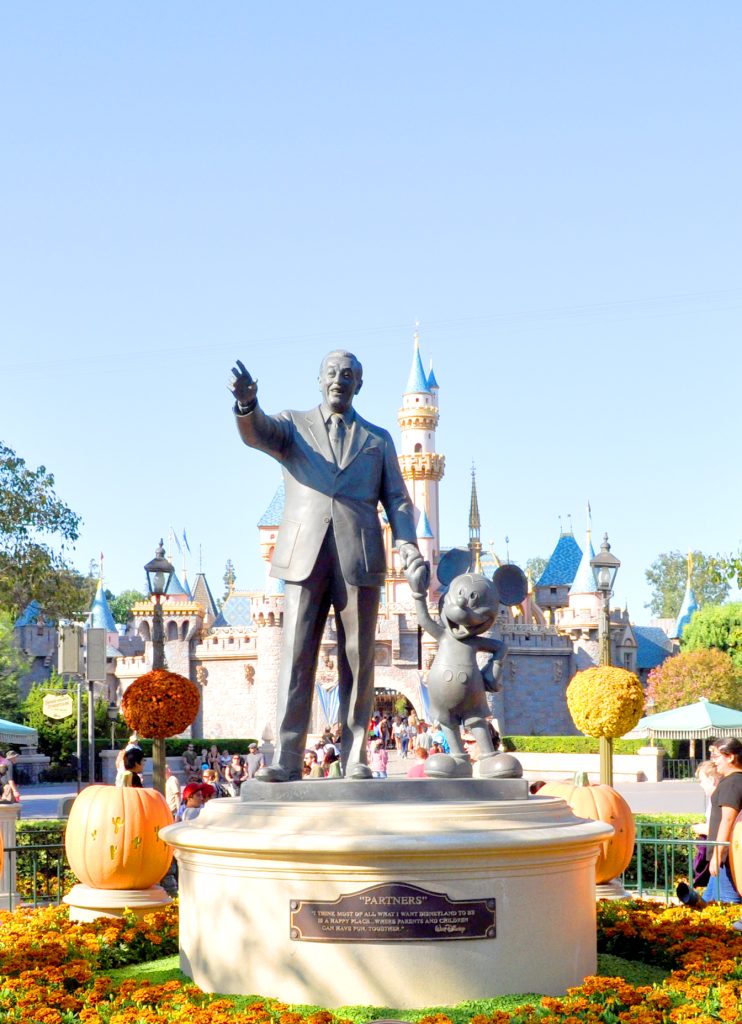 On Main Street you can find snacks, souvenirs, and clothing. Plus, little kids will love the Penny Arcade, too!
Themed Sub Areas/Lands in Disneyland
Disneyland is home to a variety of themed lands. One of my favorite things to do at Disneyland (and any Disney park, really) is to walk around and just appreciate the amazing work of the Disney imagineers. You can find different plants, building styles, food, and characters in each of the different areas of the park. The amount of tiny details that you discover will surprise you!
The areas in Disneyland are:
Main Street USA
Fantasyland
Tomorrowland
Adventureland
Frontierland
New Orleans Square
Critter Country
Mickey's Toontown
Galaxy's Edge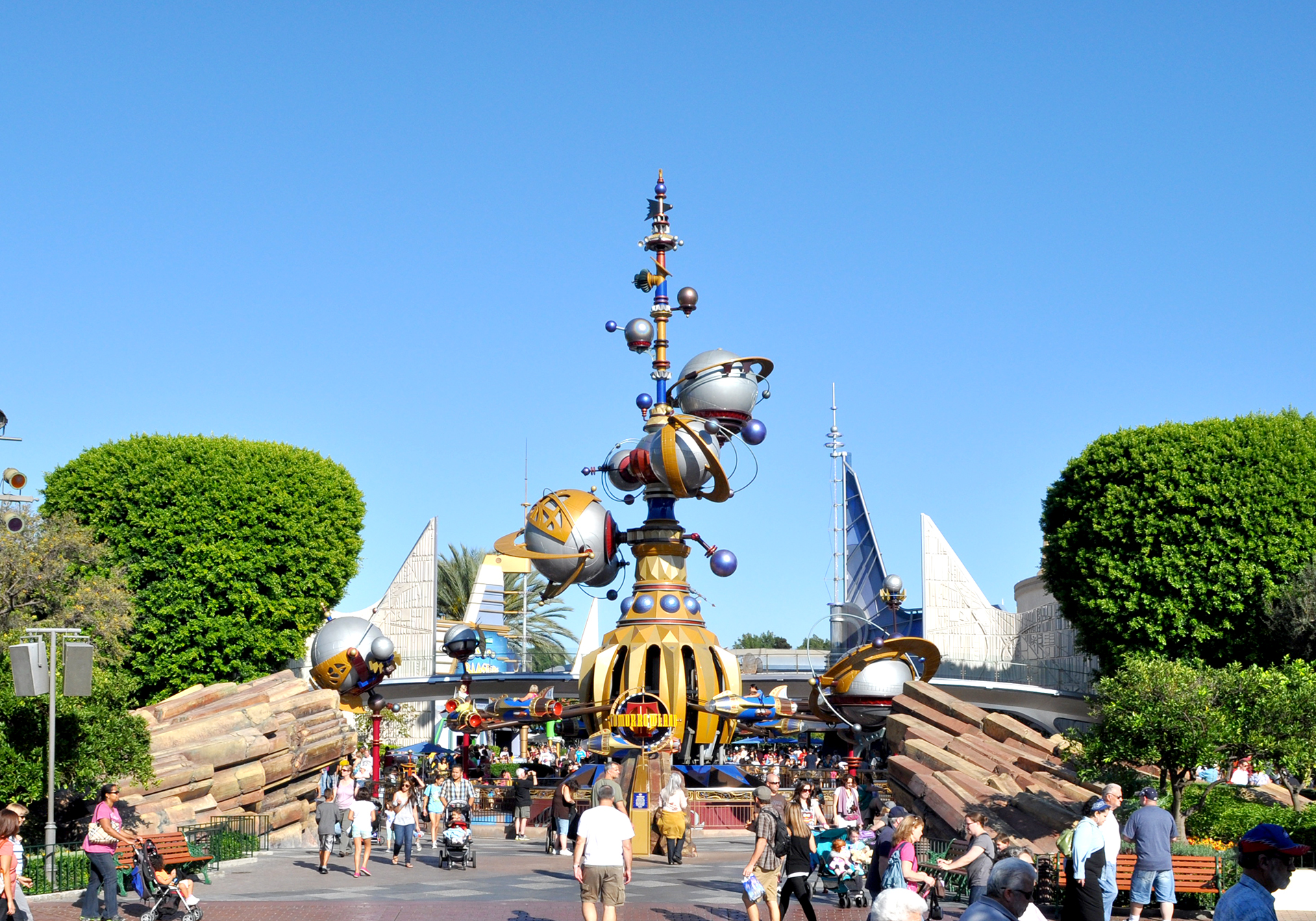 Main Street USA, along with Fantasyland, Tomorrowland, Advertureland, and Frontierland are the original lands. New Orleans Square was added in 1966, Critter Country in 1972, and Toontown opened in 1993. The Star Wars themed Galaxy's Edge land opened in 2019. Mickey's Toontown just began a massive renovation in 2022 and will be redesigned to include Mickey and Minnie's Runaway Railway.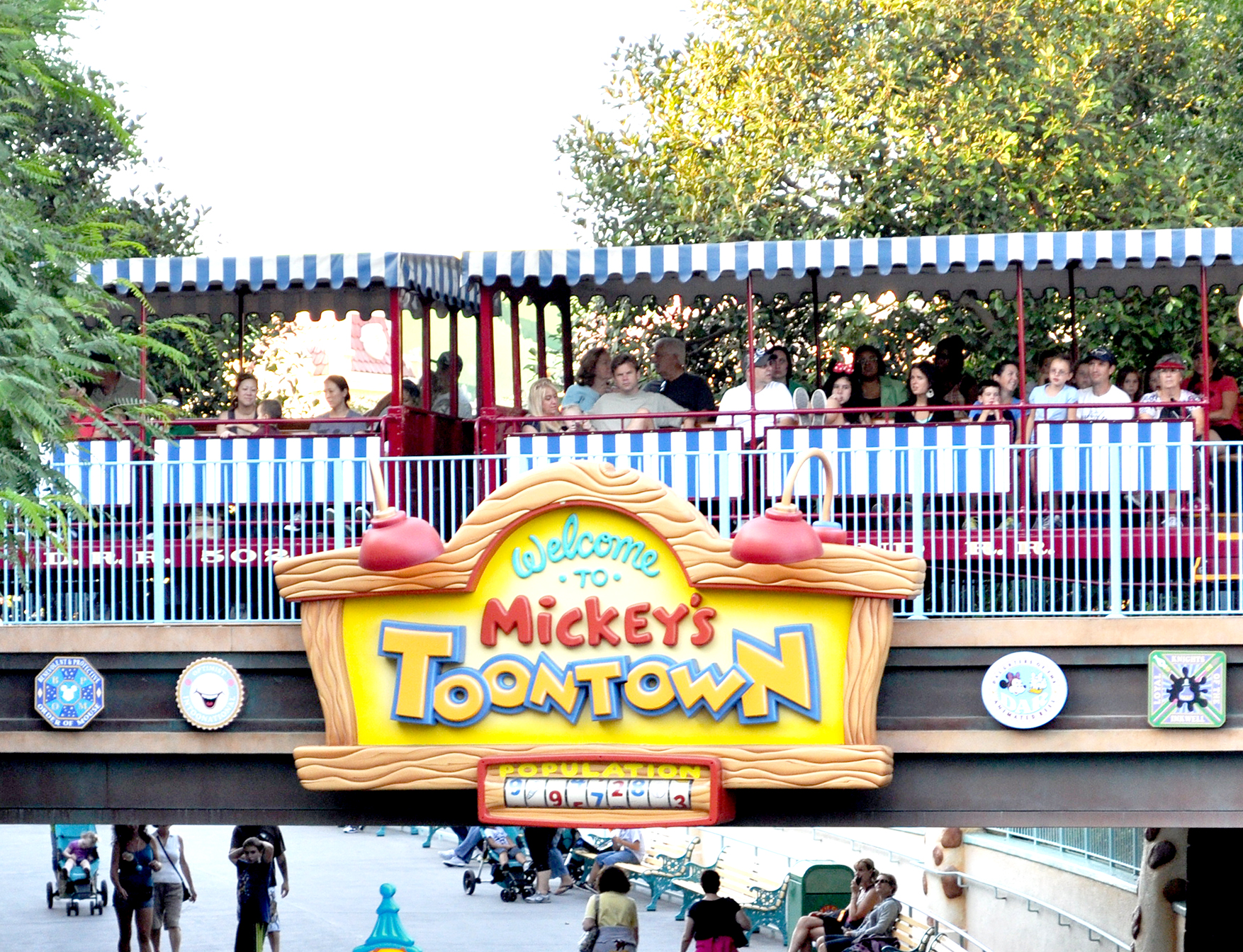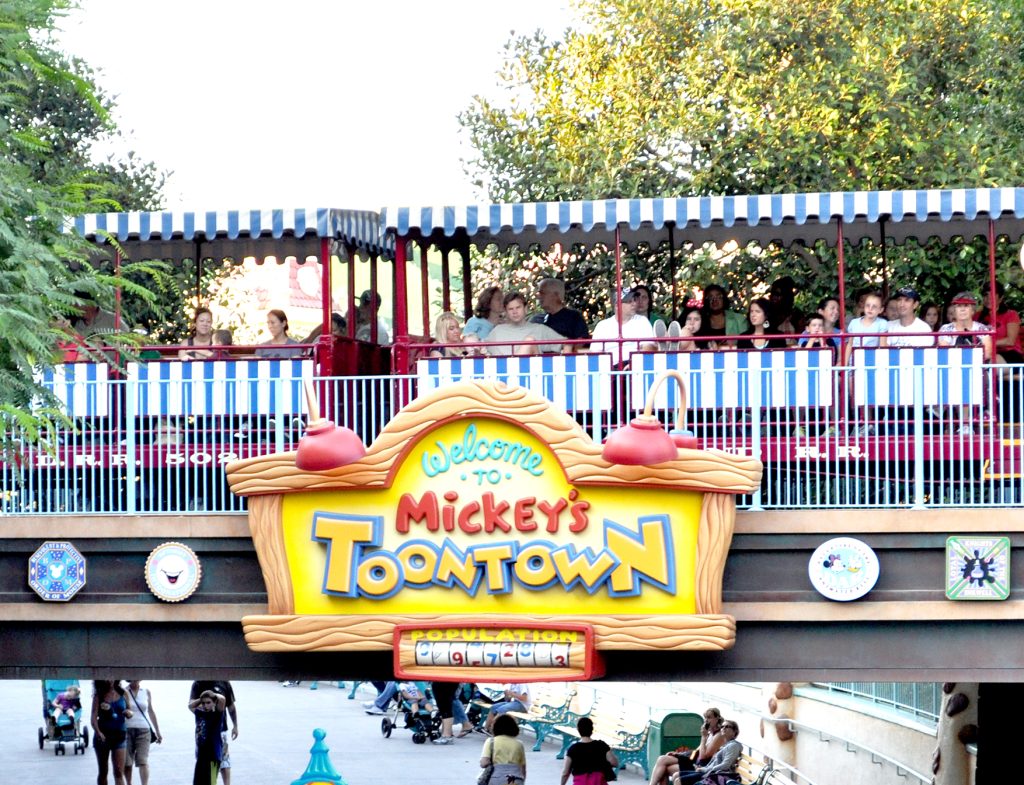 Disneyland Galaxy's Edge
If you are a Star Wars fan, you can't miss the newest land added to Disneyland! Space travelers will find themselves visiting the planet Batuu. It is this most immersive themed land in Disneyland history. You can eat Star Wars themed food, see Star Wars characters and pilot the Millennium Falcon!
Galaxy's Edge is one of my favorite areas to visit. Here are some of the highlights that you don't want to miss:
Build a Lightsaber at Savi's Workshop
Build a Droid
Visit Oga's Cantina
Ride Rise of the Resistance & Millennium Falcon: Smuggler's Run
Drink Blue Milk at the Milk Stand
Eat at Docking Bay 7 or Ronto Roasters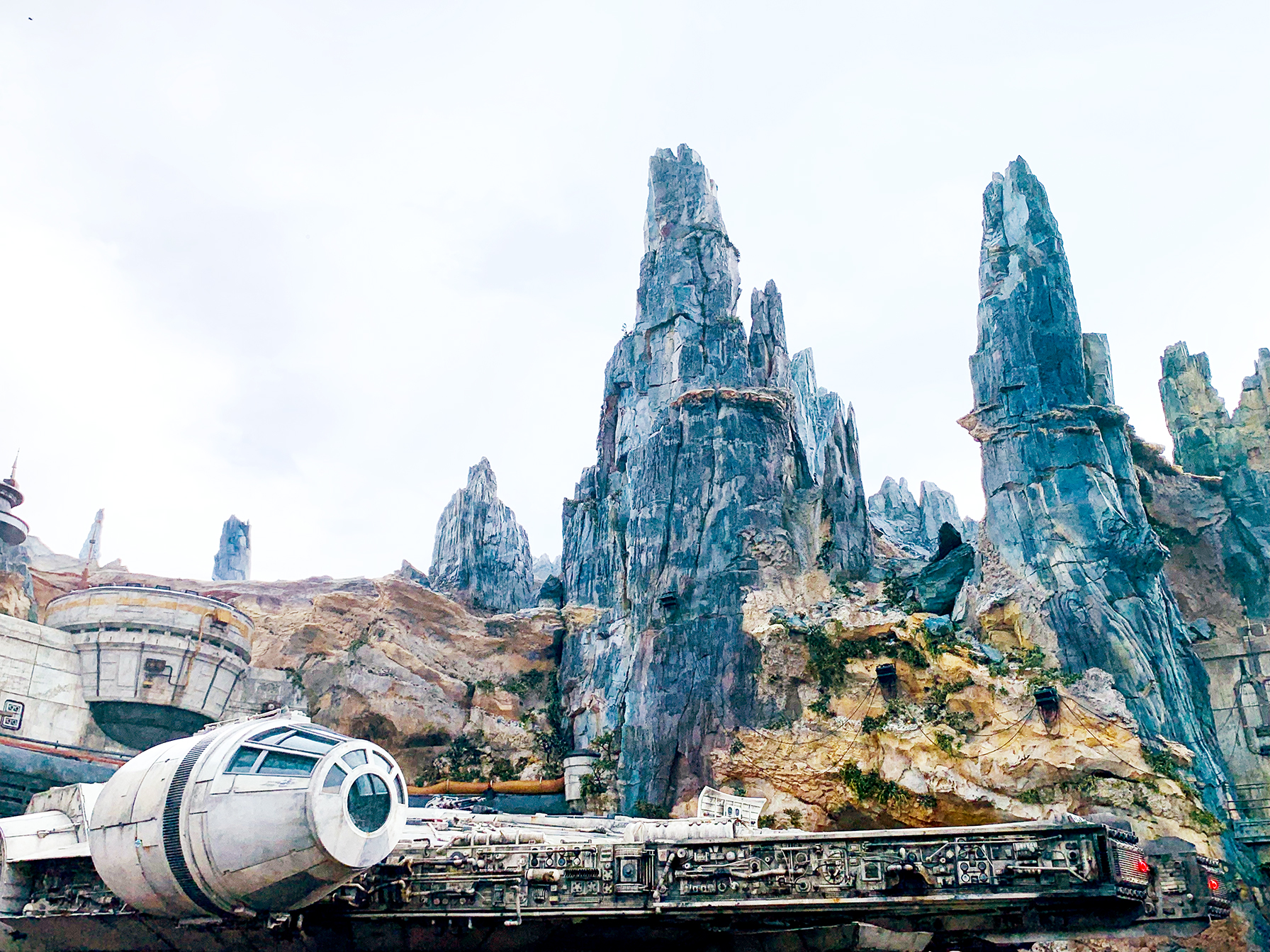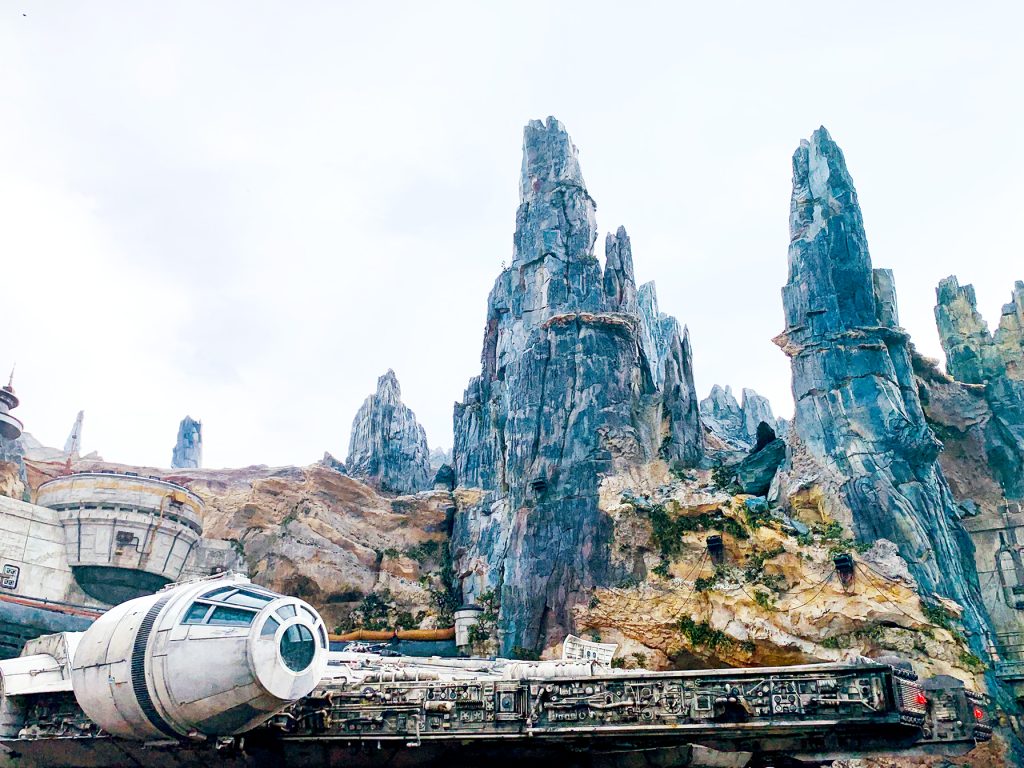 Snacks & Drinks at Disneyland
Speaking of eating, snacking is an activity all on it's own at Disneyland! You can eat different snacks all day long. Many snacks and drinks are exclusive to Disneyland California.
Some snacks like Dole Whip, Churros, and Mickey Pretzels have a cult following. Dole Whip is one of my favorite treats at any Disney park!
There are seasonal varieties of a lot of the snacks, and there are also drinks and snacks that are particular to certain lands. If you are traveling to Disneyland during the holiday season, there will even be more snacks and drinks to try!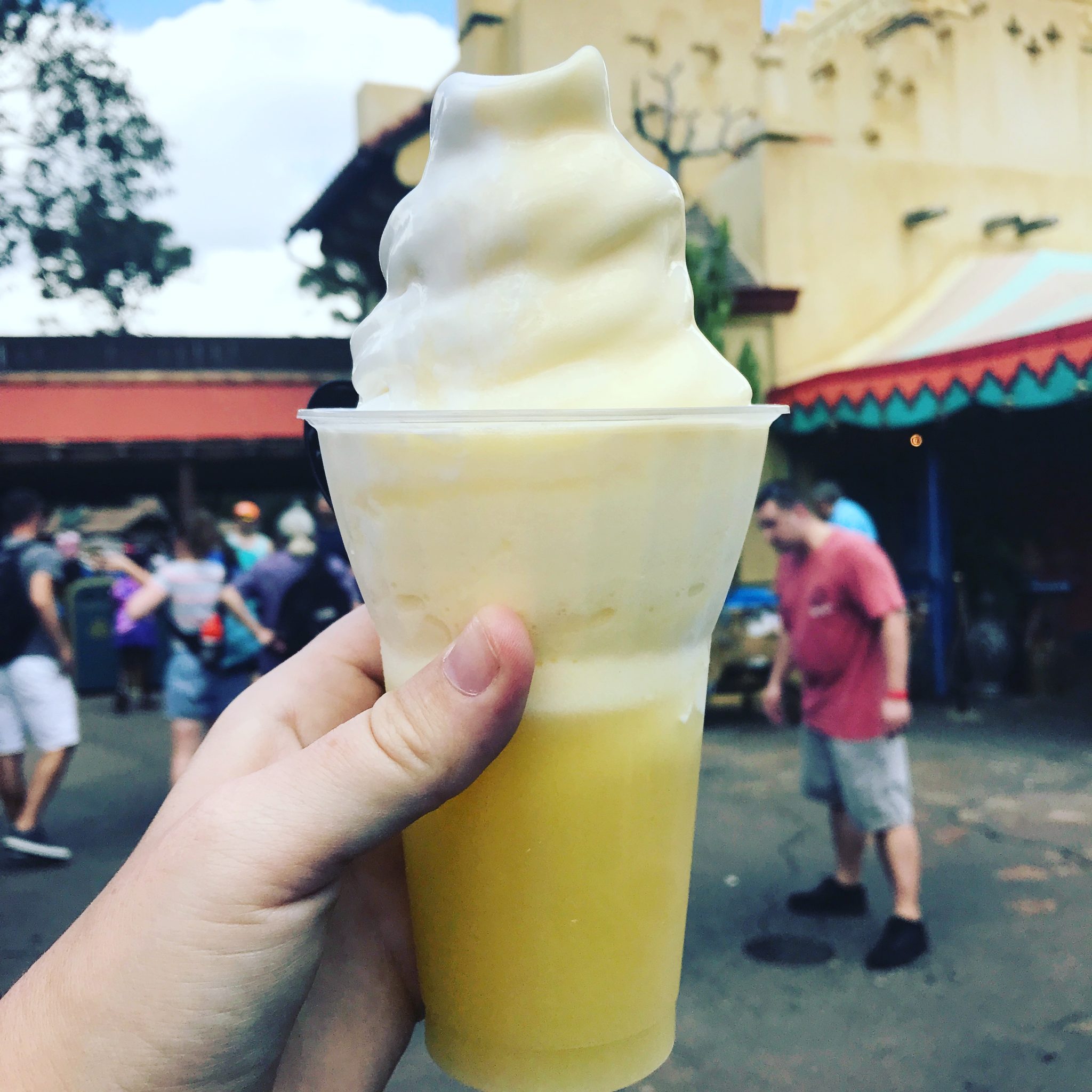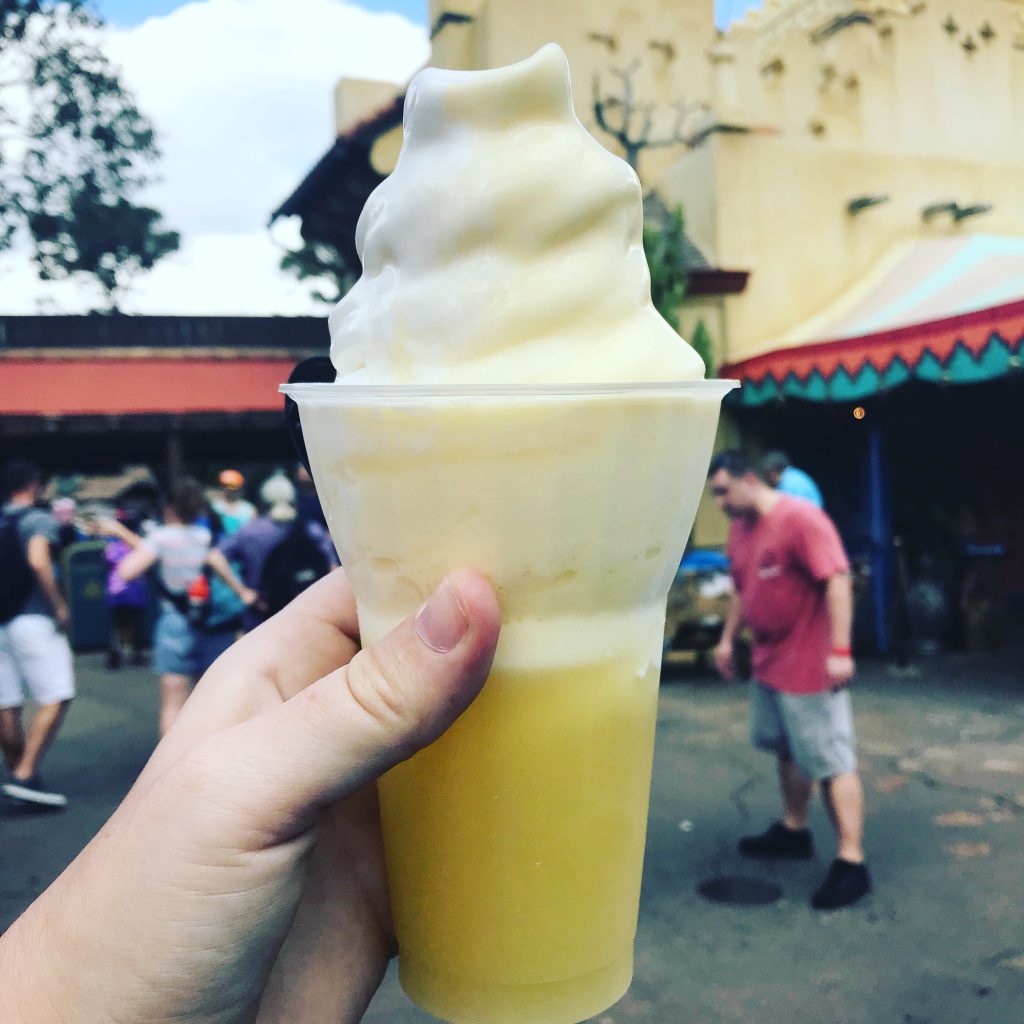 Here are some of my must-haves snacks and drinks:
Blue Milk – a frozen drink available only in Galaxy's Edge, and is a pop culture reference to the Star Wars movies
Mint Julep and Beignets – New Orleans Square
Raspberry Rose Macaron – Jolly Holiday Bakery
Boysen Apple Freeze – Maurice's Treats
Dole Whip – original pineapple and the different flavors at Tropical Hideaway
Churro Toffee – Candy Palace
You can print out a Disney Snacks Word Search Printable to entertain the kids while you eat around the park!
Character Meet & Greets at Disneyland Park
It is not surprising that Disneyland is a great place to meet Disney characters! With the gradual reopening of Disneyland, character experiences have popped up over the entire park. Meet and greets with the characters are currently modified. You can get pictures but usually have to stand a little bit away from the characters.
Some of the regular character meet and greets are:
100 Acre Wood Friends (Winnie the Pooh characters)
Disney Princesses
Tinker Bell
Classic Storybook Characters
Woody, Jessie, and other Pixar Characters
Mickey, Minnie, and Classic Characters
There will sometimes be other rotating characters depending on the season, and popular movies/shows at the time. Miguel from Coco has been there recently, as well as Mirabel from Encanto.
Places to Eat at Disneyland
There are so many places to eat while at Disneyland. You can mobile order snacks and quick service meals, but there are also sit down restaurants. Reservations are recommended at all Disneyland sit down restaurants and can be made online or on the Disneyland app.
Here are some of my favorites:
Docking Bay 7 and Ronto Roasters in Galaxy's Edge (quick service)
Cafe Orleans (try the Monte Cristo sandwich)
Blue Bayou
River Belle Terrace
Mint Julep Bar
Maurice's Treats
Jolly Holiday Bakery Cafe
Character Dining in Disneyland
Character Dining is just another way to enjoy dining at Disneyland. While you eat, characters will walk around the restaurant for pictures. Experiences are modified, but it's a great way to see a lot of characters while eating a sit down meal.
There is currently only one character dining meal inside Disneyland. The Plaza Inn has a character breakfast with Mickey Mouse and other classic characters.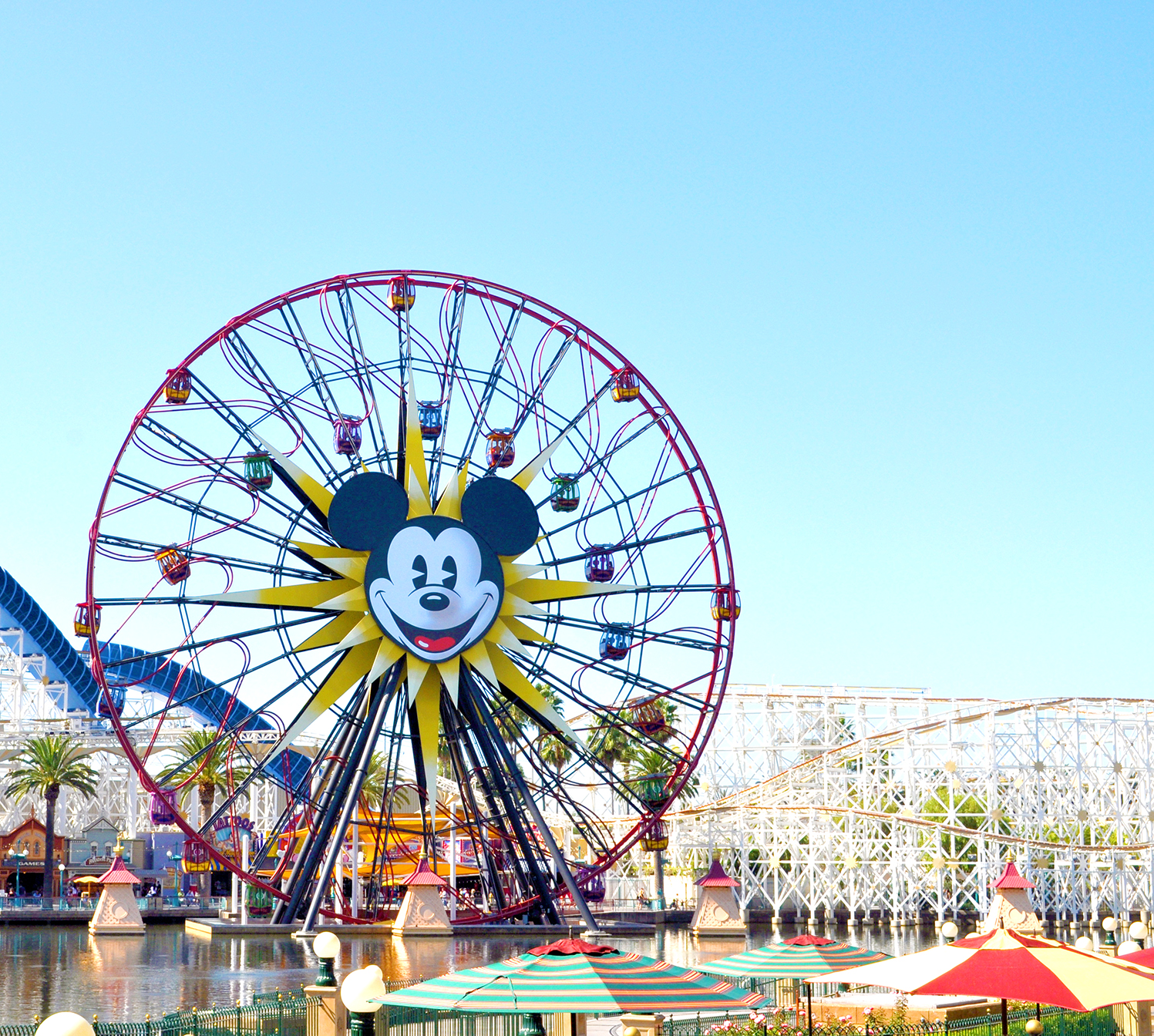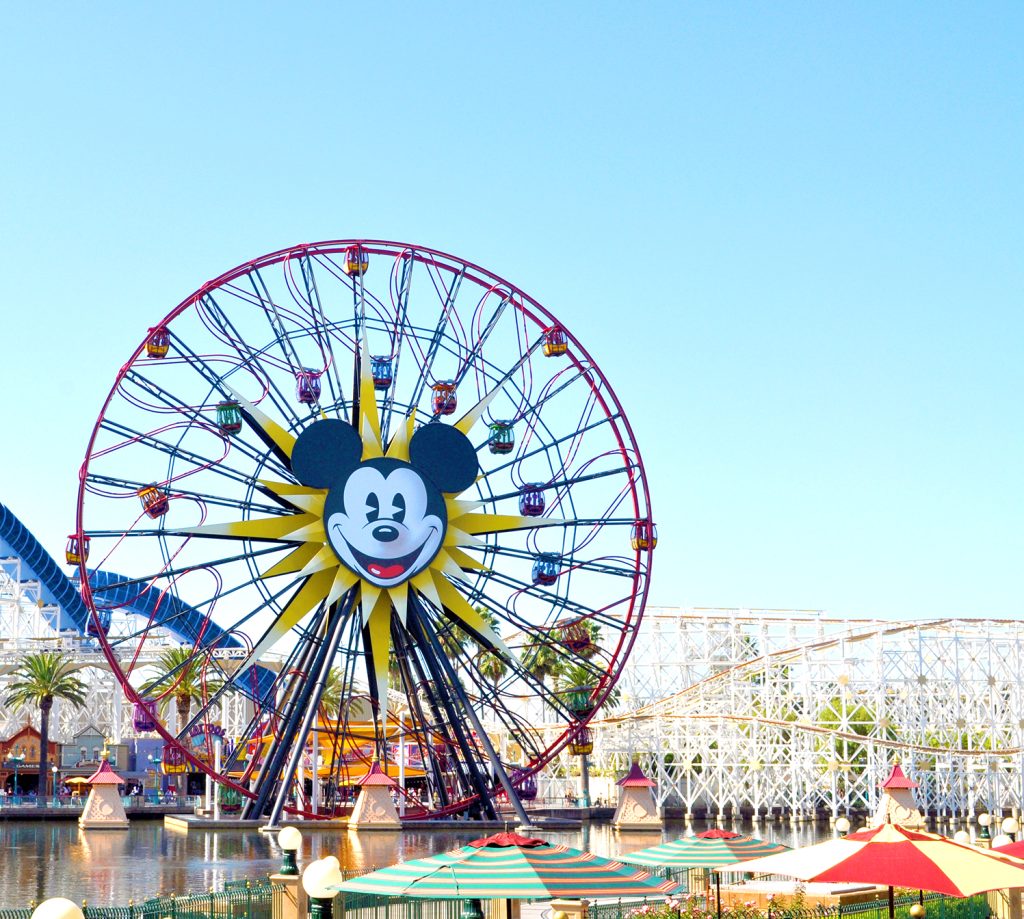 Are There Other Things To Do At Disneyland?
If you are visit Disneyland, luckily there are a number of options of things to do just outside of the park gates. The most important thing to consider while at Disneyland is park hopping!
California Adventure
Disney's California Adventure theme park opened in the former Disneyland parking lot in 2001. With a park hopper ticket, you can visit Disneyland and California Adventure in one day! If you only have one day at Disneyland, you may want to spend your whole day there. But if you have a couple of days to spend at Disneyland, consider park hopping to California Adventure!
You can enter California Adventure in the same area that you enter Disneyland, so it is very easy to jump back and forth between the parks. Like Disneyland, California Adventure has its own rides, attractions, shows, dining, and shopping! If it's possible, you definitely need at least a full day to explore California Adventure!
If you can only hit the highlights at California Adventure, I would recommend:
Toy Story Mania and Pixar Pier
Incredicoaster
Avengers Campus (character appearances are a must)
Mission Breakout
Soarin' Around the World
Radiator Springs Racers
Mater's Junkyard Jamboree (great for younger kids)
Lamplight Lounge
Cozy Cone Snacks and Drinks in Cars Land
World of Color (due to reopen in Spring 2022)
Downtown Disney
Also right next to the entrance of Disneyland is the Downtown Disney area. Here you can go shopping for Disney merchandise as well as stand alone stores such as Lego and Pele Soccer.
There are a ton of places to eat or grab drinks, including Black Tap (home of the Crazy Milkshakes!) and Ralph Brennan's Jazz Kitchen. If you are looking for something fun to do that isn't an amusement park, you can go bowling at Splitsville Luxury Lanes.
Resort Hopping
Disneyland Resort is home to 3 resorts: the Disneyland Hotel, Disney's Grand Californian Hotel, and Paradise Pier. There are a ton of local hotels at which you can stay, but Disney hotels provide an experience unlike off brand hotels surrounding the parks. Even if you don't stay at one of the Disney resort on site hotels, definitely take some time to wander around and take in the atmosphere.
You can also reserve dining at the hotels. Goofy's Kitchen is at the Disneyland Hotel and is popular with young kids. Storyteller's Cafe is at the Grand Californian. Both are buffet/family style and are character dining experiences!
Photo Opportunities
If you are traveling with family members, you will definitely want to commemorate the trip with a ton of family photos. Disneyland has a ton of incredible photo spots including Sleeping Beauty's castle and Main Street USA . There are a ton of smaller spots, so definitely keep your eyes peeled for special spots to take pictures! Sometimes candid photos while on rides or walking around the park are just as good (if not better), so don't be afraid to take a ton of pictures.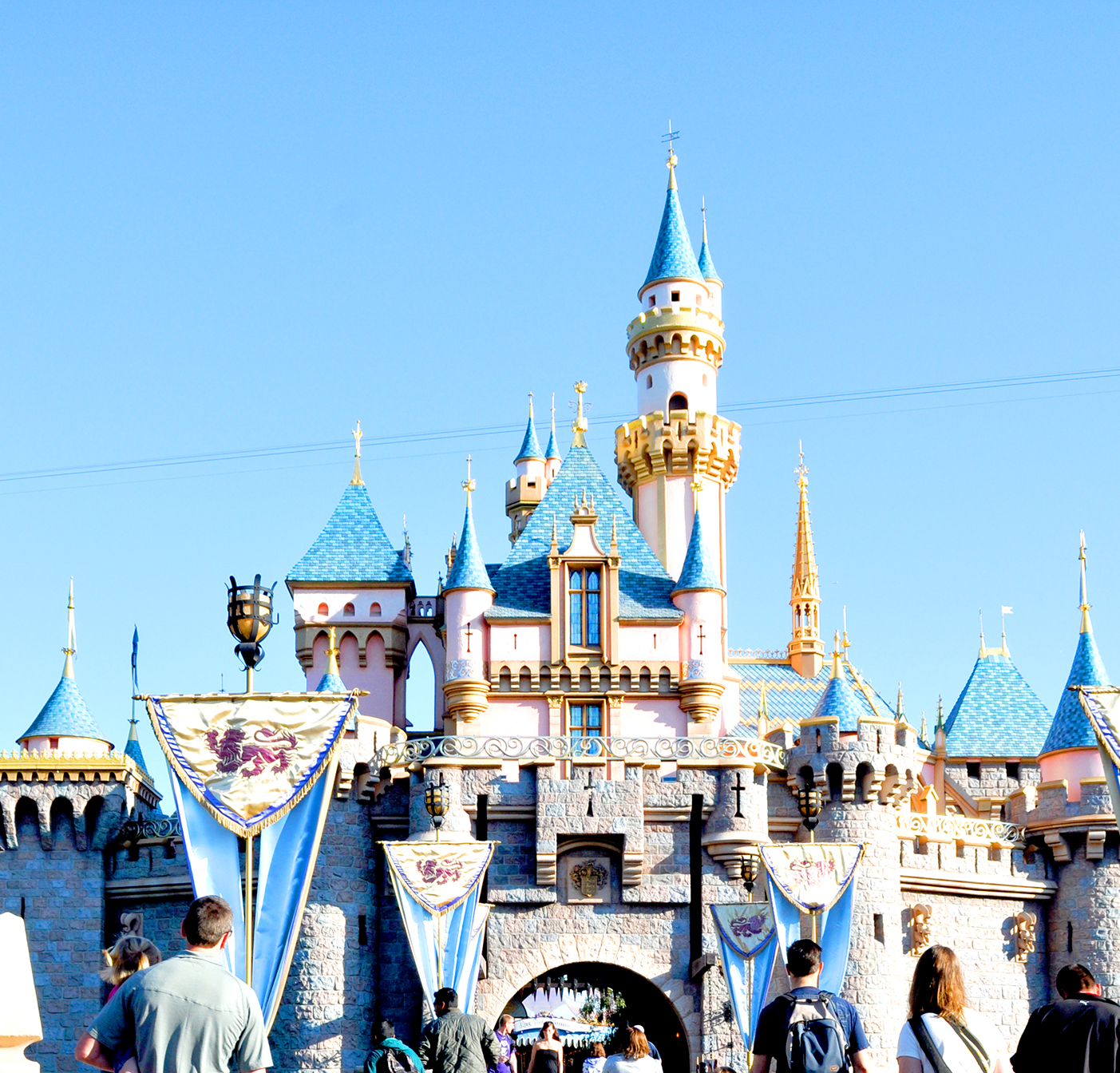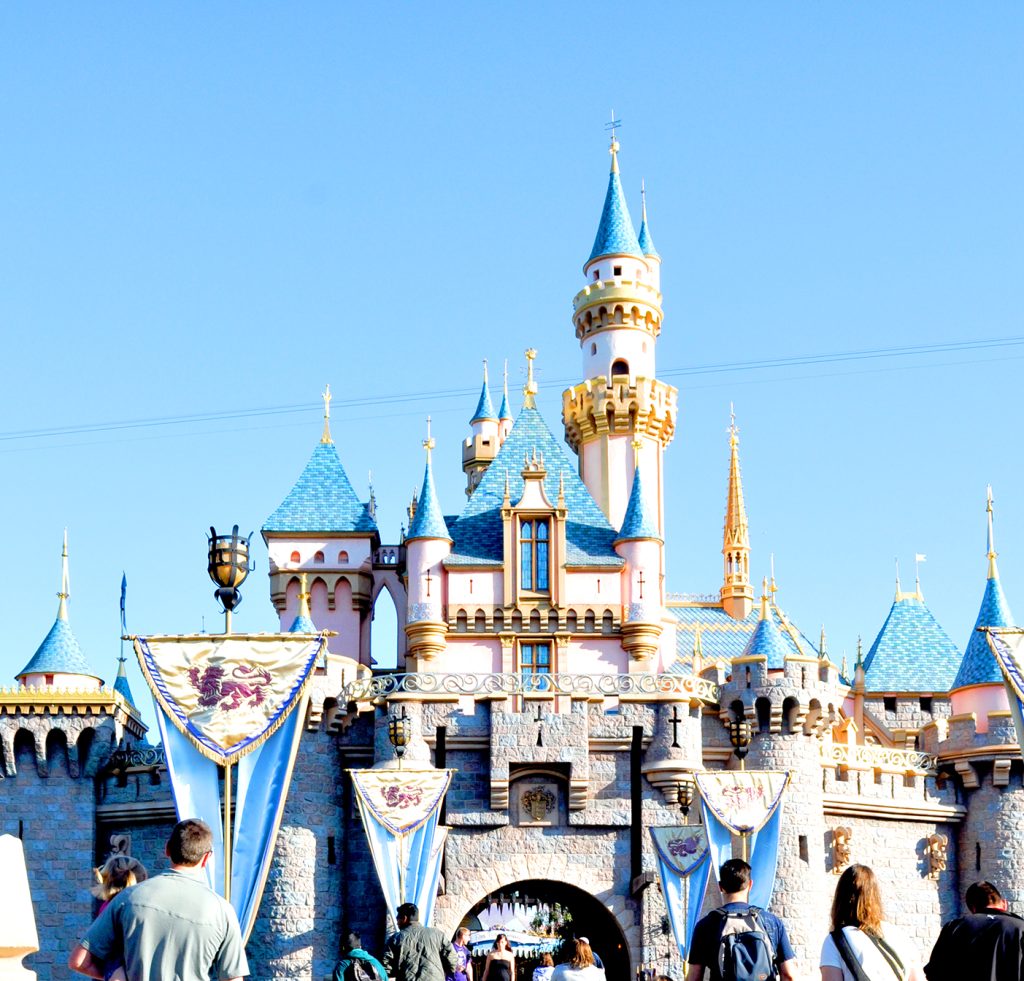 Other Things to Do in the Disneyland Area
If you love amusement parks, Knott's Berry Farm and Universal Hollywood are within driving distance to Disneyland. Disneyland is so close to a number of activities in the metro Los Angeles area. Plus, you can easily drive to San Diego to visit Legoland or the San Diego Zoo. Of course, there's also the beach! Disneyland is just a short drive to the Pacific Ocean.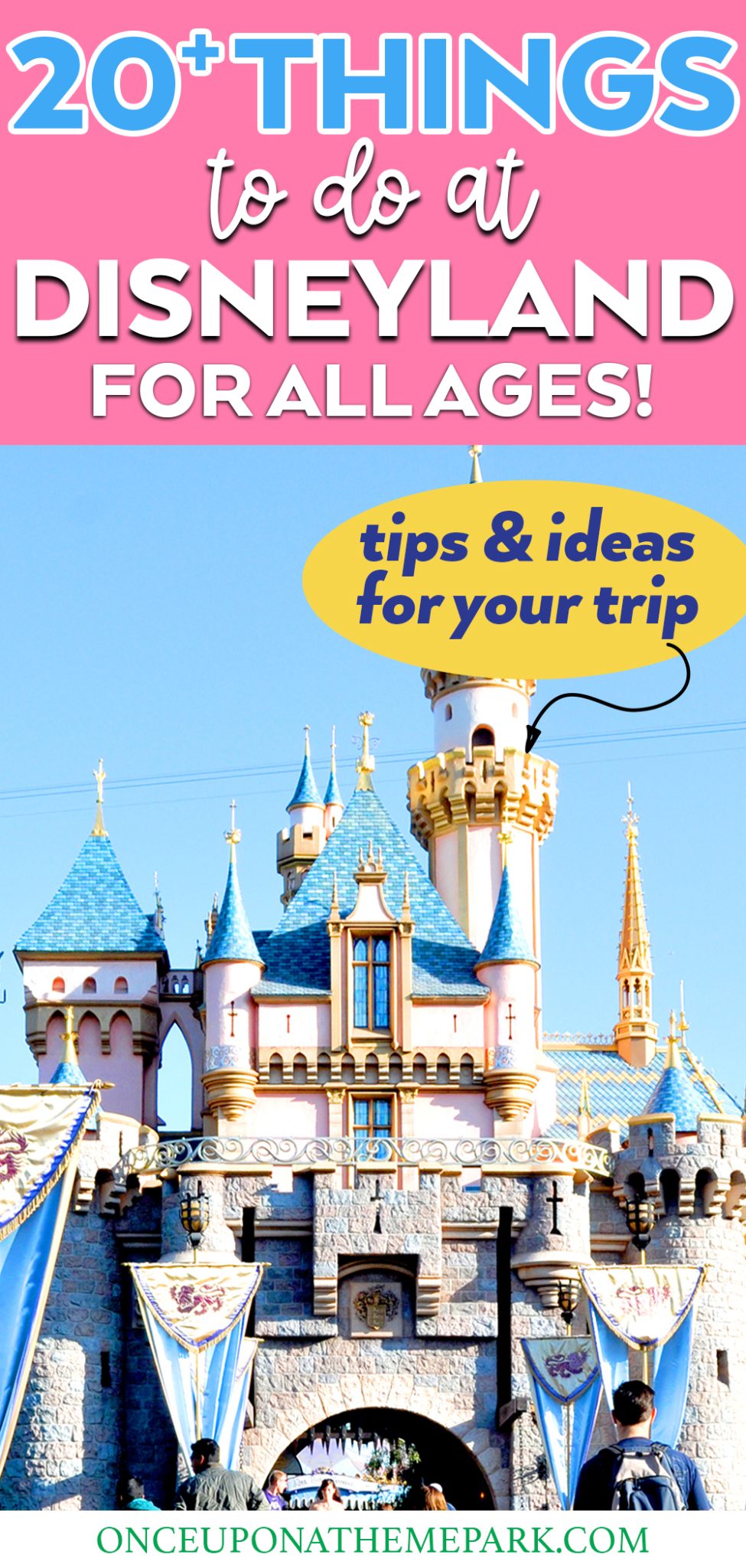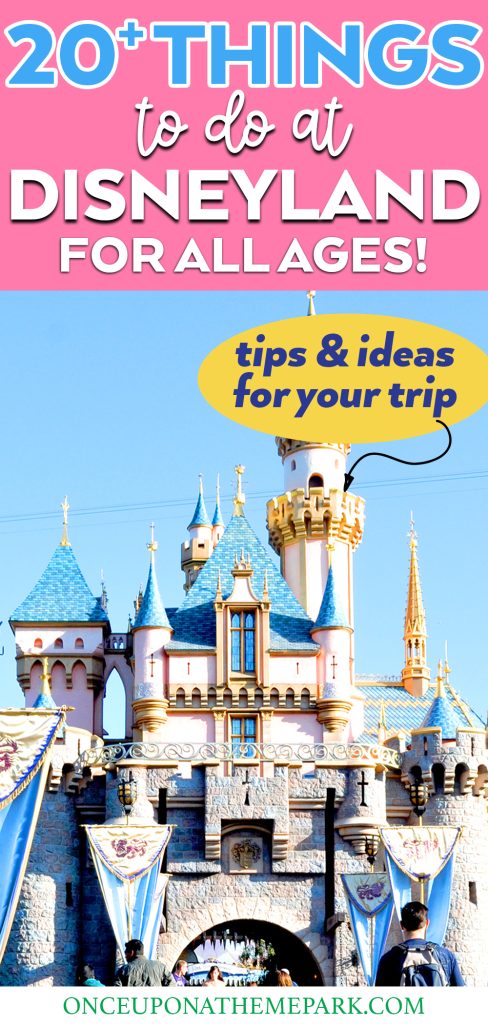 Tips for Planning a Disneyland Vacation:
You currently need a park reservation to visit Disneyland or California Adventure. Before you purchase your tickets, confirm your travel dates are available using the Disneyland reservation calendar.
Genie Plus is the new ride reservation system that replaced the Fastpass and MaxPass systems. Trust me, it is a whole blog post to explain (maybe 2). It is an additional cost per person, per day, and you can reserve times to ride popular attractions at Disneyland and California Adventure.
When you arrive at the ride during your reservation time, you can proceed through the Lightning Lane, which should only be a few minutes wait. In addition, some ride reservations are only available through Individual Lightning Lanes and are purchased separately.
During the holidays, there are special events that take place. You can purchase tickets to these events, and they are very popular (and a lot of fun!) They may include extra park hours, special character experiences, unique parades or fireworks displays, and/or special themed drinks and snacks. Some of the most popular are: Oogie Boogie Bash, Disneyland After Dark, Disney Festival of Holidays, Sweetheart Night, and more!
If it's your first time to Disneyland, don't stress about it! Regardless of what you ride or what you eat, you will have a great time! Go into it with an open mind and enjoy yourself!