60+ of the Best Disney Halloween Movies
This post and the photos within it may contain affiliate links. As an Amazon associate I earn from qualifying purchases. If you make a purchase through one or more of the links, I may receive a small commission at no extra cost to you.
Updated for 2023! The best time of the year is finally here, and it's Disney Halloween movie season! This list includes 60+ of the BEST Disney movies to watch this October, including several of my absolute favorites! So grab some popcorn, sit back, and enjoy these family-friendly films all month long.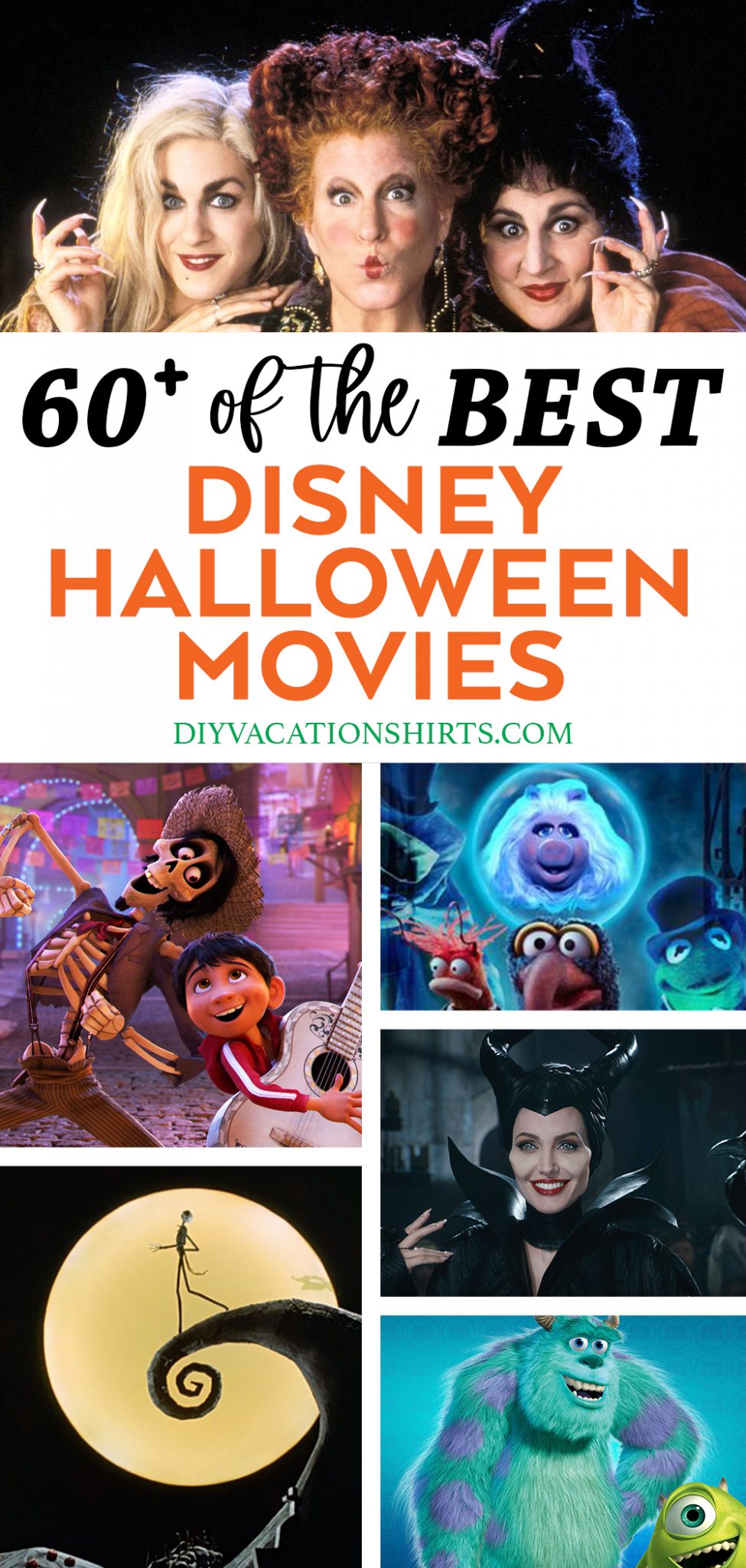 My Favorite Disney Halloween Movies
These movies are great for kids and parents who love a good scary story. Although this isn't all of the Halloween movies on my list, they are thirteen of my favorites that I think you should watch! Keep reading to the end of the post for over 45 more Disney Halloween movie night ideas! I've included older Disney Halloween movies, new Disney Halloween movies, and some of the top Disney Halloween movies of all time!
RELATED POST: DIY Halloween Movies Shirt SVG File
Tower of Terror– A Hollywood hotel's haunted attraction is open for the season, but an elevator malfunctions and takes some visitors to a real-life version of hell. Coming soon: a NEW version starring Black Widow herself, Scarlett Johannson!
Monsters Inc.– Mike and Sully, while working on their scaring skills, are caught off-guard when a little girl they were hired to scare runs away-right into the clutches of Randall, an evil child-hating monster.
Monsters University– Mike and Sulley are an inseparable pair, but that wasn't always the case. From the moment these two mismatched monsters met they couldn't stand each other.
The Haunted Mansion– A realtor (Eddie Murphy) and his family get more than they bargained for when they visit an old mansion that they thought was abandoned. Plus there's the newest Haunted Mansion movie that released in July 2023!
Tim Burton's The Nightmare Before Christmas– This is one of my favorite Walt Disney Halloween movies! When Jack Skellington, the king of Halloween Town, attempts to bring Christmas to the land of Halloween, things don't go exactly as planned.
Halloweentown High– Marnie (Kimberly J. Brown) would prefer not to use magic if she can help it, so she finds herself at odds with her whole family; meanwhile Dad tries to fit into his role as principal after taking over from Mom–who was fired by the school board.
Hocus Pocus– Thanks to a teenager that lights a black flame candle, the three Sanderson sisters return after over 300 years and find that things aren't quite what they remembered. This is my absolute FAVORITE Disney Halloween movie, and I watch it several times every year!
RELATED: Amuck Amuck Amuck SVG File to make a DIY Hocus Pocus Shirt
Spooky Buddies– The adorable golden retriever puppies in this Disney Halloween film are recruited by a witch to be her "pawsome" helpers on Halloween night.
Toy Story of Terror– What starts out as a fun trip in the family car to spend Halloween with Aunt Ginny turns into an old-fashioned nightmare when Woody's evil double gets the best of him.
Halloweentown II: Kalabar's Revenge– Marnie's back in her hometown, and this time she has to save the town from an evil witch who wants to steal everyone's souls.
Maleficent– When a powerful fairy is injured, she seeks revenge against the prince who betrayed her.
Into the Woods– A witch places a curse of the baker and his wife, and they must venture through the woods to undo it. Along the way they run into several fairy tale characters that play a part in their journey.
Coco– A boy accidentally travels to the land of the dead in search of his ancestors, but finds a place that holds the secret of why music is banned in his family.
List of Disney Halloween Movies
After you've watched my favorite Halloween movies made by Disney, make sure you check out ALL of these other options – they're all awesome and sure to be family favorites! In my opinions, they are some of the best Halloween movies out there! They include Disney Channel original movies, more of the Halloweentown franchise, television shows, and current offerings on the Disney Pus Hallowstream. Some are even new Disney offerings for this year!
If you have Disney+, there are SO many great Halloween options. If you don't have a subscription yet, what have you been waiting for!? It's the perfect time to check it out. It's the streaming service that my kids and I watch every single night.
NEW Halloween Movies and Shows on Disney+ in 2022-2023
Lego Star Wars Halloween Tales
Hocus Pocus 2
Muppets Haunted Mansion
Just Beyond
Under Wraps
Don't forget to PIN THIS IMAGE so you can reference this list of Disney Halloween Movies and Shows every Halloween! I'll update it with new available movies every year!
Keep reading for more of my favorite Disney Movies to watch this Halloween!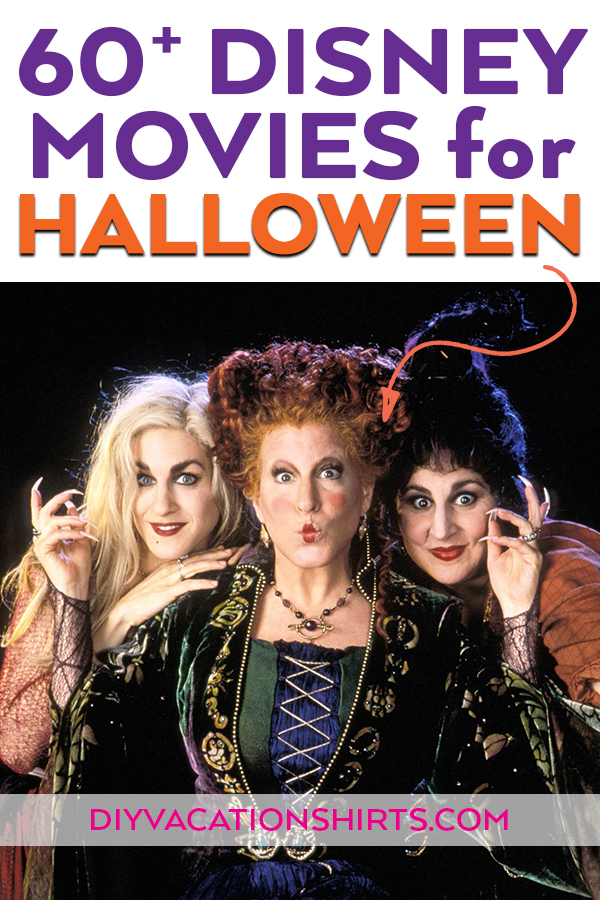 More Disney Halloween Movies and Series Available on Disney+
These are great Halloween movies to watch all spooky season to get in the Halloween spirit! You'll find reimagined classic fairy tales, classic films, and Disney Channel Halloween movies.
Frankenweenie
The Ghost and Molly McGee
The Owl House
Secrets of Sulphur Springs
The Adventures of Ichabod and Mr. Toad
Z-O-M-B-I-E-S
Z-O-M-B-I-E-S 2
Halloweentown (I can't get enough of Debbie Reynolds in this series of Halloween movies!)
Girl Vs. Monster (my kids love this Disney channel movie starring Olivia Holt)
Twitches (arguably my FAVORITE childhood Disney channel original movie, Tia and Tamera Mowry star as twin sisters that also happen to be twin WITCHES!)
Twitches Too
Mom's Got a Date with a Vampire
Don't Look Under the Bed
Phantom of the Megaplex
The Scream Team
Return to Halloweentown
Mr. Boogedy (did you watch this movie on a Wonderful World of Disney as a kid? I did, and it scared me. Now it is a cult classic and has a huge following on Disney+)
Bride of Boogedy
The Ghosts of Buxley Hall
So Weird
Invisible Sister
Vampirina
Can of Worms
Once Upon a Time
Cruella
Maleficent: Mistress of Evil
Miss Peregrine's Home for Peculiar Children
Descendants
Descendants 2
Descendants: The Royal Wedding
The Legend of Mordu
Upside Down Magic
Wizards of Waverly Place (Alex, played by Selena Gomez, is a teenage witch learning to manage her powers)
Wizards of Waverly Place: The Movie
Evermoor
The Evermoor Chronicles
Gravity Falls
Gargoyles
The Scariest Story Ever: a Mickey Mouse Halloween Spooktacular
Mater and the Ghostlight
The Simpsons: Treehouse of Horror
More Disney Halloween Movies to Watch this Year
These includes some of my favorite classic Disney Halloween films:
The Adventures of Ichabod & Mr. Toad
Escape to Witch Mountain
The Black Cauldron
Return to OZ
Pooh's Heffalump Halloween Movie
I hope you enjoyed this list of Mickey's Halloween movies! Share your favorite ones in the comments and tell us what are some other great films to watch for all-things spooky. Make sure you save the post for later and share it with your Disney friends. Happy viewing, everyone!